Going Global #2
Colin Siyuan Chinnery considers the development of China's non-profit sector and its relationship with the international art scene
The Western art world is used to the distinction between the non-profit and commercial sectors and understands how both are necessary to create a balanced ecology. In recent years, across much of Europe and the United States, powerful galleries and collectors have increased their clout while the non-profit sector has come under increasing financial pressure, and there has been mounting criticism of the influence of commercial interests in public institutions. (See, for instance, discussions around the leverage Eli and Edythe Broad have over many Los Angeles arts organizations.) In China, by contrast, the commercial sector grew within a contemporary art landscape devoid of independent non-profit organizations. The struggle has been to develop a non-profit sector to counteract the monopoly that commercial interests have had over art.
China's first domestic contemporary art collectors in the 1990s were mostly investors and the nascent Chinese art market, with its arbitrary and easily manipulated prices, presented the perfect investment vehicle. As certain strange and unsavoury market practices became almost normalized by the early 2000s, a generation of independently minded contemporary artists started using the phrase xue shu to distinguish their own activities. In English, xue shu literally means 'academic'. However, in the context of Chinese contemporary art it is difficult to translate, approximating an attitude that could be summarized as 'independent and creative spirited' or as 'art that doesn't serve money or power'.
Until the 1980s, art in China had to 'serve the people': the whole system was part of the state propaganda apparatus. When China loosened its centrally planned economy, some of the first government bodies to lose subsidies were cultural organizations. Conventional and lethargic, these institutions were suddenly asked to fend for themselves in the marketplace. Public museums simply rented out their exhibition halls to make up for funding shortfall and, consequently, quality was no longer a criteria for selecting exhibitions. Moreover, after the political events of 1989, cultural and political reforms were shut down and anything outside the authorities' conservative interpretation of culture was off limits. Xue shu artists had to find other outlets for their work. However, art outside the official system was frowned upon and exhibitions that took place in unauthorized venues or did not conform to artistic conventions were often deemed illegal and closed down swiftly after opening. (One such example was an exhibition in 1991 at the Beijing Contemporary Art Gallery by Feng Mengbo and Zhang Bo, the first installation show since 1989.)
Critics had a very clear role to play in this situation, as they could both lend credibility to artists' activities and provide an intellectual framework within which artists' work could evolve. Western curators, who were starting to take an interest in Chinese contemporary art as China's prominence on the international arena took off in the late 1990s, could understand this form of articulation and started exhibiting artists whose work represented their understanding of Chinese culture. It didn't take long for artists to internalize this psychology and create art that reflected what these curators wanted to see, creating a neo-orientalist feedback loop between Chinese artists and Western institutions that favoured certain types of work being produced during the late 1990s and early 2000s. While could be described as the beginnings of 'contemporary art with Chinese characteristics', an alternative designation would be 'Chinese contemporary art with Western characteristics' as it mirrored Western expectations rather than representing the gritty reality on the ground in China.
By the late 1990s, a younger generation of artists in Beijing and Shanghai had tired of the kind of formalism that catered to the international art establishment and wanted to express something more immediate, raw and visceral. Accordingly, in 1999, an exhibition was organized in a Beijing apartment basement titled 'Post-Sense Sensibility: Alien Bodies & Delusion', inviting artists from all over China to put on a show that expressed the kind immediacy lacking in China's more established contemporary art at the time. The following year, in Shanghai, the artists Ai Weiwei and Feng Boyi curated a show to coincide with the third Shanghai Biennale titled 'Fuck Off!' While 'Post-Sense Sensibility' was a nod to 'Sensation' – the 1997 show at the Royal Academy in London, which showcased Charles Saatchi's yBa collection – 'Fuck Off!' was a directive explicitly issued to the Shanghai Biennale and the international establishment as a whole.
Ironically, the 2000 biennial, curated by Hou Hanru, Toshio Shimizu, Li Xu and Zhang Qing marked the start of the Chinese establishment's opening up to the world of contemporary art. It was the first time the biennial had been open to international participants and curators and included some of the most cutting edge artists from around the world, such as Matthew Barney, William Kentridge and Lee Bul. Two years later, the Guangzhou Triennial was launched with a retrospective look at Chinese contemporary art of the 1990s, helping Chinese artists to take stock and move forward. Its second edition, held in 2005, was co-curated by Hou Hanru and Hans Ulrich Obrist, bringing an international superstar curator to help cement China as a serious contemporary destination, but also bringing Chinese and non-Chinese artists closer together in a common international theoretical structure. Its third edition in 2008 invited the domestic scholar and curator Gao Shiming to interpret postcolonial issues from a Chinese perspective, bringing domestic curatorial ideas in line with international contemporary methodology.
Despite the opening up of the official art system to contemporary art in the 2000s, an independent non-profit sector still had not developed to counterbalance the pervasive influence of the art market. Consequently, some Chinese curators attempted to take up this task, converting their previous peripatetic curatorial practice into something more permanent and sustainable. Examples include Vitamin Creative Space, 25,000 Cultural Transmission Center (now Long March Space), and Universal Studios (now Boers-Li Gallery). Each of these projects, without exception, eventually transformed into a commercial gallery after it transpired that sustainable non-profit funding was not available in China and the only way to support artists was through selling work.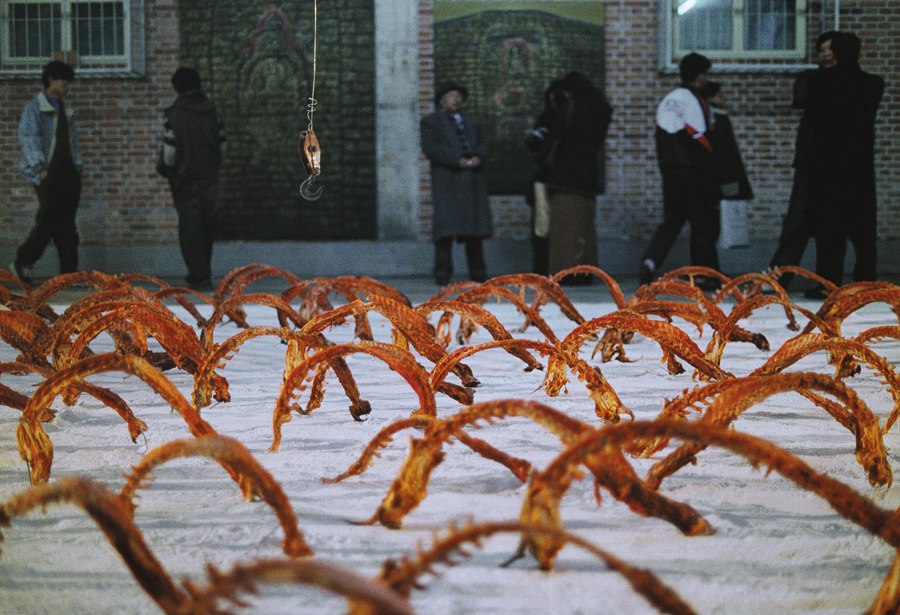 However, as mentioned in the previous article in this report, what really changed the scenario was the 2008 global financial crisis. Almost overnight, the domestic speculators that had been keen to buy up everything that Chinese contemporary art had to offer simply vanished, collapsing many artists' prices. The Western art world, wracked momentarily by existential anxiety, also turned inward, forcing China to look to domestic solutions to revitalize the scene.
The eradication of old market mechanisms from mainstream contemporary art cleared space for new, healthier, factors to develop. Art journals began to flourish: Artforum started a Chinese website in 2007; LEAP magazine took over the shell of an old Chinese journal in 2009 to become China's first serious printed bilingual magazine on contemporary art; and Randian-online was created in 2010 as a flexible online journal to chronicle Chinese contemporary art in real-time fashion. Around this time, works of European cultural theory became available in Chinese in a systematic fashion. Names such as Adorno, Žižek, Badiou, Groys, Agamben, Foucault, Deleuze, and Baudrillard rang out on art-world social media platforms, as Chinese artists and an emergent generation of critics and curators outdid each other to show off their newly acquired knowledge of theory.
Curators have become indispensable in introducing the latest contemporary artists and ideas to an ever-wider Chinese art-viewing public. Likewise, the mainstream media has been a positive influence in spreading contemporary art to new audiences although the development of the profession of art criticism (ie: having critics who dare to speak unfavourably about important institutions or artists) still has some way to go. At the same time, curators who are able to operate at an international level, both in terms of language and engagement are still few and far between. That China has not yet produced a new Hou Hanru should give room for pause. With the dearth of state support, Chinese critics and curators are still often lacking the financial and institutional resources needed for their gaze and activities to reach beyond the country's borders.
However, there is reason for optimism: as the private museum boom in Beijing and Shanghai surely begins to approach saturation point, some collectors have started non-profit foundations in the search for more original ways to influence the Chinese art ecology. (Wang Bing and Xue Bing's New Century Art Foundation, which has helped fund projects including Beijing-based Cao Fei's MoMA PS1 show in New York last year, is one such example.) Although their presence is not yet being felt so acutely, the spread of such institutions should provide support for more diverse forms of artistic, potentially allowing a genuine non-profit sector to take shape within the next few years.
Main image: On Kawara, Pure Consciousness, 1997, series of paintings at Xinlei Music Kindergarten, Shanghai, as a special project of the 2000 Shanghai Biennale. Courtesy: © Hou Hanru