'Grace, Beauty, Charm and Hotness': the Obamas Unveil their Presidential Portraits
In other news: Artforum responds to #NotSurprised call for boycott of the magazine; Maria Balshaw apologizes for harassment comments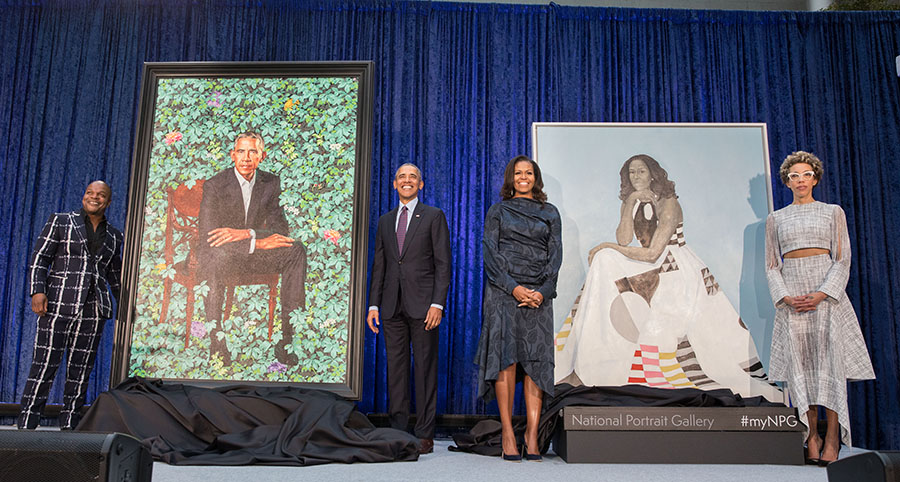 Official portraits of former US president Barack Obama and former first lady Michelle Obama, painted by the artists Kehinde Wiley and Amy Sherald respectively, have been unveiled at the National Portrait Gallery in Washington. The gallery commissions presidential portraits after each tenure – a tradition that dates back to 1962 – but Wiley and Sherald are the first black artists chosen to paint a presidential couple. Speaking in front of an audience that included members of the Obama family, former vice president Joe Biden, and celebrities including Steven Spielberg and Tom Hanks, Michelle Obama said of Sherald's painting: 'girls of colour ... will come to this place and they will look up and they will see an image of someone who looks like them on the wall.' Barack Obama praised the artist's work for encapsulating his wife's 'grace, beauty, charm and hotness.' Wiley's portrait of the former president features him seated and suited, with a verdant background that nods to various aspects of Obama's life (flowers pointing to Hawaii, Kenya and Chicago). Wiley is well known for his foregrounding of black bodies in appropriations of the European canonical tradition. 'I had to explain that I've got enough political problems without you making me look like Napoleon', Obama quipped: 'We've got to bring it down just a touch'. In a recent piece for frieze on new visualizations of the black body, Ian Bourland writes that if Wiley tends towards a 'blend of baroque lighting and bling excess', then Sherald's palette is 'muted, restrained, but somehow more vivid in spite (or because of) its economy of means', read it here. Both paintings are currently on view at the gallery.
Artforum magazine has responded to an open letter from the We Are Not Surprised group – the collective drawing attention to sexual harassment in the arts – which calls for a boycott of the magazine. The letter accused Artforum of 'sweet talk and empty politics', claiming that its lawyers have filed motions to dismiss a lawsuit brought by former employee Amanda Schmitt who alleges that the magazine's former publisher and co-owner Knight Landesman subjected her to harassment. Artforum has clarified that it 'is in no way joined to Knight Landesman's defense, nor is it pursuing the dismissal of Amanda Schmitt's claims against him'. Artforum says that Landesman has been removed from the board of directors: 'Regrettably, there are no legal means by which Artforum can simply divest him of his shares, though the company is actively engaged in the process of recovering them.'
Maria Balshaw, director of Tate, has also responded to criticisms from the We Are Not Surprised collective. The group pointed to an interview with Balshaw in the Times, in which she spoke about sexual harassment claims in the art world, telling art critic Rachel Campbell-Johnston: 'I personally have never suffered any such issues … Then, I wouldn't … I was raised to be a confident womean who, when I encountered harassment, would say, 'Please don't.'' The We Are Not Surprised group wrote on Instagram that they were 'outraged' by the statement, saying: 'Hold a culture of abuse and the people who shape it accountable'. Balshaw later replied to the post, stating: 'I am sorry if this has been misunderstood. It is absolutely not my intention to say that women are in any way to blame. To be clear, it is the perpetrators who are responsible for their behaviour and not the women who are subjected to it.'
Meanwhile, Tate have come under scrutiny for granting permission to Dr. Martens to print paintings by J.M.W Turner (1817's The Decline of the Carthaginian Empire and 1796's Fishermen at Sea) on its shoes (as well as T-shirts and satchels). The shoemakers boast that the product in question uses 'a crackled leather that gives the effect of a real painted canvas'. A member of the Turner family told the Times: 'It's just not on. It does cheapen his works'.
The White House's proposed budget for 2019 calls for funding to be slashed for the National Endowment for the Arts and the National Endowment for the Humanities. The proposal also includes budget increases for the military and border security. It's the second time that Trump has recommended slashing the NEA and NEH (though they were not adopted when proposed last year). 'The Budget proposes to begin shutting down NEA in 2019, given the notable funding support provided by private and other public sources and because the Administration does not consider NEA activities to be core Federal responsibilities,' the proposal states. National Endowment for the Arts chairman Jane Chu responded: 'We are disappointed because we see our funding actively making a difference with individuals in thousands of communities and in every Congressional District in the nation.'
London's V22 art organization is to build a 'temporary neighbourhood' of studios, exhibition spaces and leisure areas in Silvertown, in the south-east Docklands area of the city. The 'Silvertown Studios' project is part of a Greater London Authority-supported regeneration sceheme. Don't miss Chris Fite-Wassilak writing in frieze last year on new shifts in policies and possibilities for artists's studios in the UK capital: 'what we have to hope is that this enables subsequent generations to both imagine and inhabit a London that is actually 'affordable' and more than just 'creative'.' Read it here.
Meanwhile in New York, a judge has ruled that developer Gerald Wolkoff must pay USD$6.7 million to 21 graffiti artists in compensation after their work was painted over in 2013. The developer whitewashed their work at 5Pointz, the famous street art mecca, in Long Island City in preparation for a luxury apartment development.
In gallery news: LA-based artist Paul Mpagi Sepuya is now represented by Team Gallery (Los Angeles, New York) and Lévy Gorvy represents French artist Martial Raysse in the US (with a show opening on 28 February in New York).
Finally, Icelandic composer Jóhann Jóhannsson has died at the age of 48. 'I would love to do nothing, to sit and read mystery novels all day,' he told us in 2016, answering the frieze Questionnaire: 'but I don't have the temperament for idleness. I have an unfortunate compulsion to do things.'