Featured in
Hello World: Revising a Collection at Berlin's Hamburger Bahnhof
Exploring the lingering effects of war, censorship and colonialism on art collections – where do museums entangled in complex histories go from here?
I first visited Berlin in 1983, at the age of 15, on a school trip that took us to the Neue Nationalgalerie, Mies van der Rohe's famous glass box. In a city divided between the Eastern and Western blocs, showing art was literally a form of window dressing, which was fitting, considering West Berlin had been termed the 'Shop Window of the West' since the 1950s. It is not because of these ideological cold war underpinnings that I remember that visit but because of George Grosz's painting Pillars of Society (1926), a bitter grotesque of late Weimar-era reactionaries. Its satirical bite – a robed judge with the demeanour of a preaching pit bull; sturdy men in suits with piss pots for hats and dog turds for brains – had prognosticated precisely the Nazis's seizure of power.
Seeing Grosz's work in 2018, as part of 'Hello World: Revising a Collection' at Hamburger Bahnhof, highlighted what has changed since 1983. Natasha Ginwala, one of 13 (external and internal) curators charged with conceiving the 13 chapters of this giant exhibition intent on 'revising a collection', tells a story that has hitherto been largely ignored, if not neglected. She presents Grosz alongside his contemporary, the Indian artist Gaganendranath Tagore, whose caricatures did for Bengal what Grosz's did for Berlin: mock the grindings of bureaucracy, the bloated masculinities, the puffed-up class resentment. Tagore's drawing Creepy Scream – Collapse of the Artist – After his Visit to the Legislative Council. Reform Screams (1921), for example, shows the artist on his bed, encircled by a little monster, a curly snake and a stern-looking fellow with a long beard. A caption reads: 'the endless speeches wriggling all around the point have given him the creeps.' A drawing by Grosz similarly caricatures the empty posturing of a striding colonial officer (The Colonial  Officer, undated), with his huge tropical hat and his tiny bamboo riding crop. Tagore is the nephew of the artist and 1913 Nobel Laureate in Literature, Rabindranath Tagore. Shown here is a dispatch from the latter, sent in 1930 to Ludwig Justi, the former director of the Nationalgalerie, in which he generously offers to donate his drawings to the museum. Three years later, Justi was ousted by the Nazis. A second letter, from 1938, documents how Tagore's donation was labelled 'degenerate art' and removed from the collection.
The Third Reich's devastating impact on museum collecting, already compromised by colonialism, is one amongst many complex aspects that 'Hello World' probes. The initiative for the project came from the German Federal Cultural Foundation, which several years ago approached German museums and proposed they examine their respective collections in regard to, as a statement reads, the 'long-neglected global relationships between artists, art trends and artworks'. In other, more direct, terms: to take critical questions of decolonization on board. (€3.2 million was set aside for the initiative.)
But doesn't a state-funded revising of collections amount to another kind of window dressing, one no longer geared towards those on the other side of the Iron Curtain but towards a collective guilty conscience? Best not to jump to conclusions: symbolic politics can, after all, have symbolic effect and thus be political; plus, with the work of around 250 artists arranged across 10,000 square metres, 'Hello World' is certainly more than a fig leaf. Inevitably, I browsed and zeroed in on things, while scanning others. I was particularly taken with a constellation of works curated by Anna-Catharina Gebbers, which connects historical and contemporary dots to tell a story of Orientalism. It begins with the Indonesian painter Raden Saleh who, in the 1830s and '40s, lived in Europe, spending five years in residence at the court of Ernest I, Duke of Saxe-Coburg and Gotha. During this time, Saleh was typecast as the 'Oriental one' and, lacking other opportunities, embraced the role. 
Hence one of his most famous canvases, Arab Horseman Attacked by a Lion (1877), which wallows in the by-then-well-trodden bathos of grotesque orientalism that its title suggests. The 20th-century counterpart to Saleh's story is that of a German painter going to Indonesia: in the 1920s, Walter Spies forged a signature style somewhere between New Objectivity, Surrealism and Naive Art, while unwittingly aiding the 'balinization' of Indonesia, then under Dutch rule. (Black and white footage of Charlie Chaplin visiting Spies in Bali nevertheless exerts a curious fascination.) The Bali myth fed into the crass South Sea exoticism and 'noble savage' stereotyping expressed in both F.W. Murnau's silent film Tabu: A Story of the South Seas (1931) and the docufictional Island of Demons (1933), made by Friedrich Dalsheim, Spies and Victor von Plessen. These two works sit in contrast to a contemporary video by Tita Salina, 1001st Island – The Most Sustainable Island in Archipelago (2015), documenting the artist's attempts to turn seaside plastic debris into rafts together with fishermen on the outskirts of Jakarta.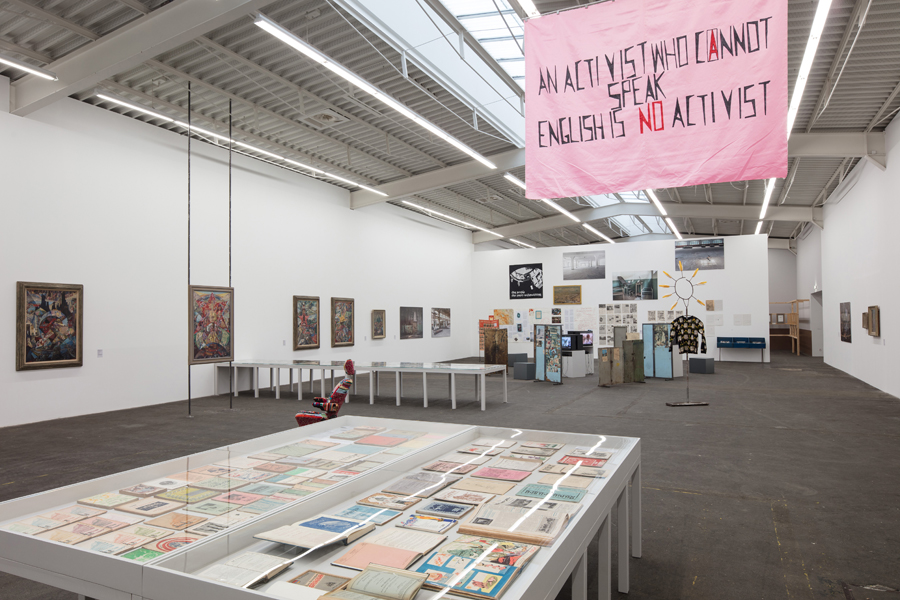 Such Orientalist and colonial legacies present a well-known, perfidious double bind: whatever the colonized did was interpreted in relation to the artistic canon of the colonizers. While 'Western' artists could pilfer 'primitive' forms without compromising their reputed integrity, 'non-Western' artists who made use of 'Western' forms were seen as hapless copiers. Furthermore, if they retained their identity, making use of what were seen as 'primitive' forms, their work would never be acknowledged in an artistic context. In some ways, this bind persists. Is there a way out? While Salina's answer is to shift register from studio-based art to eco-activism, the artist group GCC – also part of Gebbers's section – choose sardonic irony, turning the tables on the psychic make-up of (post)colonial othering. 
In their video Zeitgeist (2015), we are led through a luxurious Parisian palace, in which visual hints of Gulf ownership (the sports car, the Arabic writing on the wall) play on fears of the former empire being colonized in return. Nicholas Galanin has another strategy: a charade upending the double bind. In the first part of his two-channel video, Tsu Heidei Shugaxtutaan (We Will Again Open This Container of Wisdom That Has Been Left in Our Care) Part 1 and Part 2 (2006), a dancer pops, street-funk style, to a traditional song of the Tlingit people of Alaska. In the second, a Tlingit dancer in a customary outfit moves to sparse electronic beats.
For the chapter 'Where Do We Come From? Adapting Sculptural Forms', Udo Kittelmann, director of the National-Galerie, conceived a sculpture hall aligning expressionist and abstract-figurative work by the likes of Zoltán Kemény and Oskar Schlemmer alongside so-called indigenous artefacts, including wooden figurines of Tintin and Snowy (West Africa, second half of 20th century). The resulting presentation is less an exploration of who 'inspired' whom than an attempt to literally put the sculptures on a par, diffusing any pretence of canonic prevalence. So far, so good, but what might Kittelmann's proposed revision mean for future collection politics? For starters, it highlights the limitations of the Nationalgalerie collection – one that was first scarred by the Nazis and World War II, and then by the division and isolation of Berlin, which saw a wealth of collectors relocate to West German centres such as Düsseldorf or Munich. (Peter-Klaus Schuster, Kittelmann's predecessor, tried to remedy this by bringing blue-chip, Western-centric collectors such as Friedrich Christian Flick to the Hamburger Bahnhof – 'collecting collectors', as he put it. Time for a revision, indeed.)
As the wall labels in 'Hello World' demonstrate, non-Western art has routinely been quarantined in ethnographic museum collections; Berlin, with its conglomerate of state museums gathered under the umbrella of the Foundation of Prussian Cultural heritage, is in a strong position to productively perforate these dubious distinctions. But that can't be enough. There have to be consequences with regard to future acquisition politics. While 'Hello World' provides – in the chapter curated by Zdenka Badovinac, for instance – a welcome opportunity to interact with Eastern European art from the 1960s to the '90s, can it hope to initiate the revision of a Berlin collection if these loaned works will ultimately return to their respective institutions? If the laudable commitment of the Federal Cultural Foundation was truly dedicated to something sustained, then why did it not address actual acquisitions in its application stipulations? This is, perhaps, a lot to ask for, but there is precedent: there are examples of museums actively developing acquisition strategies that, in the long-term, will alter the breakdown of their collections for the better. (Think of the Moderna Museet and its years-long push to address the gender balance of its collection.) In a similar vein, 'Hello World' can, and should, only be the prelude.
Hello World: Revising a Collection was on view at Hamburger Bahnhof, Berlin from 28 April until 26 August 2018.
Main image: 'Hello World: Revising a Collection', 2018, exhibition view, Hamburger Bahnhof, Berlin. Courtesy: Berlin State Museums; photograph: © Nationalgalerie/Thomas Bruns