Featured in
How Can Cultural Institutions Engage the Culture and Communities of New York City?
Frieze's Christine Messineo and The Shed's Tamara McCaw discuss their approaches to programming — and some shows for your Frieze Week agenda
Tamara McCaw: This is the third year of Frieze New York taking place at The Shed. What is your vision for the fair now that it has adapted to this setting?
Christine Messineo: Involving New York non-profits has been part of Frieze New York since the outset, and now that our partner in the fair–The Shed–is a non-profit, this is an even more distinct part of the fair's identity. Because Frieze New York utilizes a smaller footprint than some other Frieze fairs, my approach is to honor just one or two non-profits a year and give them a bigger platform, not only for fundraising via sales, but to really create an understanding of their mission and history. This year non-profits include Artadia, the Artist Plate Project, Printed Matter Inc., Vote.org and others. These presentations happen right alongside those by galleries, so we hope to foster a sense of community. How does the idea of community inform your approach to the role of Chief Civic Program officer?
TM: A community-centered approach has always been fundamental to my practice. My 17-year tenure at Brooklyn Academy Music (BAM) enabled me to partner in deep and meaningful ways with community boards, neighborhood development organizations and business improvement districts, during a period when BAM's immediate neighborhoods experienced extreme waves of gentrification. Navigating these changes shaped my understanding of the indisputable role cultural institutions have as cultural citizens and neighbors. A civic practice that centers on co-creation, accountability and shared leadership, evolved organically from there and is now cornerstone of The Shed's civic work. I believe any organization's future vision must include and benefit its wider communities.
CM: That idea of civic practice is very resonant. I was very struck to learn that The Shed is a site for early voting, and I'm really pleased that we will again this year give a platform to Vote.org and PLAN YOUR VOTE. I think this is a particularly important issue to put in front of our younger visitors, whether it's the school groups whom we offer tours to via outreach, or young adults who are art curious.
The spark for PLAN YOUR VOTE was looking at the imagery around voter engagement and wanting to make it more compelling. I'm a big believer that visual communication has the power to transform society. For the last Frieze Impact Award in LA we worked with the non-profit Define American, which gave a very visible platform to immigrant narratives at Frieze Los Angeles. I'm thrilled to dedicate space at this year's fair to an installation by ektor garcia, an emerging Latinx artist born in California and working in Mexico. Supported by Maestro Dobel, this will explore forms of Latinx identity and heritage. I wonder, when you talk about The Shed's wider communities, how the migrant community figures in your civic programming?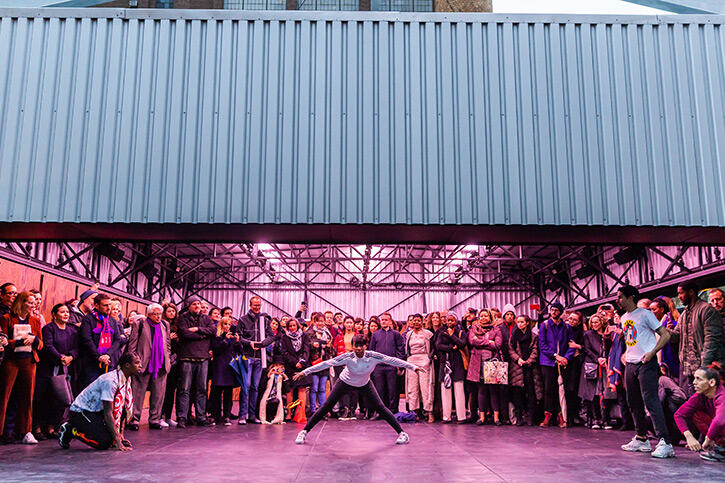 TM The need to support all New Yorkers, new and old, is ever more urgent. The Shed's immediate neighborhood has one of the highest concentrations of unhoused people in NYC: one in four students in our community board district experiences persistent housing insecurity. Major transportation hubs Penn Station and Port Authority are nearby, so the neighborhood housing crisis affects growing numbers of asylum seekers. Meeting needs now and responding to the extreme present are our guiding principles, so when The Shed was given the opportunity to partner with NYC Public Schools' Manhattan Borough Response Team to organize food and clothing drives, we jumped at it. We now host quarterly days of action and fairs that feature dozens of organizations providing healthcare resources like on-site vaccinations, blood tests and clinical care and advice for navigating insurance, as well as resources for social services like legal aid, food assistance, school enrolment, and adult education and employment pathways.
CM: I find these instances of direct action very inspiring. It's one of the reasons that we invited the Artist Plate Project to the fair this year. They invite leading artists to create limited edition, beautiful plates, which are sold to benefit the Coalition for the Homeless. The purchase of a single plate provides something like the equivalent of ten hot meals for an unhoused person in NYC.
TM: What else is new to the program this year?
CM: A new initiative this year is the Frieze Artadia Prize, which will debut a new commission by the New York-based artist Jessica Vaughn, which manifests a kind of alternate map of America through her intervention in the postal system. We opened applications for the Prize to past recipients of Artadia's awards to draw attention to its unique model, which pro- vides funding to artists in key US cities at crucial junctures in their careers—whether that's to help with a first studio or with scaling up production ahead of a major exhibition. It's about allowing artists to reach the next step in their practice at stages of their career when support might not be available. Is there a parallel here with The Shed's Open Call program?
TM: Yes, our goal with the Open Call is to increase opportunities and outcomes for local artists who haven't yet received major commissioning support. Artists at this stage aren't always afforded platforms, scales of venue, visibility and a chance to produce new work. With Open Call, we make available all our tools and resources for emerging artists to experiment at scale. As one of the founding organizers, I not only produce the performing art projects, but ensure the shared leadership model that includes 70 reviewers and panellists, and a network of mentors and peers who guide individual projects and access initiatives. Who are some of the emerging artists whose work you're especially looking forward to seeing in the fair this year?
CM: The whole Focus section is a platform for our audiences to engage in-depth with emerging practices and make discoveries. This year, it will feature galleries under 12 years old based in Argentina, Brazil, Canada, China, Korea and Nigeria, as well as some of New York City's most groundbreaking spaces. In the fair's main section, it's exciting to also see global diversity among our exhibitors. We've strengthened our representation of Asian galleries, added an exhibitor from Manila in the Philippines, and can boast nine galleries taking part from South America. I'm excited that the Tehran-based Dastan Gallery is going to show the work of five Iranian women artists. Given the very contested situation of women's rights in Iran at this time, it feels urgent to see their expression on their own terms. What will be on your agenda for Frieze Week?
TM: Within the fair I'm interested, as with every year, to see the work of BIPOC artists and the themes that emerge from their work. It's also encouraging to see greater representation of Black gallerists. Around town, I'm looking forward to New York Live Arts' Live Ideas Festival. While folks are here, they should definitely see 'A Movement in Every Direction: Legacies of the Great Migration' at Brooklyn Museum and Ming Smith at MoMA, before they close.
CM: Yes! Nicola Vassell showed a beautiful selection of Ming Smith works at Frieze Los Angeles this year.
TM: What about you–what are your "must sees" across the city?
CM: Besides the museums and non-profits, it will be exciting to navigate the city's galleries and their shows. The Shed is so well located for such active gallery districts like Chelsea or Tribeca. There's such a sense of proximity to so much of the city's cultural fabric. This year at the fair, two galleries are making a joint presentation of work by the Swiss artist Pamela Rosenkranz, whose eye-catching new commission for the High Line is going to be unveiled ahead of the fair's opening. I love the idea that someone can explore the artist's work at Frieze in The Shed and then walk out and encounter it in a whole new dimension, right on our doorstep.
This article first appeared in Frieze Week, May 2023 under the headline 'Civic Center'
Main image: Pamela Rosenkranz, Old Tree (rendering), 2023. A High Line Plinth commission. Courtesy: the artist, the High Line, Karma International, Miguel Abreu Gallery and Sprüth Magers