Featured in
How has art changed?
With the proliferation of museums, biennales and fairs, and the sheer amount of work now being made, shown, and sold, the art world has obviously changed substantially over the last 40 or so years. But what have been the most important shifts in art and the structures that surround it? frieze has asked 33 artists, collectors, critics, curators, educators and gallerists to respond.
John Armleder
An artist who lives in Geneva and New York. He co-founded the artist group and eponymous gallery space ECART in the late 1960s, and more recently Villa Magica Records. His book About Nothing, has just been published by JRP/Ringier.
You know what they say: 'plus ça change, plus c'est la même chose.' Well 40 years is a mighty long time, and my memory is not reliable. 1965 might well be a jellyfish and 2005 some kind of scarab. Some things are quantifiable. In terms of statistics, we know what a small crowd it was then: a handful of venues, some events, a few writers, a set of publications, a small audience, a smaller group of collectors (but proportionally perhaps more than today) and a clique of artists. You needed about an hour to name them all. I am talking about what could be labelled the avant-garde, of course, whatever that covers or includes. This small group was also framed and fuelled by the economic and political shape of the times. The backbone of the postwar period was in place, offering the stimuli of a clear discourse in our capitalistic society, permitting a critical syntax that made immediate sense. The most established avant-gardists could afford to be champions in all fields, contesting the very support of their relative fame.
This state of affairs remained in place until the early 1980s, when affluent capitalism hit big. Suddenly the small world of the wealthy and comfortable became even wealthier, and statistics changed like they had never done before. Not that justice turned universal, but a privileged society had the means and need of consuming as never before. Culture turned into an available product, and this is what we bump up against today. This created a different concept of time. I am personally quite grateful to have been around long enough to now experience eternity limited to a couple of weeks. The significant changes are: more people, more venues, more publications, more artists, more words – and less duration. If only – and sorry for being such a retarded hippy – we could stop war, disease and poverty.
John Baldessari
An artist living in Santa Monica, CA.
I made a list of shifts in art in the last 40 years. Out of a list of 15, the one that jarringly stood out was the arrival of money and its consequences. What are they?
Good
1. Artists need it to have more time to do art.
2. Museums need it to do adventurous shows they otherwise might not be able to do.
Bad
1. Artists (especially young artists) can be tempted to do art they judge will sell, rather than what they would create if money were not in the equation.
2. Many galleries seem to lack a vision other than what will produce a sell-out show.
3. Museums need money and many have a blockbuster agenda – there is a merging of art and entertainment.
4. Artists watch the galleries and museums for what is popular – and saleable.
5. Collectors and galleries increasingly consume young artists that have not yet received their MFA.
6. Students decide to become artists because of quick money and social mobility.
7. Auction and art fair prices are increasingly an index of quality.
Iwona Blazwick
A critic, art historian, lecturer, broadcaster and Director of the Whitechapel Art Gallery, London.
The last four decades are both a legacy of the 1960s and a betrayal of their revolutionary potential. We can thank the Feminist and Civil Rights movements for making our art world massively more inclusive. The dematerialization of the object of art and its expansion into idea or phenomenon have made it possible for a text, an action or an environment to be understood as art and for Modernist realism to continue by other means. Early experiments with Super 8 and video laid the groundwork for the colonization of the art world's time and space by the moving image, while the lens has attained equal status with the paintbrush. The entry of Structuralism, psychoanalysis and anthropology into theories of art has rocked the boat of aesthetics and evolved into an insistence on subjectivity and participation as integral to meaning. The spirit of collaboration and the co-option of empty property that was a hallmark of so many artists' groups in the 1960s continues to live on generating a mobile but sustained network of laboratories for art.
Art has moved from margin to centre, with all the losses and gains that this entails.
It's an expanding field that has also become increasingly professionalized, commercialized and spectacularized. The last 40 years have marked the rise and proliferation of curators, collectors and architects specializing in making museums into powerful corporate brands that are intended to provide mass entertainment, generate tourism or solve social problems. Art has moved from margin to centre, with all the losses and gains that this entails.
Saskia Bos
Has been Director of De Appel in Amsterdam for 20 years and was recently appointed Dean of Arts at The Cooper Union for the Advancement of Science and Arts, New York
As I have been working on a text about the reception of Marcel Broodthaers' work over the last 40 years, your request to look back at that same period of time comes at an oddly appropriate moment. The year 1965, when Broodthaers had just started working as a visual artist, seems a happy time in retrospect: critical, but still unaware of things to come (the Vietnam War). Linguists are starting to publish their theories in France, but these are not yet applied to interpretations. The word 'postmodernity' has not been invented, hence the virtual absence of the curator as we see him/her today; clarifications are looked for in the words of artists, who, somewhat influenced by Duchamp, are playing hide and seek.
If Daniel Buren analyses the role of the curator in 1972 (Harald Szeeman,† 2005) as someone who creates a discourse between works, it is Lawrence Weiner who, exactly ten years later notifies us that Postmodernism has no such discourse, just COLOURFUL OBJECTS PUT SIDE BY SIDE TO FORM A ROW OF COLOURFUL OBJECTS. In the past 20 years we have seen a growing interest in the 1960s and 1970s, lately more towards artists' attitudes and détournements than in material results. This is not nostalgia: awareness of the past contributes to imagining a future.
Gavin Brown
Emigrated to the USA in 1988. In 1994 he obtained a Green Card. He is considering his citizenship status.
The fundamental reasons that art is made, looked at and thought about have never changed, but no one knows what those reasons really are. But the structures that surround this process have ballooned, and like dust they will blow away in the first cold breeze. This industrialization of the 'art world' is a purely social and financial phenomenon. In fact, it has now grown to such bureaucratic dimensions that a new and unprecedented ugly hybrid has emerged – the local government/contemporary art/real estate exploitation Godzilla – coming to an overlooked and underpriced area near you – SOON.
If you were in Paris in the 1920s it was inspirational to see Cubism on the side of a camouflaged tank, but who would have thought that art was the perfect carrot to wave in front of Mr. Mayor? Contemporary art Disney-fication is dressing up the corpse of every grey rusty town that capitalist industry left for dead when it moved to Asia.
NO MORE TV DINNER BIENNIALS!
Like the American industrialization of food, this is alienating and makes us fat and lazy and greedy. It makes us very bored and very boring. Worst of all, everything starts to taste the same. It is important to eat fresh, local produce. We all want to grow the tastiest tomato, but we don't have to sell it at Wal-Mart. There is nothing wrong with the local farmers' market. And when the oil prices hit $100 a barrel, none of us will be leaving home anyway.
NO MORE FACTORY FARMS!
NO MORE TV DINNER BIENNIALS!
EAT MONEY SPEND FOOD!
LEAVE THE ART FAIR AND
NEVER COME BACK!
Luis Camnitzer
An artist living in New York who represented Uruguay in the 1988 Venice Biennale, and showed at Documenta XI. He is Professor Emeritus, State University of New York and Viewing Program Curator, The Drawing Center, New York.
1. The Conceptualist break: once Conceptualist strategies entered the art repertoire in full force, storytelling and hedonistic appreciation became secondary features, and art clearly became a field focused on problem solving. Analysing art-historical works is now one of the best solutions to interesting and well-formulated problems. Art assumed its responsibility as a tool in the quest and expansion of knowledge and the (yet unfulfilled) potential to transcend the fetishism of the object and the production of merchandise. The artist today faces the explicit responsibility of shaping culture.
2. The Basel Art Fair: it provided a sustainable forum where high quality and commerce could come together to feign a cultural event, or perhaps define a new, more accurate representation of art culture in the age of profiteering. The hypocrisy of salons and biennials was unmasked, and the first Art Basel marked the beginning of Postmodernism.
3. The first four Havana Biennials: as an answer to the centre's stronghold on the art canon, it shifted the attention of the periphery onto itself. The effect was strong enough to refresh an artistically exhausted mainstream, but primarily it created a strong sense of independence and affirmation of identity among the artists of the Third World. As a by-product, these artists also started on the road to acceptance as non-handicapped players in the world's art scene.
4. The erosion of geography for the benefit of infography: the Internet and the facilitation of travel allowed the formation of new communities bound by interests and causes rather than by location. While the physical neighbourhood will always remain a factor in the creation of dialects (artistic and other), the redefinition and primacy of connectedness is becoming a fundamental factor.
5. Computer literacy and technology: with the improvement of image resolution as a process independent from photographic rendering, the distance between imagination and product is in the process of being obliterated. The limitations of traditional media – painting, sculpture, drawing, etc. – inasmuch as they are clumsy and approximate tools of formalization, has made them recede to the level of crafts. Consequently styles and personal signatures have increasingly become trademarks rather than elements of cultural communication, and the elimination of the erosion of information between conception and execution is becoming the priority.
6. The acceptance of subversion as an ingredient of art-making: at least part of the art community has accepted that art has to challenge the status quo more radically than just saying that it should challenge the status quo. Thus, for those of us who believe in this, the definition of power and its attribution have evolved correctly. What has not evolved in tandem with all this is the location of power. In its general move towards fundamentalism, society is increasing control and diminishing funding for the arts. The solution, for the next 40 years, might be for artists to be less hung up about our label as artists and focus more on our duty to subvert.
Max Delany
Artistic Director, Monash University Museum of Art, Melbourne.
The passage from then to now: from an Antipodean perspective Minimalism turned up late (and misplaced), nevertheless anticipating a shift from fledgling to fly-blown institutions, white cubes to black boxes and beyond. Indigenous art and culture radically rewrote the lie of the land, history and the market. Global traffic and cities on the move redrew centre/periphery relations, mais, plus ça change plus c'est la même chose. Artists, all the while, have continued to make extraordinary things with (usually) limited means, producing problems and provocations, new sensations, vulnerabilities and intensities of feeling. I wonder how much our perception really has shifted within the digital realm. Certainly time has compressed, and space seems denser. In the end it's probably capital which has performed the most intense, violent and spectacular acrobatics – a situation requiring artists, more than ever, to conceive new modes of critical diversion, play and corruption.
Harald Falckenberg
Born 1943, a collector of contemporary art who lives and works in Hamburg.
Surely the most significant upheaval of the postwar period took place from the mid-1970s. It was the end of big ideas and social designs. In the days of Joseph Beuys the word was still, 'every human being is an artist'; then Martin Kippenberger turned it round and said 'every artist is a human being' while Punk chanted, 'we're pretty vacant, and we don't care!'
'Desire' became a leitmotiv of the 1980s, and it continues to characterize today's boom in desire-laden art à la Leipzig School.
It was the death of Modernism and the beginning of an era which – with no attempt at a meaningful new departure – defined itself as the period thereafter, the Postmodern era. In political terms it was marked by a conservative turn, with Margaret Thatcher coming to power in 1979, followed in 1980 and 1982 by Ronald Reagan and Helmut Kohl. Faith was placed in global markets, with yuppies fighting on the front line. Museums and galleries began to be run as businesses and were increasingly driven into the non-independence of private–public partnerships, framed by an atmospheric event culture with more than 50 biennials and triennials worldwide. 'Desire' became a leitmotiv of the 1980s, and it continues to characterize today's boom in desire-laden art à la Leipzig School. The curators of the international events have established well-oiled networks of connections. The artists help implement the curators' ideas, loyally following them around the globe. The notion of an artistic oeuvre as a life's work is almost forgotten. The generation of artists born after 1950 plays by the rules of a fast-paced culture industry that craves novelty. The pop star is their paradigm. After what is usually a brief career they can still get that professorship at the academy. Critical artists cultivate their wounds in post-Structuralist discourses. The artist-as-genius model has expired. Now it's all about context, social praxis and the right strategy within the 'operating system of art'. In their new roles as culture analysts and service providers, artists – luckily, not all of them – have adapted to a development, which, as Pat Hearn contemptuously put it, has led them 'from criticism to complicity'. This doesn't worry artists like Koons and Prince in the slightest. For us there is comfort in the certainty that a time after the Postmodern era will come.
translated by Nicholas Grindell
Andrea Fraser
A New York-based artist. Museum Highlights: The Writings of Andrea Fraser was published by MIT Press in August 2005.

We're in the midst of the total corporatization and marketization of the artistic field and the historic loss of autonomy won through more than a century of struggle. The field of art and now only nominally public and non-profit institutions has been transformed into a highly competitive global market. The specifically artistic values and criteria that marked the relative autonomy of the artistic field have been overtaken by quantitative criteria in museums, galleries and art discourse, where programmes are increasingly determined by sales – of art, at the box office and of advertising – and where a popular and rich artist is almost invariably considered a good artist, and vice versa. Art works are increasingly reduced to pure instruments of financial investment, as art-focused hedge funds sell shares of single paintings. The threat of instrumentalization by corporate interests has been met in the art world by a wholesale internalization of corporate values, methods and models, which can be seen everywhere from art schools to museums and galleries to the studios of artists who rely on big-money backers for large-scale – and often out-sourced – production. We are living through an historical tragedy: the extinguishing of the field of art as a site of resistance to the logic, values and power of the market.
Wasn't it all so much more negotiable then?
Carl Freedman
Director of Counter Gallery, London.
Responding to this survey is initially an exercise in contesting the nagging impulse for wishful thinking. Wasn't it all so much more negotiable then? A structure that was decipherable and as impressively devoid of function as the Atomium in Brussels. And even the brilliantly surfaced 1980s, drenched in the hallucinatory texts of High Postmodernism – ironically, doesn't that now seem like a peaceful haven? Changes are many, especially the expansion of art in an ever-international direction, productively co-opting peripheral territories into the centre, even if, inevitably, the craving for newness leaves some of these discoveries waning in the back draught of fashion. What is also clear is the increasing normalization of art, in that it is increasingly both produced and managed by a new type of professional who appears noticeably closer in ambition to others of the professional class than to the freaks and iconoclasts of yesteryear. What has remained a constant – from the supposed dematerialization of the art object onwards – are the persuasive, multifarious strategies of capital. It keeps close to the action, penetrating in all manner of guises, reaching its apotheosized form in the art and commerce spectacles of art fair biennials – probably the most genius example being the wonderful big top day out extravaganza that is Frieze Art Fair.
Isa Genzken
An artist who lives and works in Berlin. In 2006, her artist's book I Love New York, Crazy City will be published by JRP/Ringier, and her work will be shown in solo exhibitions at Galerie Daniel Buchholz, Cologne and Secession Vienna.

Pop Art, Art Brut, Minimal Art, Concept Art, Arte Povera, Performance Art, Videoart, Photo Art, Landart, Junge Wilde, German Art, Italian Art, US Art, French Art, Britain Art, Artists Films, Gefühlkunst, Architecture Art, Soziale Plastik, Naïve Malerei.
Liam Gillick
An artist who lives in New York and London.
A tension that results from a scepticism about globalization that is constantly confronted by a desire to continue a form of developed internationalism. A repositioning of the critical voice in light of the rise of curating as a semi-autonomous set of critical structures. Shifts in established social hierarchies in light of the challenges of varied politics of identity. The repeated and ongoing exposure of institutional frameworks within a cultural and broader social context. The ongoing reoccupation of cultural and social space as soon as it is abandoned as inconvenient by the dominant culture. The continued specificity of artistic practice. The rise of super-subjectivity in art. The rise of the documentary tendency in art. The impossibility of resolving a singular art discourse or contemporary artistic practice.
Teresa Gleadowe
Director of the MA Curating Contemporary Art at the Royal College of Art, London.
In the summer of 1966 the Arts Council presented at the Tate Gallery 'The Almost Complete Works of Marcel Duchamp', the first major retrospective of the artist's work to be held in Europe. It was selected by Richard Hamilton, who wrote the one-page introduction to a catalogue designed in classic Modernist style by Gordon House. With its Monotype Univers text, monochrome illustrations shown approximately to scale, modest selection of six colour plates and discreet scholarly tone, this understated but informative publication speaks eloquently of a particular set of assumptions about the purpose of art. There is no expectation of box office or of universal appeal. Forty years on the continuing influence of Duchamp on art theory and practice is still felt, but the world of art is no longer a separate sphere. It is now permeated by the art market, by business and political interests, and by the values of the 'creative industries'. The museum building boom of the late 1980s continues, linked to agendas of economic regeneration. Biennials have proliferated, and supranational museum brands have been established. The audience for art has exploded in size, with a growing emphasis on diversity and education. Electronic communication has increased the speed at which an exhibition or publication can be realized, and international travel has become an essential component of the activity of the artist or curator. Art has become a globalized field, no longer bounded by the physical presence of the work of art.
Ann Goldstein
Senior Curator at The Museum of Contemporary Art, Los Angeles.
As part of a larger counter-cultural moment in the 1960s, artists challenged the authority of the institutions and structures that defined their work. This laid the groundwork not only for opening up new possibilities for what art could be, but also for who could, and should, enter into its arena. As a museum curator, I am compelled to revisit and represent history, to communicate a greater understanding not only of the past, but also of the present. I recall a meeting ten years ago with some of my colleagues where I described MOCA's then upcoming survey about the emergence and foundations of American and European Conceptual art, '1965–1975: Reconsidering the Object of Art', which I co-curated with Anne Rorimer. When I finished describing the exhibition and the socio-political context of the work, one of my colleagues asked, 'Why did these artists feel so compelled to question authority?' That question was my wake-up call that we can never take anything for granted. Now I would not be so surprised, which is even more haunting. Still, I must not just point fingers at others. I must turn these questions toward myself in my own life and work and ask 'am I doing what is necessary?'
Jack Hanley
Has owned the Jack Hanley Gallery in San Francisco since 1990. In late 2004 he opened a gallery in Los Angeles' Chinatown.
Globalization has certainly affected various aspects of the world in the last 40 years, the art world included. Consolidation of art presenters such as the Guggenheim's worldwide expansion and also new entrant AEG (the rock concert promoter) moving into art shows like 'King Tut' at LACMA echoes what happened in the 1980s in the rock promotion field. Biennials/art fairs and cheap international air tickets coupled with Internet blogs and websites now help to create 'branding' for artists at ever earlier ages. The interest in diversity/multiculturalism that initially sprang from political movements now often looks a lot like other areas of Pop art assimilation of the 'other'. The same internet that brings mind-boggling problems like instruction manuals for terrorists and meth-lab cookers also makes searching for that elusive drawing, print or photo merely a question of price and a simple mouse click. Does this e-Bay/Google phenomena make completing a collection less interesting or is this a great levelling of options previously available only to wealthy world travellers? If the search for an artwork is really an internal search for growth, then what does it mean if it happens at warp speed? There has also been an MBA-ification of museums and art schools, which have shifted more control for programming, curriculum and personnel into the hands of trustee-like business people and away from historians, academics and artists. The business models applied to these areas then favour 'business plan'-type directors and grad students and artists, which might explain AEG's interest in moving into art museum programming. The X-Box/iPod sense of hardware and software now applies quite efficiently to art world structures. 'Performance' art can be packaged and monetized as easily as collateralized and loaned collections. The sense of accelerating time and 'too much information' is related not only to personal ageing, but also to planetary ageing. As we develop globally into one community, the loss of frontier and space on this planet will be replaced by a search elsewhere. It is certainly no more difficult now to search online for land in Nicaragua or Estonia than in New Jersey, and civilization-wise we usually do cut and run with a wake of debris behind us, so we might be preparing to move elsewhere. Perhaps the constant recycling of styles, not only Postmodern but also 'post-new', is an indication of art and MFA overcrowding. The internet's effect on visual content may be the most dramatic shift. If the use of 'chance' elements in painting, music, dance and other forms brought welcome breaks from the predictable mind and its repetitive patterns, won't the endless possibilities of computer recombination's make this as uninteresting as the e-Bay (computer-searched) collection? In the end, making idiosyncratic and kind choices will still be most critical.
Hou Hanru
A Paris-based art critic and curator. He is currently the artistic director of the Second Guangzhou Triennial, China.
The main shifts in contemporary art since the 1960s can be seen in the following contradictions: the Conceptual turn of art language has definitively opened the horizon of art towards the world beyond the visual. However, it has almost immediately turned into a new formalism because of the need for materialization. Contemporary art, in alliance with institutionalization, marketing and media, has gained an unprecedented popularity. However, its 'avant-gardeness' and experimentality, in the meantime, have been replaced by art's new status as commodity and fashion, and therefore it has turned into a kind of gimmick played around with by a well-intentioned new middle class. Opening up to the non-Western world has been a major shift in the international art world after the Cold War. Along with the boom of events such as biennials all over the world, especially outside the West, contemporary art has gained a totally new position and managed to make itself global. This helps 'non-Western' artists become part of the global scene and express their voices. However, an inevitable trend, such as economic globalization, is that similar and sometimes hegemonic norms are being adopted everywhere, and cultural differences are being replaced by a new dynamic of globalization and resistance.
Yuko Hasegawa
Artistic Director, 21st Century Museum of Contemporary Art, Kanazawa, Japan.
The most important shift has been from man, money and materialism to collective intelligence, co-existence and consciousness. Broadly speaking, the 20th century gave birth to a multitude of experiments, new conceptual styles, and material forms that have been categorized into the enclosed territory of art by institutional discourse. It cannot be denied that this art was the privilege of the few. However, since the 1990s there have been many attempts to open up this enclosed territory and to diffuse art into the public arena. Daily activities have been appropriated into artistic projects that encouraged the participation of the viewer. Metaphorically speaking it could be said that newness has shifted from the content to the interface. Today, when new conceptual styles and forms have reached the point of saturation and are no longer expected to be fresh, the ideological newness regarding display and transmission should be taken into account. The important question in such an endeavour is: to what extent should a subjective interpretation and self-discovery that are gained through viewer's participation be encouraged?
Dave Hickey
An art critic who lives in Las Vegas, Nevada.
First, I am not a part of this any more. I am still writing but obsolete, a dead man walking. Most of my younger colleagues, the art critics who should be in the ascendant today, died of AIDS in the 1980s. Those that survive are academics or tabloid celebrity geeks. Art dealers who once represented an informed aesthetic now show one of each.
With the defection of critics, curators, museum directors and editors from the realm of informed decision-making, only collectors vote on new art
Museum directors and curators who once proudly promoted an engaged view of things now show one of each. Magazines that once implemented an informed agenda, now publish one of each – pro and con. With the exception of collectors, everyone in the art world today is either a public servant or journalist – a poll watcher or a bean counter – implementing 'fairness'. With the defection of critics, curators, museum directors and editors from the realm of informed decision-making, only collectors vote on new art, so they drive the market, which, as a consequence, is radically front-loaded, frivolously quixotic and egregiously sentimental. Other than that, everything is peachy.
Matthew Higgs
Director and Chief Curator of White Columns, New York.
My feeling is that only a nostalgic (or curmudgeon) would argue that things were better (or, even, more interesting) in the 1960s, 1970s, 1980s or 1990s. 'Right now' – i.e., the present tense – is always the best time for what we do. Certainly there have never been more people interested in and involved with contemporary art, which is a good thing. ('Art for all', as Gilbert & George might say.) I know that some people grumble about art fairs and biennials, but these are probably the same kind of people who would grumble about their favourite bands becoming popular.
Only a nostalgic (or curmudgeon) would argue that things were better (or, even, more interesting) in the 1960s, 1970s, 1980s or 1990s.
Technology insists that things happen and are absorbed a lot quicker these days, but that's OK too. (Only romantics would have it another way, and don't forget: Ars longa vita brevis.) What's sad? Call me old-fashioned, but art seems to be losing its regional dialects and accents, becoming instead a kind of visual Esperanto, but, hey, you can't have everything. What's bad? The art world remains too professional and too bourgeois … some things, I guess, will never change.
Jens Hoffmann
Director of Exhibitions, Institute of Contemporary Arts, London.
The past four decades have seen countless changes and shifts in the sphere of the visual arts; to mention them all would clearly occupy far more space than is available here. For this exercise, which could be called 'a short history of art in a nutshell', singling out one development that is particularly relevant to the current conditions and realities of the art world is the only adequate response.
What was once a space for experimentation, resistance, critique, subversion and Utopian desire has become a homogenized, affirmative and commercial affair. From being an independent and truly radical practice, which it essentially was until the late 1960s and early 1970s, art has become generally not much more than entertainment, commodity production and spectacle – in other words, an embracement of amusement and excess. This is the most severe change that has occurred in the context of visual art over the last 40 years.
Julius Koller
An artist living in Bratislava. From 1970 until 1990 he was engaged in the permanent art of life, 'Universal-Cultural Futurologic Operations (U.F.O.)'. His current post-Conceptual artistic programme includes sign communication with historical context.
In 1965 I graduated from the Visual Arts Academy in Bratislava and began my professional career as a painter. However, during my studies in 1963 and 1964 I had already been producing assemblages, Conceptual objects, Conceptual paintings and collages. Inspired by Dadaism, and especially Duchamp, I took note of the historical significance and creative energy bound in the anti-art revolution and the spiritual transition in visual arts started by ready-made intellectualism. In the following years in my artistic work I reflected critically on classic Modernism through actions rooted in the world of arts and inspired by my everyday life circumstances.
From the perspective of my 'Universal-Futurologic Orientation' over the past 40 years, I consider the key change and process in art to be the opening of art to intellectual and media freedom, embracing independence from restrictive formal–aesthetic (including avant-garde) doctrines, rule sets, traditions or tenets. Hence current art is an adventurous time–space of positions, processes and games that are democratic and élite, emotional and rational, private and public, interactive and intermediary, electronic and classical. The mass–energy relationship established in physics and the uncertainty and relativity concepts stemming from the same source also apply in the world of arts, which have been subjected to an increasing rate of change as a result of internal (individual-subjective) and external (social-objective) environmental conditions. In current art (i.e., over the last 40 years) ideas about constants, time and space have also been subject to revisions. However, we are still far from a universal system shape, i.e., a universal arts theory. As soon as we have one, we will arrive at yet another end of a never-ending story (of art), landing again in a Postmodern academy ... much in need of a new revolt again …
Nicholas Logsdail
Director of the Lisson Gallery in London, which he founded in 1967. The gallery represents international and British artists including
Douglas Gordon, Anish Kapoor, Francis Alÿs and Lawrence Weiner.
The postwar contemporary art world, as I see it, developed out of the long history of Modernism from the 19th century, arguably beginning with Gustave Courbet. While Europe was still recovering from the war in the mid-to-late 1960s, the American art world, and New York in particular, had the advantage of émigré new blood from Europe and usurped the prewar position of Paris as the centre.
Almost every aspect of the infrastructure that existed in the late 1960s has seen an increase of resource and activity that must be without exaggeration a hundred times greater.
A new spirit of internationalism emerged in New York, facilitated by cheap airline travel between Europe and the USA. The era of Conceptual art and its interests was greatly facilitated by this and resulted in a great expansion of interest and, ultimately, collecting. The historic phase of the New York School as a coherent entity started to fall apart in the early 1980s, when, for the first time, European artists were given shows in New York galleries and museums. Out of this came a new development, which one might call a kind of national internationalism: the Transavanguardia from Italy, German neo-Expressionism and the more rigorous work of the British sculptors out of Britain. This was followed by more and more complexity and divergent enthusiasms and a so-called multicultural awareness. Since the 1990s there has been a series of consolidations and rejections; it seems to me that if one is looking for any kind of mainstream, one can find that in many ways current work finds its reference point back in Conceptualism. During this last 40 years a vast infrastructure of museums, galleries, collections, foundations and collectors worldwide have created a system based on power and money, the likes of which we have never seen before. Almost every aspect of the infrastructure that existed in the late 1960s has seen an increase of resource and activity that must be without exaggeration a hundred times greater.
Libby Lumpkin
A fellow in the International Institute of Modern Letters in Las Vegas, Nevada. She also serves as Executive Director of the Las Vegas Art Museum.
At the top level of the art world 25 or so artists make it all new. At this level neither the principles of art-making nor the art market has changed. Next rung down, art-making is more professionalized – MFA is more like AiA – and the market has expanded to include a greater number of collectors who know little about art. The 'democratized' art museum doesn't seem to have been such a great idea after all. Below that, everything's about the same.
Joanna Mytkowska
Co-founder (in 1995) and co-director of the Foksal Gallery Foundation in Warsaw, and curator of the Polish Pavilion at the 51st Venice Biennale.
Since the practice of contemporary art started shaping itself in the mid-1960s, and since its institutions and strategies became entrenched over the subsequent 40 years, it has not changed its nature in any fundamental way. The most visible change in the last decade has been the art world's opening up to new geographic and cultural territories. The ethnographic perspective has become very popular, which is visible at large exhibitions or biennials, and is slowly becoming an important part of the curriculum of museums and other institutions. This trend, even if sometimes superficial, may result with time in many transformations of artistic activity, as it has activated or revealed new motivations and reasons for making art in places that until now have had no broader contact with the practice of contemporary art. A more significant change has occurred in the artistic practice of my generation. Critical art, the driving force of many artistic activities, has given way to non-ideological, more concrete, innovative, sometimes mystical attitudes. Artistic statements have become less discursive, but always subversive. Artists co-operating with institutions change the way they function, only they no longer do so within the framework of so-called institutional criticism, but in a way more difficult to define, more sensual and tangible. I have experienced that myself, working with such artists as Pawel Althamer. His action Bródno 2000 was a premeditated shift in reality, an act of directing reality, whose significance has remained personal, local and not entirely fathomable.
Hans Ulrich Obrist
Curator of the Musée d'Art Moderne de la Ville de Paris, and co-curator of the show 'Uncertain States of America' at Astrup Fearnley Museum in Oslo (October 2005) and co-curator of the Guangzhou Triennial in Canton, China (November 2005).
THE OCEAN NEVER DRIES
Olu Oguibe
An artist who has exhibited his work in biennials and triennials around the world, and also curated major exhibitions for numerous spaces, including Tate Modern and the Venice Biennale. He is an Associate Professor of Art and Art History at the University of Connecticut. His most recent book is The Culture Game.
Over the last 40 years contemporary art has witnessed few significant changes besides the numerous trends and fads that provide the art world with much-coveted entertainment. Photography gained prominence. Video art failed to fulfil its early promise. The much-touted dematerialization of the art object proved to be a mere discursive fantasy, as even 'new media' artists continue to privilege the marketable object. Eventually cynicism has replaced genuine curiosity and engagement even in post-colonial contemporary art. More significant, however, is the consolidation of women artists' place in discourse, display, documentation and practice. Despite continued gender disparity in visibility and remuneration, women artists have registered their presence beyond contest or erasure. This is particularly important because younger artists can now take the possibility of success and recognition for granted. Equally significant is the decline of the critic as a culture broker. Of course, critics remain important arbiters of taste, but the all-powerful, fate-determining critic that emerged especially in mid-century America and brokered careers, movements and canonical paradigms, leaving powerful imprints on the discourse of contemporary art, is no more. Today that role is played by the curator. That, too, will change. Regrettably, artistic autonomy has also declined. In the 1960s and early 1970s artists boldly and consciously distanced themselves from the establishment, and in the process opened refreshing avenues for expression. However, that independence is all but completely ceded today as artists jostle for position and jockey to mortgage their work, careers and convictions for success, thus relegating themselves to pawns in the culture game.
William Pope.L
An artist who lives in Lewiston, a small scrappy town in the state of Maine located in the blow-hole of the USA.
For me, neither art nor the art world has changed very much in the last 40 years. On the surface, it may seem to have changed, but on closer examination I do not think so. For example, the ubiquity of electronic media and photography in so many exhibition venues today seems very similar to the 19th-century's hegemony of painting. Then as now, an artist's mettle was measured by the fashion in which he meddled. Today though there are more material, technological and professional avenues open to artists, the institutions that cultivate them inculcate a class amnesia similar to that of past generations of Modernist culture-makers. In the late 19th and early 20th century artists tended to come from the privileged and upper classes, with perhaps a few upstarts from the merchant classes.
I think the danger is not that the art is frivolous; I think the danger is that the people who make it might be so.
Today, at least in the USA, many artists come from the middle class and even the lower class. Has this important shift really changed the structures that make the art world go round? And if so, how so? To whose benefit? And what of the late 20th-century inclusion of more women and minority folk in the art world mix? Shouldn't that have changed something? Something has shifted. No one can deny this. But what's more interesting is how capable the art world is of absorbing these shifts and, if not nullifying them, then ignoring or altering them such that their one time criticality and difference seems softened or disappeared. But perhaps this disappearing act is an ideological illusion. Perhaps the criticality of these shifts has changed something. Maybe these shifts have been veiled to appear as nothing and the changes they caused made to look insignificant. Isn't it easier to believe that it just doesn't fucking matter? Isn't it easier to believe that, if everything is fucked, then we don't have to give a fuck? Artists have always loved to think the worst of each other and their home called the art world. In a strange way, we like to soil our own nest. Maybe it's a defensive gesture. We feel we'd better do it to ourselves before some non-artist does. Maybe we just like to wallow in filth and deny our hands are dirty. I think we artists are afraid that our work is worth nothing, that it's frivolous. I think the danger is not that the art is frivolous; I think the danger is that the people who make it might be so.
Lawrence Weiner
Artist living in New York City and Amsterdam.
See response below: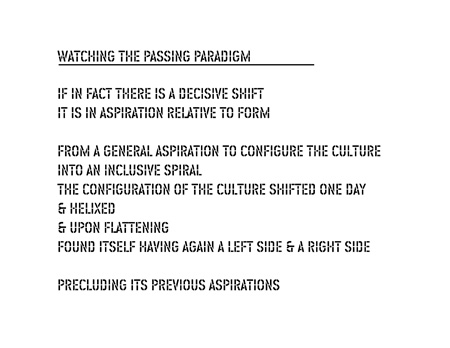 Adrian Searle
Writes, curates and is the art critic for The Guardian newspaper.
In the last 40 years we have witnessed a vastly increased internationalization of art and the art world, which, largely, can be accounted for by better communication, especially via the Internet, and cheap air travel.
London has changed for the better, New York for the worse. Berlin is cheap, Paris is still sleeping, Madrid is a mess and Shanghai is not a realistic option.
We have watched the biennialization of the art world, the rise and rise of the curator and of the collecting classes. We have been blockbustered, and watched the art museum become a theme park for mass tourism. I'd like to say there's a more informed public, and higher visual literacy than before, but I'm not sure if this is necessarily true. It's OK to like art now, but what difference does it make if you do? It is easier to be an artist now, but harder to know what art to make. For art and artists London has changed for the better, New York for the worse. Berlin is cheap, Paris is still sleeping, Madrid is a mess and Shanghai is not a realistic option. Nevertheless, the world gets ever more horrible, everywhere.
Marjetica Potrc
A Ljubljana-based artist and architect. Her work has been widely published and exhibited; she has had solo shows at the Guggenheim Museum, New York (2001), and the MIT List Visual Arts Center, Cambridge, Massachusetts (2004).
Democratization: Everyone can choose their time. Ours is a non-linear time. Rarely nostalgic, it celebrates its ruptured condition as time is continuously collapsed between contemporary cultures – rural India co-exists with Bangalore, nicknamed the Indian Silicon Valley, which co-exists with the one in California. Time is being continuously collapsed between present, past and future as well. Let me mention two examples I love from the world of art. Poetry in Motion inserts the past in the present, while the movie Brazil (1985) inserts the future in the present. Poetry in Motion is a project by New York's Metropolitan Transportation Authority. For the past ten years, as you ride on the subway in New York, you can read poems by both contemporary and older poets, which are placed next to advertisements – for example: 'A man has four things / that don't work on the sea: / anchor, rudder and oars, / and fear of drowning', from Proverbs and Songs by Antonio Machado (1875–1939). The movie Brazil, which was shot 20 years ago by Terry Gilliam, was enjoyed then as it is today for the very reason that it lets you shift between times. Then, a bomb in a restaurant read like dark science fiction; today the same image could be in Iraq, Israel or somewhere much closer to home.
Seth Siegelaub
Was born in New York 1941 and has been active as a plumber, art dealer, publisher and independent exhibition organizer; a researcher and publisher on left communication and culture; and a bibliographer and publisher on the history of textiles. He has lived in Europe since 1972 and currently lives and works in Amsterdam.
The Economic Sphere: The art world has grown from a small specialized 'ghetto' to become an important economic–industrial sector with more of everything: artists, art schools, art museums, art foundations, art galleries, art curators, art fairs, art auctions, art magazines, art gallery buildings, art advisers, art supply stores, artists' studios, art restaurants, art collectors, etc. It has also become an important factor in urban planning and tourism.
The Social–Cultural Sphere: The contemporary art world has shifted from the periphery of capitalist society to become a fully-fledged part of its growing entertainment sector, along with pop music, fashion and film, with the same models of 'stardom' and 'celebrity'.
The Artist: The artist has evolved from a 'bohemian' 'outsider' to become an almost 'respectable' 'liberal arts' profession and 'career'.
The Art: Art-making has metamorphosed from a primarily 'critical' or aesthetic activity into a more or less acceptable form of mass entertainment as it has become a more marketable commodity and 'investment'.
The Museum: The museum has transformed itself from a private club to become a new type of mass-market cultural enterprise: blockbusters, bookshops, gift shops, restaurants, catering and party services, sponsoring, branding and property development ('speculation').
Amsterdam, July 2005
Ricky Swallow
An artist who represented Australia at this year's Venice Biennale. He has forthcoming shows at PS1, New York, and Stuart Shave's | Modern Art, London. He avoids dairy products, meat, painting and video but makes sculpture and watercolours, and eats seafood.
The most important shifts have possibly been the continental shifts. Having only served a ten-year sentence out of the 40 years in discussion and innarested [sic] in years and years before those years in terms of where I dig for my own work, I'm not sure what I can add to the discussion. If I think of the word 'shift' or 'shifts', it makes me think of moving on or away from something and I guess that can be seen positively or negatively. For example, is the shift dragging us closer to a better understanding of art? And are we recruiting any new believers? Or have the shifts diluted art and produced multiple arts served in varying strengths to a roster of regulars and weekenders? I feel at the moment there is too much art … the shifts could explode into disorders, with individuals seeking prescriptions to ease the onset of art fairs, biennials and triennials. By 'individuals' I'm thinking mainly of artists. It's important that the structures supporting any creative endeavour are open to change/replacement, even to giving way at some point, providing the ruins are still worth visiting.
Joel Wachs
A former city councilman for the City of Los Angeles and is President and CEO of the Andy Warhol Foundation for the Visual Arts, New York.
The commercialization of art and the increased emphasis on art as an investment has adversely affected all of the structures that surround contemporary art, including the acquisition and exhibition of art by museums, the writing about art, and in some instances the creation of art itself.