'I Am Now a Saint': Brian O'Doherty Turns 90
Three shows in Ireland celebrate the legendary polymath, artist and author of Inside the White Cube
'I am now a Saint,' proclaimed Brian O'Doherty as we sat down together in Dublin. 'I was canonized in Cork. This is my supreme narcissistic moment, in which my faith in myself is completely justified communally.' There is some truth in O'Doherty's playful observation. The Irish American artist, novelist, art critic, television presenter, curator, political activist and former doctor is currently the subject of not one, but three exhibitions in Ireland, along with a series of specially commissioned artworks, performances, publications, music and theatre events. At 90, O'Doherty has never been more celebrated in the country of his birth.
At the core of this ambitious programme is the unveiling of a three-year restoration project entitled One Here Now initiated by Miranda Driscoll, Director of Sirius Arts Centre in Cobh, Co. Cork. While artist in residence at Sirius from 1995 to 1996, O'Doherty created a room-sized installation consisting of nine floor-to-ceiling boldly coloured interconnected murals that prominently feature Ogham script (an ancient Irish writing system composed of 20 linear characters). On display for a year, the murals were subsequently covered up, returning the space to a neutral white. When she took over directorship of Sirius in 2014, Driscoll was alerted to the presence of O'Doherty's artwork, buried beneath layers of wallpaper and paint, and immediately began fundraising in order to restore it.
One Here Now was made, O'Doherty explained, as a response to the history of the building – a former yacht club built by British colonizers and the last visible point of a town that served as the central port for Irish citizens emigrating to the US from the late 1800s until the mid-1950s. When the artist himself first left Ireland for New York age 28, it was from Cobh harbour that he departed. 'Walking down towards the boat, I felt I was walking in the footsteps of tens of thousands of people, grieving, suffering, leaving, never seeing their people again, waving goodbye. So, it is in its own way an Irish Trail of Tears, to adopt from the Cherokees,' O'Doherty recalls, referencing the forced and systematic removal of Native American people between 1830-50 in order to clear US land for white settlement. One Here Now is a recurrent refrain in O'Doherty's work from 1967 onwards: '"One" is unity, "Here" is position and "Now" collapses past and future into the present,' the artist tells me.
Other exhibitions and events include a three-month series of screenings of O'Doherty's film, video and television works at Crawford Art Gallery in Cork. These include his award-winning documentary on American realist painter Edward Hopper, Hopper's Silence (1981) and videos of his early performance works, The Structural Plays (1967–70). In Dublin, IMMA's senior curator Christina Kennedy has organized a mini-retrospective of O'Doherty's work from the National Collection entitled 'Brian O'Doherty Language and Space'. The exhibition also incorporates a new suite of limited edition prints and a book version of The Structural Plays that O'Doherty produced in collaboration with Stoney Road Press.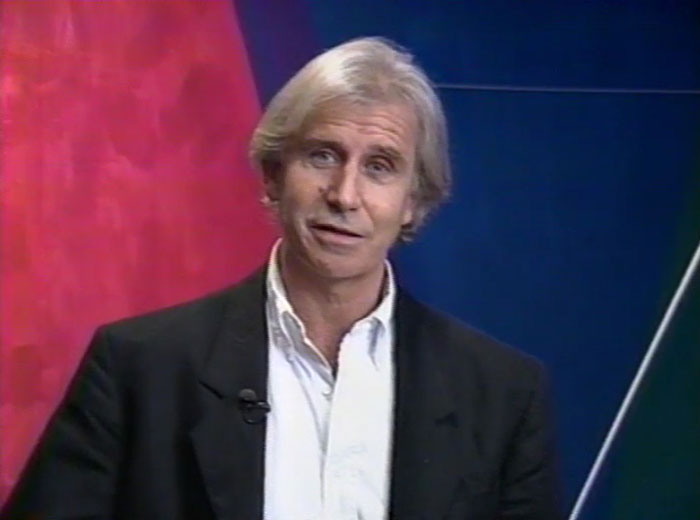 The range and diversity of these concurrent events is an apt celebration of an artist whose work has taken so many forms and who himself has adopted so many identities. After training in medicine at University College Dublin and then in the US at Harvard, O'Doherty turned his attention to his practice as an artist, his role as critic, presenter and commentator running in parallel. In 1958, he succeeded his soon-to-be wife art historian Barbara Novak as presenter of the American national television series Invitation to Art. Moving from Boston to New York in the early 1960s, O'Doherty became the art critic of The New York Times, while also hosting the television interview programme Dialogues. He would go on to commission the seminal Aspen 5+6 magazine/box (1967), which included works by Roland Barthes, Samuel Beckett, John Cage, Sol LeWitt, Andy Warhol and Susan Sontag, and to write what is undoubtedly amongst the most influential series of essays in 20th century art criticism, Inside the White Cube: The Ideology of the Gallery Space, which were first published in Artforum in 1976. His novel, The Deposition of Father McGreevy (1999), was shortlisted for the Booker Prize in 2000. His latest novel, The Cross-Dresser's Secret (2014), is written from the perspective of the Chevalier d'Eon, who lived in the 18th-century, and who lived as both a man and a woman, a French spy and celebrity.
O'Doherty has never stopped producing his own artworks. His 16-part series 'Portrait of Marcel Duchamp' (1966), is based on an electrocardiogram he took of his friend's heartbeat, and it reinvented the genre of portraiture. O'Doherty's persistent explorations of language, perception and space take on many different manifestations. His Rope Drawings (which first appeared in 1973) push painting into the sphere of architecture. Using a thin rope or string to extend the work outwards into the space of the gallery, O'Doherty undermined the viewer's ability to apprehend the whole of the artwork at once. Perception of the space is continually displaced as viewers move through its carefully plotted geometric forms. The artist's commitment to allowing the gallery visitor to complete the work is taken even further in his series of Structural Plays which invite the participant to perform a sequence of movements dictated by notational marks and grids, themselves drawn from such rule systems as Ogham script and chess.
When I asked O'Doherty to reflect back on the staggering diversity of his career, he replied: 'I always found multiplicity available to everybody and greatly unused by everybody. I deeply believe people are capable of much more than the one role they assign to themselves. There is much more that people can do.'
Much of O'Doherty's artistic and critical activity has been produced in the guise of one of his four alter egos: Sigmund Bode, Patrick Ireland, Mary Josephson and William Maginn. The occasion of our meeting in Dublin was IMMA's commemoration of the tenth anniversary of the burial of O'Doherty's central alias, Patrick Ireland. O'Doherty adopted the name as an act of protest against the Bloody Sunday massacre of 14 unarmed civilians by the British army in Derry in 1972. The resultant work Name Change (1972) is the first recorded example of performance art in Ireland and O'Doherty pledged to work under the alias, 'until such time as the British military presence is removed from Northern Ireland and all citizens are granted their civil rights.' It was not until 2008, a decade after the Good Friday Agreement, that O'Doherty decided it was time to abandon his alter ego and lay Patrick Ireland to rest in a public burial at IMMA.
Yet, O'Doherty's most enduring cultural and artistic legacy within his native country is a perhaps more subtly political one of translation, transnationalism and exchange. O'Doherty brought a rigorous form of New York conceptualism and minimalism into contact with distinctly Irish histories, environments and visual traditions. He thus helped to encourage the emergence of new contemporary art practices in his birthplace, while also exposing his adopted country to the experimental art practices nascent in Ireland from the late 1950s onwards. For example, as one of three curators of the Irish international contemporary art exhibition 'Rosc '71' and director of the visual arts programme at the National Endowment for the Arts in the US, O'Doherty helped ensure a show featuring the work of over 20 contemporary Irish artists travelled to Boston, Washington D.C. and Philadelphia.
In addition to these transnational connections, O'Doherty has always had a skill for forging cross-generational relations. As a younger man he formed relationships with modernists that came before him, such as Jack B. Yeats and Mark Rothko, as well as the aforementioned Beckett, Duchamp and Hopper. His 2011 installation and performance piece Hello Sam was an attempt to facilitate a dialogue with Beckett across the ultimate divide of death.
Now that he has reached his 90th year, O'Doherty is still busy exchanging ideas with a new generation of Irish artists. One of his Rope Drawings is currently on display, for example, as part of a group exhibition at The Lewis Glucksman Gallery in Cork, entitled 'Double Take,' that also features emerging artists such as Fiona Kelly, Suzanne Mooney and Sonia Shiel. When I asked O'Doherty what he thinks of Ireland's contemporary art scene, his response was unreservedly enthusiastic: 'They're terrific. I'm very impressed. Ireland is finally showing its long supressed visual potential.'
'Brian O'Doherty: There is no thing here but much else' is at Crawford Art Gallery, Cork, Ireland, until 1 July 2018.
'Brian O'Doherty: Language and Space' is at IMMA, Dublin, Ireland, until 16 September 2018. 
'ONE HERE NOW: The Brian O'Doherty / Patrick Ireland Project' is on view at the Sirius Arts Centre, Cobh, Ireland, until April 2019.
Main image: Brian O'Doherty at his show at the Sirius Arts Centre, Cobh, 2018. Courtesy: Sirius Arts Centre, Cobh; photograph: Clare Keogh