Featured in
Ideal Syllabus: Gary Panter
Artist Gary Panter draws and discusses the books that have influenced him
Reginald Marsh
Anatomy for Artists, 1945
Anatomy for Artists was my baby colouring book. My father is a cowboy painter and this was lying around the house throughout my entire childhood. Marsh drew beautiful ink studies of classical drawings and paintings he admired, including tight copies of Andreas Vesalius's flayed corpses, which both terrified and fascinated me.
J.G. Ballard
The Unlimited Dream Company, 1979
Ballard's writing jumped out at me from science-fiction collections in the late 1960s because he wrote about terrain and objects and psychological states and not spaceships.The protagonist in The Unlimited Dream Company is named Blake, and the book is hauntingly apocalyptic and paradisiacal.
Alexander Cruden
Cruden's Concordance , 1737
Cruden's Concordance is a topical index of the King James Bible written by Cruden, an English bookseller and Bible enthusiast, and first published in 1737. I received it as a high-school graduation present from our hometown preacher. If I hadn't got the art bug, I might have made a very unhappy Church of Christ preacher. This is a very handy book if you can remember even one word of the biblical thing you are seeking. Ass. Hemp. Brick.
Donald Barthelme
Sixty Stories, 1981 
Barthelme's Sixty Stories really got across to me the magical, image-generating power of prose. If the writer writes it, our brains try to envision it, even if it is a baby emerald foot on a plane with a bunch of bankers. Barthelme, the son of a Modernist architect from Houston, said that he was trying to make the equivalent of abstract painting with his short stories. There is such a good and slightly toxic humour expressed in these maddeningly brilliant stories. Every year, I rip a copy up and give parts of this book to my sophomore narrative classes and hope that they will buy a whole copy some day.
Ed Ruscha's books
I found Ruscha's books at the Dallas Museum of Fine Art bookshop when I was in high school. I collected as many as I could, thereafter. Some have escaped over the years. They made me want to make books before I got excited about underground comics. They deliver the goods with the minimal parts one needs to make great books: they are beautiful, simple, poetic, have outsides and insides, are made of paper and ink, and each one expresses a compelling and great idea.
Anthony Burgess
The Wanting Seed, 1962
I read The Wanting Seed after A Clockwork Orange (also 1962), in a Burgess reading frenzy at college. I was not well educated, so being force-fed a torrent of exotic and arcane words was a very good thing for my mental development. In The Wanting Seed, Burgess details – in invented articles and newscasts – a fast global cultural reversion to cannibalism with church and state complicit in perpetuating reports of never-ending wars while marching recruits to a canning factory in Ireland.
John Cage
Silence, 1961
Silence was given to me in 1970 by my painting teacher, Bruce Tibbetts, who put many books and records in my hands. Cage's ideas about democratic vantage point, loud silence, prepared instruments, the use of noises and formal strategies of art-making are still exciting premises.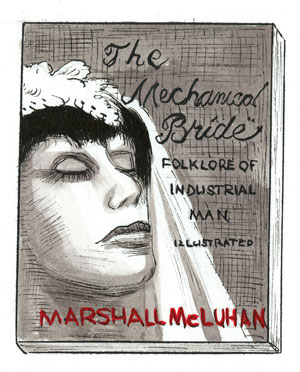 Marshall McLuhan
The Mechanical Bride, 1951
The Mechanical Bride was also given to me by my teacher Bruce Tibbetts. McLuhan and Mad magazine were performing similar functions at the top and bottom of culture, promoting a dawning awareness of the power of media and mediums, suspicion of Madison Avenue snake oil, and the limitless possibilities of a broadminded sense of humour and playfulness in reading and living.
Maurice Tuchman
A Report on the Art and Technology Program of the Los Angeles County Museum of Art, 1967–71, 1971 
Tuchman curated a multi-year project in Southern California, pairing artists and corporations with varying results. This is a fascinating document of that project. The book introduced me to the work of Öyvind Fahlström and detailed some very interesting outcomes: Robert Rauschenberg made a bubbling mud pit; Andy Warhol made a bath-like raining fountain with printed flower shower curtain; Roy Lichtenstein a synthetic movie seascape; R.B. Kitaj a model of a mineshaft; while Fahlström collaborated with a sign company to make 'Meat Ball Curtain' a tribute to the work of R Crumb's ZAP comics.
John Lennon
In His Own Write, 1964; A Spaniard in the Works, 1965
Lennon's first two books, In His Own Write and A Spaniard in the Works came out in paperback and appeared at the local drug store when I was in high school. His leaking, mad, punning, caustic prose and loopily drawn visions transported me to a very free and exhilarating place and, for a few years, I made phony Lennon poems, which kelp meow tub truffle and primed me for James Joyce.
Josef Augusta and Zdeněk Burian
Prehistoric Animals, 1957
In junior high school, I checked this oversized book out as often as the library would let me. Burian's watercolour and gouache, though loose and apparently handmade, also had a photographic look. Burian and Charles R. Knight's dinosaur renderings were the dominant vision of dinosaurs in illustration, tv and the movies for decades.
Artforum, January 1968
I spotted this issue of Artforum on a newsstand in Oklahoma City and got a brain fever. It was obviously the most amazing humour magazine possible. I still think that – in a good way. Therein, and in subsequent issues, I learned of Peter Saul, the Hairy Who, Bruce Nauman and Claes Oldenburg, which only turned up the brain heat.