Featured in
Iza Tarasewicz Coaxes Found Objects To Life
In her first solo show at Croy Nielsen, Vienna, the artist's suspended delicate metal formations create a tension that vibrates with possibility
The balance between entropy and order, discord and harmony, can be delicate. At Croy Nielsen in Vienna, Iza Tarasewicz tests the limits of such polarities. 'In Myriads, Things Cry Out', the artist's first solo exhibition at the gallery, gives a first impression of verticality. In the main room, elongated hexagonal shapes, rendered in rusted steel, brass and copper, hang in five, row-like groups from the ceiling, suspended not from wires but from a series of thin, hooked-together metal rods. The objects' placement in the air results in an immediate tension that vibrates with both possibility and surprise. Also unexpected are smaller, flat metal rectangles affixed to the hexagons and many more abstract, metal forms: rope coils and curlicues, discs or tufts of thin metal filaments bound together on one end. These read, at first, like parasites or weeds growing wherever they can take hold – although another look shows that there is method to the madness.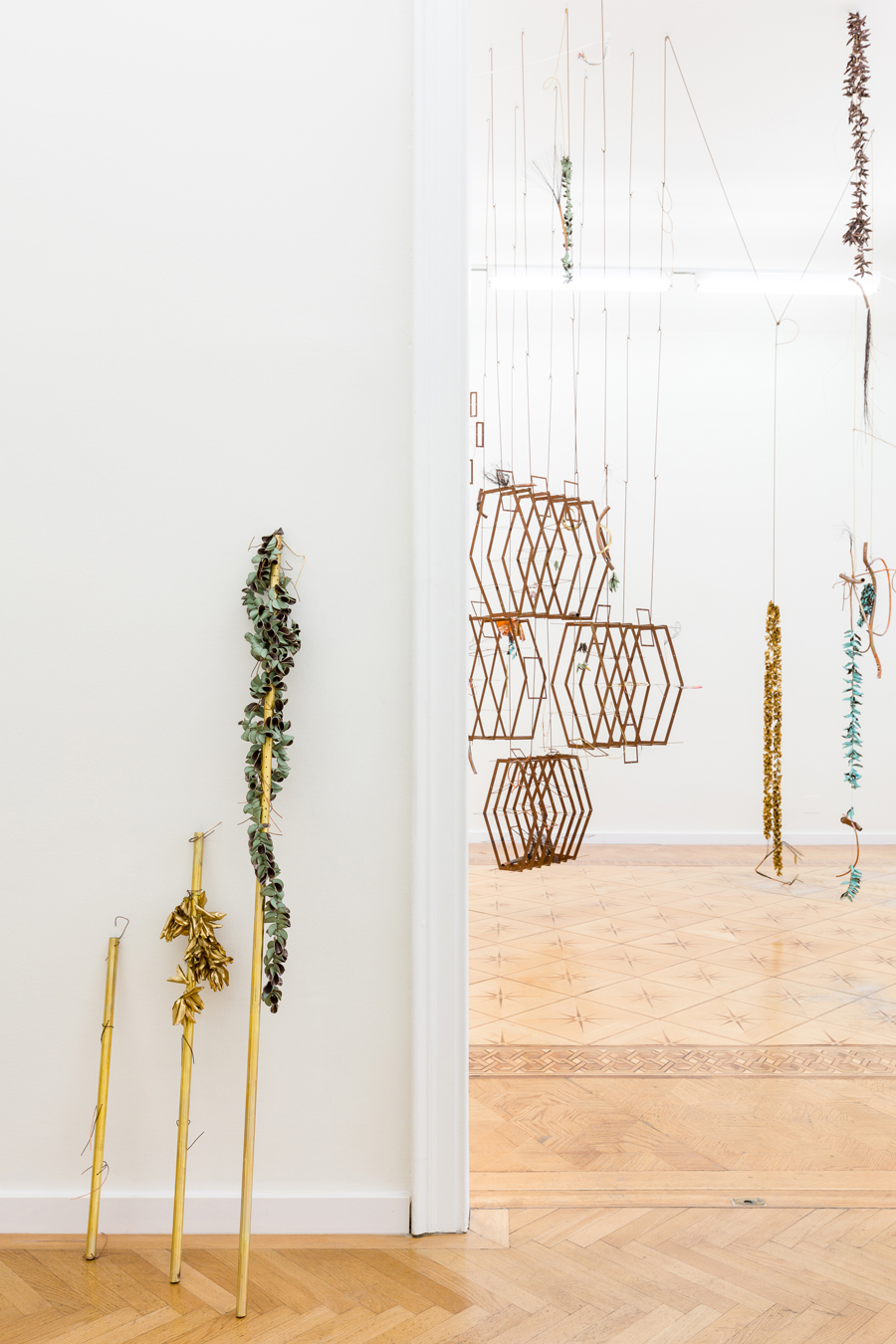 The primary hexagonal structure is officially two works: In Myriads, Things Cry Out 1 and In Myriads, Things Cry Out 2 (all works 2018). Beside them is a group of hanging pieces: thin formations of stacked, leaf-like elements evoking organic life (numbers 3, 4 and 5 in the series). In the room's back corner, two metal rods, irregular like twigs, form a cross, which also sprouts a few 'weeds'. In an adjacent smaller room, the objects diverge from the strict geometrical order: three rod-like sculptures lean against a wall and another sculpture with hooked rods, tufts and leaf shapes snakes down the opposite wall. Hanging mid-room is a work reminiscent of a mobile.
Tarasewicz, who lives and works in Kolonia Koplany, a village near Białystok in the far east of Poland (although she also spends time in Munich), boldly experiments with materials, putting her simple metal components through oxidation processes and using craft techniques to achieve their bluish, greenish, golden and coppery patinas. The artist has an interest in hylozoism – the notion that matter is alive, dating to ancient Greek philosophy and carried on by other thinkers throughout history; here, she seems to coax life from the materials she finds around her, less like an alchemist and more like a midwife. Formally, however, she goes further, using her repeating geometries as a modular substructure upon which to add flourishes, as if loosely sketching in the air in three dimensions.
The show also bears imprints of Tarasewicz's interests in chaos theory. Her initial conditions and baseline symmetries determine, in a sense, what might come next; less a breakdown, as in mathematics, than a dimensional expansion. Viewed from the side, the larger hexagonal piece, In Myriads, Things Cry Out 1, takes on an entirely different, looser order – more rectangular, the hexagons flatten, some approaching the state of  a vertical line.
Iza Tarasewicz: In Myriads, Things Cry Out was on view from 16 May until 7 July 2018 at Croy Nielsen, Vienna.
Main image: Iza Tarasewicz, 'In myriads, things cry out', 2018, installation view, Croy Nielsen, Vienna. Courtesy: the artist and Croy Nielsen, Vienna; photograph: Kunst-Dokumentation.com