It has always been difficult to pigeonhole the sculptor Hans/Jean Arp. Born in Strasbourg in 1886, he spoke French, German and Alsatian, the local dialect, switching personas and savouring his multicultural, multilingual identity. Pinning the maverick practitioner down and assessing the plurality of his practice has been a challenge for scholars of 20th-century art. Indeed, three British publications on modernism dating from the 1990s describe him in turn as a French sculptor, a German intellectual and a Swiss artist.
'The Poetry of Forms' is the first show of Arp's work to be held in a public institution in the UK since 1962. Curators Eric Robertson and Frances Guy have rightly seized on the vicissitudes of his practice, tracing how he moved between art and poetry to create an oeuvre that shifts between words on the page and sculpted forms. The wordplay in evidence across the exhibition spaces seeps into the psyche, joining the dots in Arp's adroit, multidisciplinary approach. Excerpts from Arp's poetry – including the famous 'Kaspar ist tot' (Kaspar Is Dead, 1912) – are emblazoned across the gallery walls, springing to life in three dimensions through the absurd, beak-like sculpture, Head of a Gnome Called Kaspar (1930).
The other binding element in Arp's oeuvre is nature, a thread that unifies the show. For Arp: 'Art is a fruit that grows in man like a fruit on a plant or a child in its mother's womb.' The painted-wood relief Flower Hammer, Terrestrial Forms (1916–17) is a masterly amalgamation of natural and manmade components, melding soft and harsh contours in a composition that looks organic but is, in truth, tightly controlled. (Arp looks to nature but cannily refuses to replicate it.)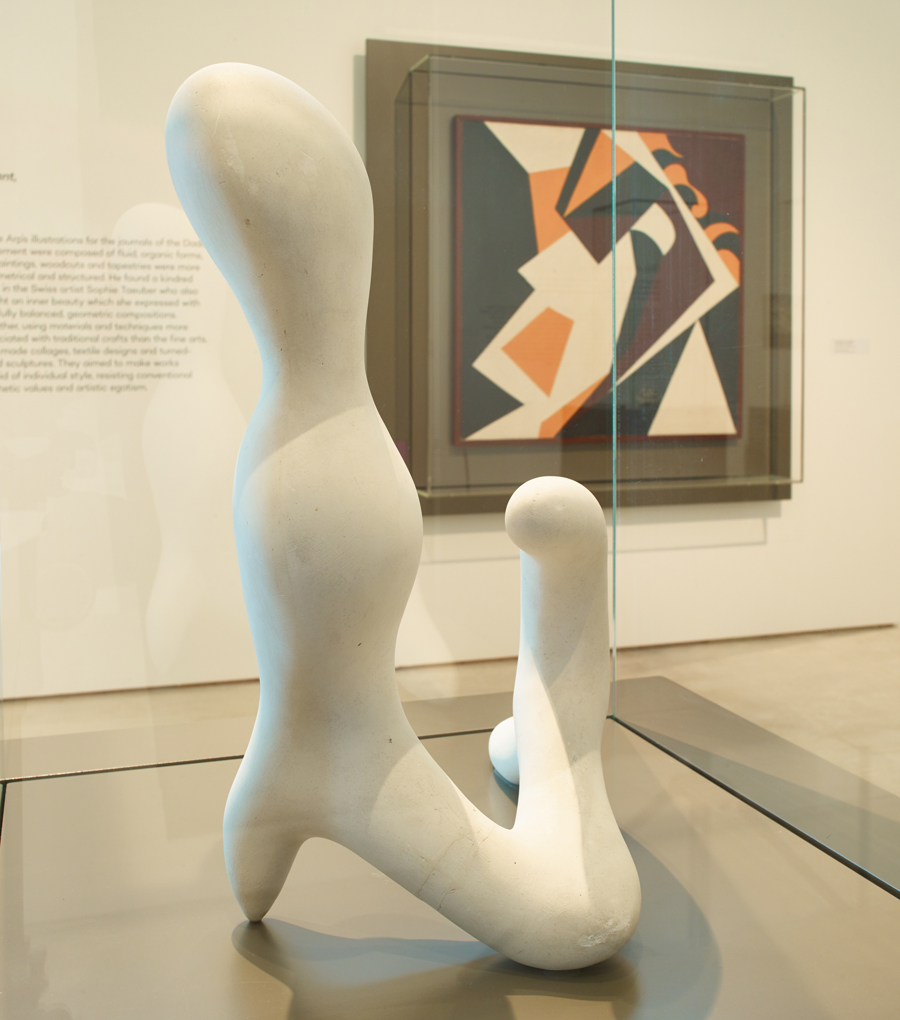 'The Poetry of Forms' charts the artist's visual vocabulary succinctly and astutely, elucidating Arp's pivotal role in numerous 20th-century art movements. Initially involved with dada, from 1915 to 1919, and surrealism in the 1920s, he later had connections with the Dutch group De Stijl. 
A series of drawings produced during the dada period, around 1920, are among the first works visitors encounter. In these liberating, anarchic shapes, the germ of much later works can be seen: there is a developmental arc linking them directly to a series of 15 woodcuts made in 1966 – the year he died – titled 'The Sun Recircled' series.
Other key phases in Arp's practice include the artist's 'object-language', a set of witty, distinctive symbols that took shape around 1920. His painted wood reliefs incorporate, for instance, chairs, bow-ties and butterflies; the navel was also a recurring motif, proof that Arp was nothing if not irreverent. (Thankfully, this show brings to the fore his sense of humour and mischief; amongst the burgeoning, balanced sculptural incurvatures, the title Three Disagreeable Objects on a Face, 1930, elicits a smile.)
From the early 1930s, Arp continued the spatial development of his wood reliefs in a series of abstract sculptures called concretions, advancing the biomorphic forms engendered during his surrealist phase. The exhibition section titled 'Constellations and Concretions' crystallizes Arp's aesthetic, demonstrating how earlier innovations bore fruit.
During his dada phase, for instance, the artist made 'chance collages', assemblages comprising random scraps of paper dropped at random and pasted where they fell. In the 1930s, Arp again embraced this approach, creating the extraordinary piece, According to the Laws of Chance (1933). The work, on loan from Tate, comprises a scattering of sugar paper dotted haphazardly around a plyboard canvas.
That Arp was so experimental seems to have bypassed many modern art savants but this small-scale, consummate show underscores the relevance today of his multifaceted work and free-thinking attitude. It is a trajectory across 20th-century art that deserves highlighting.
'Arp: The Poetry of Forms' is on view at Turner Contemporary, Margate, until 14 January 2018.
Main image: Jean Arp, Concrétion humaine or Coquille se dénouant, 1936, (detail), limestone. Courtesy: Kunstmuseum Winterthur, Switzerland