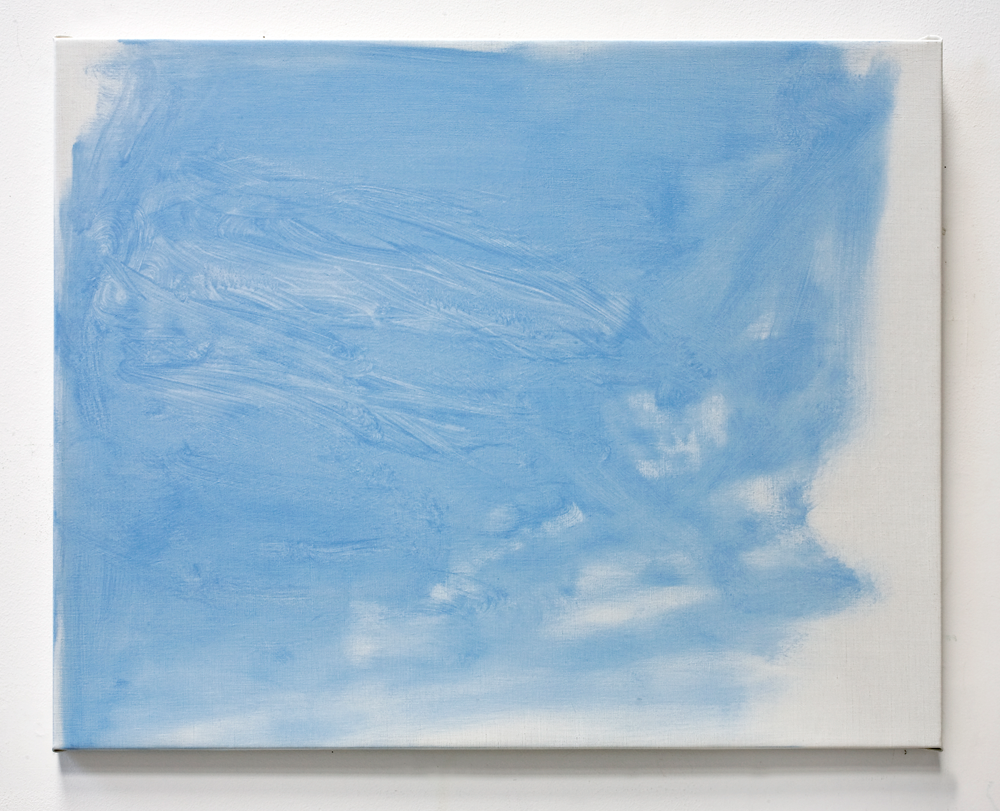 The sky would be a good subject for John Zurier, whose nearly monochromatic paintings combine minimalist rigour with the atmospherics of weather. So the seven blue and white abstractions, some gestural, others more Rothkoesque, that filled the first room of this show came as no surprise. Over the years, Zurier, a local favourite, has developed a formal idiom linking light, space and colour to the physics and procedures of painting. Together with Bay Area colleagues Anne Appleby, Vincent Fecteau, Laurie Reid, and newcomer Mitzi Pedersen, among others, his work represents a strong undercurrent of idiosyncratic, process-based abstraction that somehow remains open-eyed and current.
Exposed white ground on the upper-right corner and edge of the large vertical painting Akeshov (all works 2009, and most titled after Scandanavian towns the artist has recently visited) gradually, as the broad, looping strokes of blue get denser, settles into a watery blue further down the picture plane. With this diagonal transition from light to dark, and paint so thin and matte that in places the weave of the canvas shows through, the image tilts into deep space without trying to represent it. Similarly, the white patch encroaching from the middle of the bottom edge looks like a stream headed into a dense wood. Try getting lost in the infinite blue and its constituent episodes of unfussy brushwork will rouse you: purposeful bursts of scribbling leaning this way and that, while a row of jotted lines resembling a child's rendition of grass traverse the girdle without interacting with three stray, puzzling, flecks of green.
All handiwork disappears however in Muuratsalo 3 (one in a series of three of the largest works in the show), where an even-toned, luminous expanse of blue nearly covers the canvas. Here Zurier has employed a very liquid paint on a more porous, absorbent ground – as opposed to the sanded ground in Akeshov – making the blue appear almost melted. You can't take your eyes off the colour, the palest of aquas that comes as readily from nature as it does from a shimmering dress by Jean-Honoré Fragonard. Equally dense, pinkish white paint at the bottom left and the upper right corners creates a soft-edged geometry that brings to mind the off-kilter compositions of Ellsworth Kelly.
In the second smaller room hung a pink, a yellow and an indigo painting. (The Pop colour coordinated with a pink sculpture by John Beech standing nearby, one of three monumental constructions that shared the space in a novel interweaving of two solo shows.) In Keuruu horizontal pink strokes blow across the canvas leaving just a little of the lavender-grey exposed at the far right edge. The speedy brushwork and rich colour come from applying the paint wet on wet. As in all the works, the complex mechanics of painting play a greater role here than such dreamy evocation might immediately suggest.