Kapwani Kiwanga's Afrofuturist Garden
This year's Marcel Duchamp Prize winner looks at knowledge that has fallen through the cracks
'On December 8, 2058 the United States of Africa came into being,' states Paris-based artist Kapwani Kiwanga in her lecture-performance Afrogalactica (2011–ongoing). In the piece, she imagines herself as an anthropologist from the future who lectures about Afrofuturism and the crucial role its ideas played in creating a federation of African states and the United States of Africa Space Agency. In Afrogalactica, archival research meets speculative thinking, fact meets fiction; this understanding of history as creative and mutable is central to the artist's practice, which challenges Eurocentric narratives of colonialism.
Spanning film, sculpture and installation, Kiwanga's art is not limited to a specific medium but draws from her training as an anthropologist. Take the bouquet series 'Flowers for Africa' (2012–ongoing), for which the artist researches archival images of events commemorating the independence of African countries. In these works, liberation from colonial power is not commemorated through official documents or historical photographs but through seemingly minor details: the flower arrangements created for these occasions. A set of white and red gladioli represents Algeria's independence from France in 1962 (Flowers for Africa, Algeria, 2014), while an arch of eucalyptus leaves recalls the declaration of the Republic of Rwanda in 1961 (Flowers for Africa, Rwanda, 2019). Kiwanga reinterprets the bouquets in collaboration with florists, places them on white pedestals and then lets the flowers decay over the course of the exhibition, composting the piece afterwards. By using floral arrangements as a means of remembrance, Kiwanga questions which objects become part of cultural memory and reflects on strategies of forgetting.
Another piece that intertwines botany and history is The Marias (2020), on view as part of Kiwanga's current exhibition at Kunstinstituut Melly (formerly known as Witte de With) in Rotterdam. Comprising two paper sculptures mimicking peacock flowers, the piece interweaves histories of knowledge, oppression and resistance that undergird women's work with plants. In Maria Sibylla Merian's Metamorphosis insectorum Surinamensium (1705), the German naturalist describes how enslaved African women in Suriname (then a Dutch colony) used peacock-flower seeds as an abortive. Kiwanga's reconstruction of the flower in paper sets the emancipation of oppressed women in the Global South in the 18th century in relation to Victorian women creating paper flowers as decoration.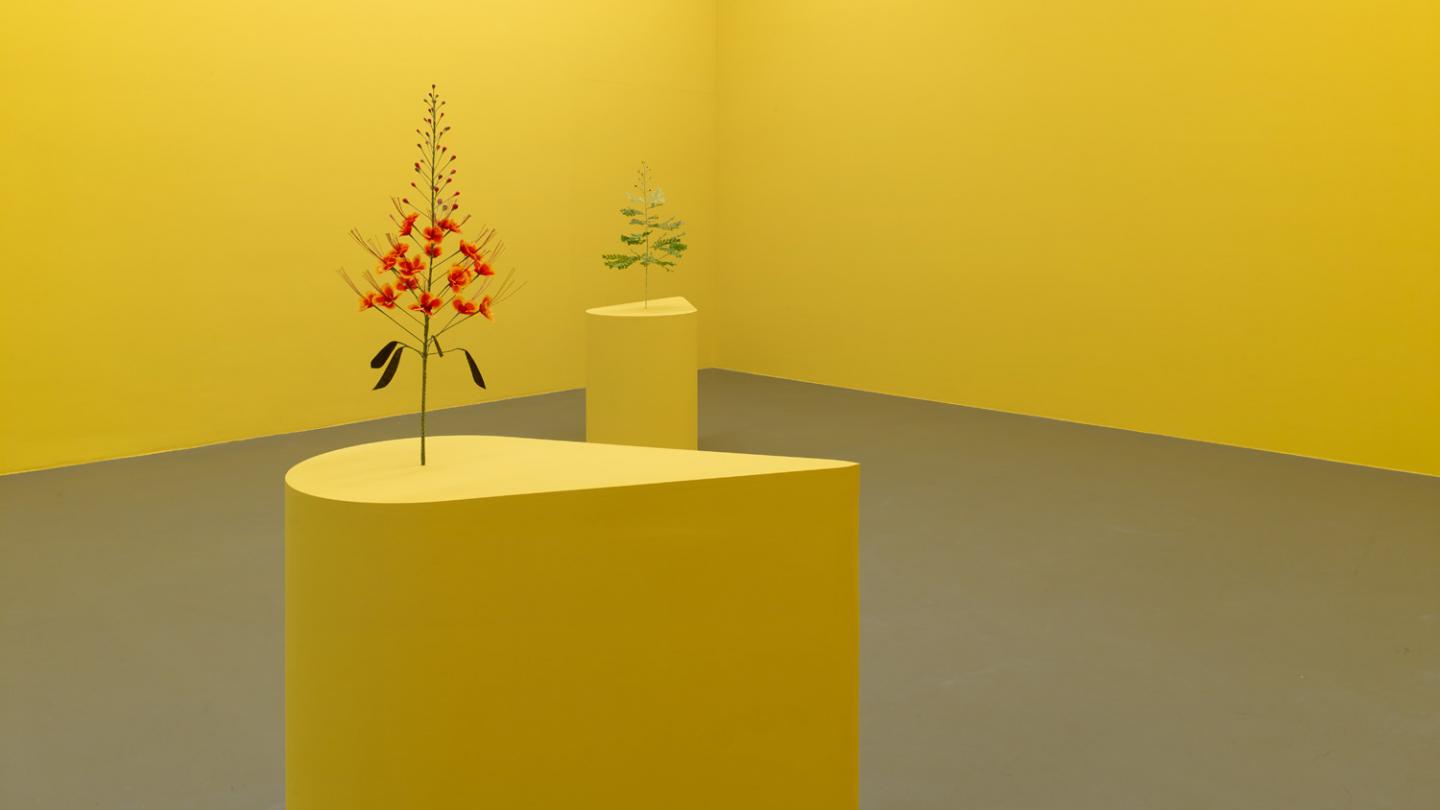 When entering Munich's Haus der Kunst, it's almost impossible not to recall its troubled past as the Nazi's former House of German Art, where modern art was denounced and ideological propaganda praised. Unlike many other artists participating in the museum's exhibition series 'Der Öffentlichkeit' (The Public), Kiwanga decided not to go down that road; instead, her show emphasizes the gallery's close proximity to the English Garden, a public park in Munich. 'Plot' is a series of three interventions that will unfold over the course of the next six months, in which Kiwanga aims to draw a connection between the interior and exterior.
In the first chapter, which opened this month, three huge, semi-transparent curtains cover the middle hall in gradients of pink, green and blue. As we navigate the gallery, the colourful landscape splits into individual environments that house groups of plants set in inflatable futuristic sculptures. The curtains are a tool to both construct and deconstruct space. Cutting between the hall's marble columns, the installation dismantles the gallery's monumentality while also creating chambers that hold life. Although not immediately apparent, the sculptures reference 19th-century Wardian cases: sheltered glass containers that allowed foreign plants to be transported over long distances and survive in polluted environments. Here, however, the plants breathe the air of the museum and the Wardian case-inspired sculptures become a display, linking the colonial importation of plants with that of looted artefacts. As in other works, Kiwanga reinterprets historical objects to find new strategies of preserving knowledge that has fallen through the cracks. By creating works that continuously shift our perspectives like a kaleidoscope, Kiwanga not only presents alternative ways of coming to terms with the past but possible futures.
Kapwani Kiwanga is an artist based in Paris, France. She was awarded the Marcel Duchamp Prize 2020. The accompanying exhibition at Centre Pompidou, Paris, is on view until 4 January 2021. Her solo exhibition at Kunstinstituut Melly, Rotterdam, runs until 14 February 2021. 'Plot' at Haus der Kunst, Munich, is on through 24 May 2021.
Main image: Kapwani Kiwanga, 'Plot', installation view, Haus der Kunst, Munich, 2020. Courtesy: the artist and Haus der Kunst, Munich; photograph: Jens Weber