Per Kirkeby (1938–2018)
Poul Erik Tøjner pays tribute to Denmark's most important artist since Asger Jorn
On 9 May, the Danish artist Per Kirkeby died at age 79 after a long illness. Internationally, Kirkeby is best known for his paintings, while his brick sculptures have also recently been winning acclaim. The many approaches available to Kirkeby's work reflect his unlimited exploration of art forms and the energy with which he worked. Kirkeby's art is not intellectual or conceptual in nature – everywhere, it has great and immediate visual accessibility – but, as he insisted, art and the power of the image are always up for discussion in the existential space where the artwork meets the viewer.
Reaching out to an audience, Kirkeby carried on a dialogue with tradition and the great artists of the past, famous and overlooked alike. He wrote a number of excellent, idiosyncratic little books on his 'line of kings,' from El Greco to Edvard Munch, while several of his other books consistently and articulately address the challenges and possibilities of art. His writings are like a thread of many colours running through his work. Kirkeby was a persistently searching artist. Reflective, personal, dedicated and nothing if not critical. As a result, he was able to open up every visual genre – painting and sculpture, of course, but also printmaking, film, set design and monumental public-art commissions.
Among the latter, Kirkeby's large brick sculptures have been attracting attention internationally. Often, and erroneously, they are viewed as a minimalist counterpoint to the artist's likewise erroneously classified neo-expressionist paintings. The brick sculptures are not minimalism. Evoking a specific history related to the Danish architecture tradition, they are places in public space, places of contemplation where changing light and darkness can arrive. They were always conceived as outdoor sculptures celebrating the vagaries of weather and nature independent of us, a legacy from Kirkeby's training as a geologist, which early on led him on an expedition to Greenland.
Similar content appears in Kirkeby's partly abstract paintings from the late 1970s on, setting them apart from his pop-inspired, figurative icons in the 1960s which were loaded with the dreams and longings of contemporary, vernacular culture. For Kirkeby, painting was not really about 'expressionism' or 'self-expression.' On the contrary, he wanted to create a situation or a space, not unlike that of nature, in which the fundamental character of existence – life, death, time, light, darkness – could be embedded, for the painter as well as the viewer.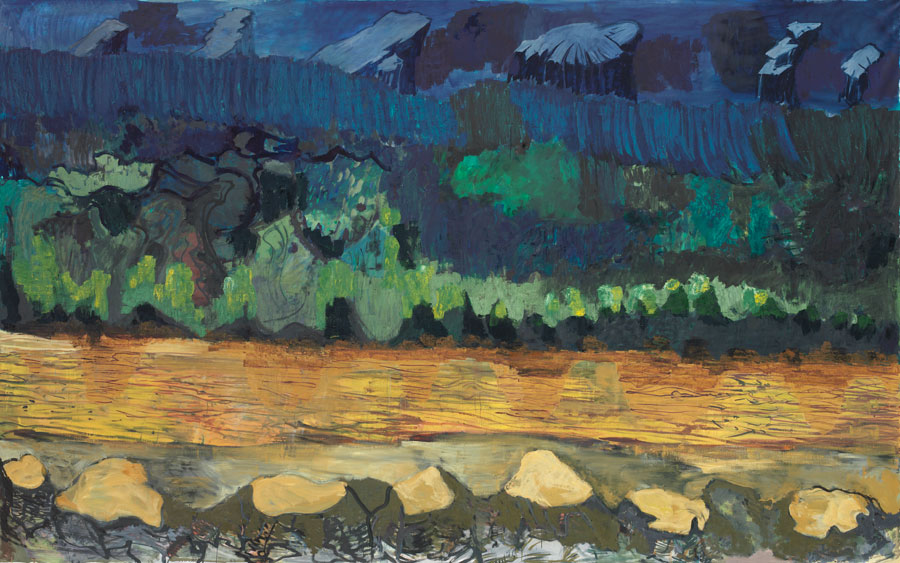 Over time, this led him back to elements of Christian iconography. For the last many years, Kirkeby's paintings were populated with emblems carrying parts of a grand narrative: beams blocking out seductive reverie in the colours of the painting, tree stumps as reminders of the end of all things, craggy mountains from the Byzantine tradition and references to the crucifixion – never explicit but with a gravity lending the painting resonance beyond the artist's private motivation.
While Kirkeby was partly self-taught, a large measure of his early education was derived from his participation in the so-called Eks-Skolen (The Experimental Art School), an alternative Copenhagen art academy in the 1960s that also numbered Poul Gernes. The works and activities of Arthur Köpcke and Joseph Beuys also featured on the young artist's horizon. In the 1970s, Per Kirkeby went his own way, which took him beyond Denmark. Through the intervention of gallerist Michael Werner, he joined a scene that included fellow artists Georg Baselitz, Markus Lüpertz, Jörg Immendorf and A.R. Penck. Kirkeby became a professor in Karlsruhe and Frankfurt, and his career picked up pace with international shows and inclusion in important collections, both public and private, across Europe and later in the United States. Locally, the Louisiana Museum became a home for Kirkeby's art, and the museum today houses the greatest collection of the artist's work anywhere in the world.
With Kirkeby's death, Denmark has lost its most important artist since Asger Jorn, and Europe has lost a truly great painter. His work is an important chapter in European art from the 1960s onwards. Highly personal yet instantly accessible, his work lets art's historical heritage, nature's inert physicality and the world's flood of images run together to form constellations. Per Kirkeby's art deserves considerably more attention abroad than it has received thus far. The artist is survived by his four children and his wife, Mari Anne.
Main image: Per Kirkeby. Courtesy: Getty / Carolyn Cole