What to Make of Mexico City's New Art House on a Lake?
Evan Moffitt asks if mega-gallery OMR's newest institutional space, LAGO, could be an answer to the country's museum funding crisis
The concrete structure that contains LAGO, Mexico City's newest arts institution, hovers at the water's edge like a ship, its form at once ancient and alien. It was designed in 1964 by Alfonso Ramírez Ponce, a modernist disciple of Félix Candela, who was only 24 years old when it was constructed. Under a parabaloid roof, floor-to-ceiling triangular windows offer sweeping views of the artificial lagoon in Bosque de Chapultepec, the city's largest public park. For the last half century, until the COVID-19 pandemic scuttled its rentals, the building served as a restaurant and private events space. Now, OMR, one of Mexico's preeminent contemporary art galleries, has taken over the building's banquet halls, removed their extraneous finishes, and installed an exhibition in them that marks the birth of what the gallery calls, in a press release, a 'free access cultural venue'. 
It's hard to imagine a more picturesque place to view art in the middle of a global metropolis. Ponce's design, which echoes a bishop's mitre in form, features soaring indoor spaces flooded with natural light, as well as more intimate pockets tucked against the slope of its monumental ceiling. On the top floor, the largest gallery is bounded on three sides by glass, so that some of the sculptures installed there seem to perch in the forest canopy. The architecture firm Naso Studio has stripped away orange marble panels and non-load-bearing walls, exposing ventilation ducts and uneven floors, giving the building the appearance of a brutalist ruin. 
The inaugural exhibition, 'Form Follows Energy', was organized in collaboration with José García, an iconic dealer who, in recent years, has wound down his gallery operation and shares several artists with OMR. The entrance to the show features a site-specific chalk mural (Untitled, 2022) by Yann Gerstberger, whose scintillating biomorphic forms fill the towering conical foyer. The curatorial conceit – which aims to connect the building's dynamic form with the Big Bang and, more loosely, the explosiveness of the artistic process – isn't readily apparent in a sculptural tableau by Gabriel Rico (V – That is between inferior and superior, 2019) or a series of ceramic vessels by Eduardo Sarabia, which sit on wooden boxes emblazoned with the logos of Mexican political parties (La Conquista de México (The Conquest of Mexico, 2016_). More effective are Moctezuma's Revenge (2011), a sculpture by Simon Fujiwara comprising a wicker chair punctured by a cactus (named after the colloquial term for the diarrhoea tourists commonly experience in Mexico), and Christian Jankowski's video Crying for the March of Humanity (2012), in which the artist hired Mexican telenovela stars to re-enact emotional scenes without reciting their lines – though both works satisfy more for their wit than their adherence to the theme.
OMR has named the project's program ALGO, an anagram that translates as 'something'.  (LAGO, meaning 'lake' in Spanish, refers both to the overall space and to its new restaurant, conceived by chef Micaela Miguel.) The gallery's plans for their new institution are correspondingly vague. Although owner Cristobal Riestra hopes to host talks and workshops, none are yet scheduled, and the space is being run by existing gallery staff. (All the works on display are for sale.)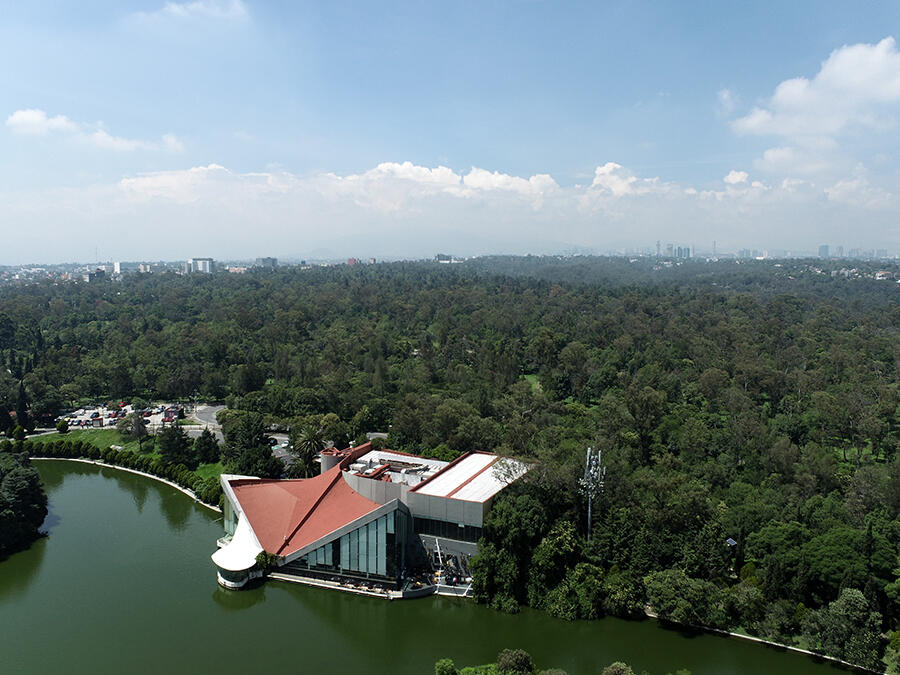 This is somewhat jarring, akin to David Zwirner setting up shop on the National Mall in Washington, D.C. Chapultepec, after all, is home to nine museums, including Museo Tamayo, the Museo Nacional de Antropología, the Museo Nacional de Historia and Los Pinos, the former presidential palace turned cultural centre. A new, stably funded public space, stocked with top-quality artworks from around the world, is certainly a welcome addition. Without robust institutional infrastructure, however, it's unclear what primary purpose it will serve – except, of course, to raise the value of OMR's roster. It's worth noting that, while Chapultepec's other museums charge small entrance fees, ALGO will be entirely free – though if attendance numbers at commercial galleries are any indication, this alone will not guarantee that the space feels accessible to a broad audience. 
Of course, the art world has always been a closed circuit. Public arts spaces depend on the largesse of commercial galleries, with dealers ensuring their artists receive institutional validation in exchange for loans, shipping and other expenses. This is especially true in Mexico, where top gallerists keep company with government ministers. In 2020, President Andrés Manuel López Obrador announced a 75 percent cut to the federal budget, including the Culture Secretariat, while handing nearly 20 percent of the remaining federal funds for the arts to Gabriel Orozco, who will construct a colossal series of pavilions linking the various sectors of Chapultepec. The move was derided as a ceding of public funds to a wealthy individual – in this case Mexico's top-selling contemporary artist – and an undermining of official ecological priorities, including the rewilding of the park. (It also left publicly funded institutions like the Tamayo especially vulnerable.) By comparison, LAGO/ALGO is a relatively sustainable project, adapting an existing structure to less impactful ends, though it opens at a time when public and private cultural investment across Mexico – a country of nearly two million km2 with a population of more than 131 million – is being further concentrated in an area of fewer than seven km2 and the hands of an elite few.
LAGO can still grow into an exciting new institution for Mexico and its capital city. If it prioritizes the interests of Chapultepec's 15 million annual visitors, it will vastly exceed the scope of a commercial gallery and offer a philanthropic model to the business-minded art world. It will not simply declare but enact its public mission. Only time will tell. 
Main image: LAGO, exterior view, 2022. Courtesy: © OMR