Latinx and Latin American Artists Take Center Stage at Frieze Los Angeles 2020
From new exhibitions of Luchita Hurtado at LACMA, to presentations by Gabriel Rico, Gabriella Sanchez and Tania Candiani at the fair, Frieze Week LA is a celebration of Latin art
Drawing on the historical ties and deep relationship between California and Latin America, many of the artists exhibited this year at Frieze Los Angeles create works in response to ideas of cultural identity and representation.
GALLERY PRESENTATIONS
Focus LA, the fair's section dedicated to younger galleries, follows the creative direction of LACMA curator Rita Gonzalez andfeatures exciting young artists of Latin American descent, including Gabriella Sanchez and Jamie Muñoz.
Incorporating visuals from the contemporary Californian Latino experience, Pre-Columbian religious iconography, and the symbols of capitalist modernity, Jamie Muñoz reflects on themes of personal identity and shared histories (The Pit, E05); similarly, Gabriella Sanchez explores the liminal space between Mexican and American culture, whilst playing with language and imagery from Chicanx and barrio culture (Charlie James Gallery, E11).
In the main section, Gabriel Rico's sculptures  invite viewers to reflect upon the relationship between humans and our natural environment. Combining natural and unnatural forms, his installations aim to deconstruct and recontextualise the formulation of the art object and explore the geometric imperfection in nature (Perrotin, C11).
Coincinding with a solo show opening at The Mistake Room during Frieze Week LA, London-based gallery Maureen Paley (C3) exhibits works by Mexican artist Felipe Baeza that explore ideas of migration, queerness, and anthropology.
BACKLOT PROGRAM 
Co-curated by Rita Gonzalez and Pilar Tompkins Rivas, Frieze Projects showcases 16 artistic intervetions throughout the backlot of Paramount Pictures. Gonzalez and Tompkins Rivas chose artists whose practice draws on the political context within which we are operating today, and they 'wanted to globalize the selection of artists, while thinking in particular about Los Angeles' relationship to the Americas'.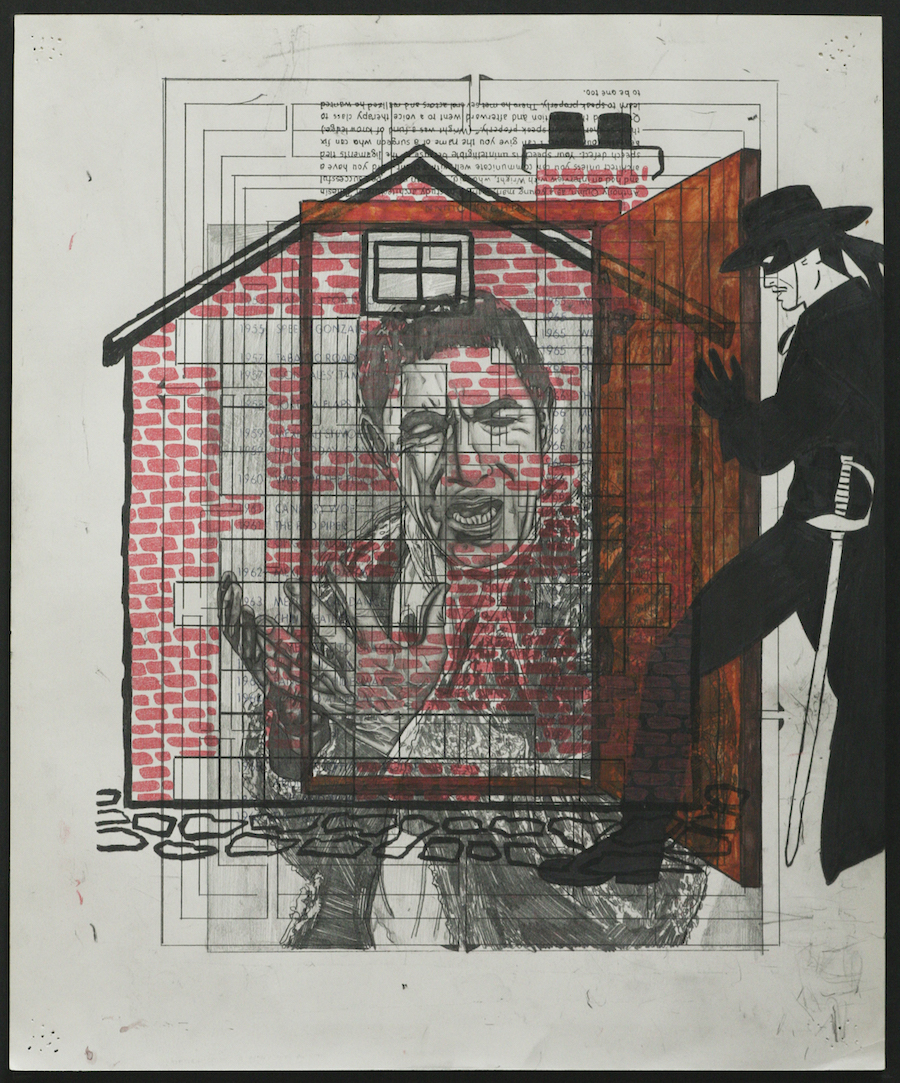 From Vincent Ramos to Tania Candiani many of the exhibited artists use historical events to explore contemporary social and cultural ideas.
Vincent Ramos' site-specific commission highlights events that shaped the Latinx experience whilst also questioning the cinematic representation of Chicanos and Latinos; over the course of the art fair, Tania Candiani will create a giant loom-like structure of nets to reenact the forced labor of Japanese Americans incarcerated in California during World War II in order to bring attention to current migrant detention camps along the US/Mexico border.
As part of Frieze Film & Talks, Argentinian artist Adrián Villar Rojas - known for his fantastical works which explore notions of the Anthropocene and the end of the world - presents El Momento más Hermoso de la Guerra - The Most Beautiful Moment of War . Created in Yangji-ri in South Korea, the work documents moments from everyday life in the village and the artist's interventions along the demilitarized zone.
FRIEZE WEEK LA
In parallel to the fair, LA museums present remarkable solo exhibitions of pioneering Latin American artists. Luchita Hurtado's newest survey of paintings and works on paper at LACMA, will be opened by a conversation between Hurtado and curator-critic Obrist and LACMA curator Jennifer King. Also open for Frieze Week LA, George Rodriguez's first career retrospective spanning over 40 years of images from the Chicano civil rights movement, and Carolina Caycedo's Apariciones /Apparitions at at The Huntington.
Plus much more!
Frieze Los Angeles takes place at Paramount Pictures Studios from February 14 to 16, 2020. Limited tickets are still available.
To stay up to date with the fair's latest news, sign up to our newsletter and follow @friezeartfair on Instagram, Twitter and Facebook.
Main image:  Jaime Muñoz, Existence (detail), 2018, acrylic, airbrush, and glitter on panel, 60 x 48 x 2 inches. Photography:  Jeff McLane. Courtesy of The Pit