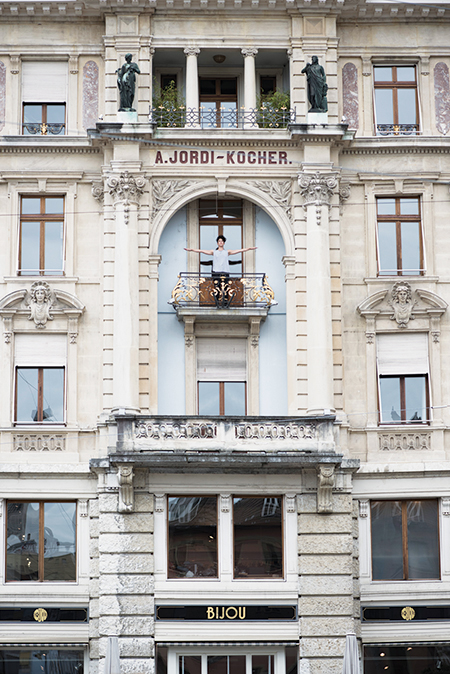 'As long as I'm walking, I will not repeat. As long as I'm walking, I will not remember.' These last two lines of Francis Alÿs's text As Long As I'm Walking (1992), exhibited at Centre PasquArt as part of 'Le Mouvement', the 12th Swiss Sculpture Exhibition, epitomized much of my experience of this year's edition. Over three days of quiet strolls around the French- and German-speaking Swiss town of Biel/Bienne, I watched some of the 22 performances that, each repeated on a number of occasions, made up the public performance phase of the exhibition, and tried to record the variations between them.
With 'Le Mouvement', curators Gianni Jetzer and Chris Sharp decided to abandon the exhibition's normally fixed format (a temporary display of sculptures in urban space) to instead celebrate 'the body as a living sculpture'. Postmodern dance – with its elegant mix of everyday gestures and fixed postures, made by laboriously trained, muscular bodies – was the most prevalent element. The curators' parallel attempt to 'embody the essence of public space' proved trickier: their argument, made in the exhibition catalogue, that 'Le Mouvement' 'features no activism' doesn't acknowledge the possibilities offered by freedom of movement and expression, nor the implications of their potential suppression. However, these performances – which addressed street actions and protests and the tension between spectacle and invisibility – were nevertheless thought-provoking.
'Le Mouvement' felt refreshing and energetic compared to, for example, the suffocating live performance exhibition '14 Rooms' at Art Basel this summer, with its performances presented in discrete boxes, like sculptures on pedestals, and turned into instant (Instagram) commodities.
The exhibition itself unfolded over several different instalments. The first phase of the show, 'Sculptures on the Move', from June to August, involved four artists (Alex Cecchetti, Christian Jankowski, Marko Lulic´ and Ariana Reines) 'reanimating' existing sculptures: Lulic´, for instance, orchestrated a dance around Franz Eggenschwiler's sculpture Farbige Baumruine (1975), which he then documented in an energetic music video entitled A Proposal for a Workers' Monument (2014). Jankowski collaborated with professional personal trainers to create Kunstturnen (2014), a routine employing public sculptures as exercise machines, with an ironic take on 'fitness' as a socially desirable expression of performativity.
In the last week of August, a cycle of free, open-air performances, called 'Performing the City', was launched, followed by 'The City Performed', an ongoing group show at CentrePasquArt. This documentary exhibition appraises pioneering practices in urban space by the usual suspects (Vito Acconci, Trisha Brown, VALIE EXPORT) as well as by lesser-known artists of older generations, punctuated by the work of contemporary artists, some of whom were included in the 'Performing the City' programme.
The outdoor performances were low-key, attracting small crowds, occasionally interspersed with sneering teenagers, curious children or indifferent passers-by. The curators asked the artists not to use props or costumes and to stage all the works around three busy locations: the train station, the central square and the shopping area of Nidaugasse. Each performance was set to take place at given times every day but at unannounced locations, so that visitors encountered them (or stumbled upon them, or missed them) only by walking around. Appropriately, Biel/Bienne is the birthplace of Robert Walser and the city where he wrote Der Spaziergang (The Walk, 1917); it was hard not to feel haunted by his flâneur-like ghost during Myriam Lefkowitz's Walk, Hands, Eyes (Biel/Bienne) (2014), a one-hour walking performance that 'viewers' undertook alone, with their eyes shut, guided only by the performer's hands and voice.
Alexandra Pirici's Tilted Arc (2014) used a line of standing performers to re-create Richard Serra's infamous 1981 outdoor sculpture, while Pablo Bronstein's Girl on a Late-19th-Century Swiss Balcony (2014) blended into the city's architecture to the point of almost vanishing. Germaine Kruip surprised the crowds of travellers exiting the station by exposing them to a Sufi dancer whose traditional attire had been substituted for black trousers and a white shirt (A Possibility of an Abstraction, Circle Dance, 2012). No work focused on repetition, trial and error more beautifully than Nina Beier's The Complete Works (2009), in which the retired dancer Ellen van Schuylenburch rehearsed, from memory, all the choreographies she has danced during her career. Staged in the quiet Elfenaupark, it provoked a reflection upon memory and muscle memory, as well as upon tolerance and the negotiation of bodily limits with the passing of time.
Endurance and vulnerability were also key to the tableaux vivants by Berlin-based duo Prinz Gholam (Nastagio's Itinerary, 2014), who re-created scenarios from Old Master paintings. The Pleasure Project (2014) by Uruguayan-born New York-based choreographer luciana achugar was one of the few works to explore the terrain of sexuality and the implications of publicly exhibiting 'uncomfortable' bodies (unfit or oversized, according to the prevailing norms) sometimes semi- or entirely naked. The contributions by Swiss-based artists were the most understated, but also the most concerned with the boundaries of the public domain: San Keller tried to convince his fellow citizens to break at least one law, while the Biel/Bienne- and Zurich-based duo Köppl/Zacek developed three intersecting circular itineraries (Drei Kreise, Three Circles, 2014) for three groups of walkers (artists, sex workers, asylum seekers) with 36-hour shifts paid at different rates. This work, like many of the performances in 'Le Mouvement', was a reminder that decisions about who can 'perform the city' – whether beautifully or in protest, visibly or in private – are ultimately defined by economic conditions.