Le Printemps de Septembre
A report from the September's Springtime biennial in Toulouse
What about this as a test for curators when they're picking biennial titles: if it could also be the name of a Coldplay album, it fails. So, the just-released title for next year's Venice Biennale, 'Viva Arte Viva', which is unfortunately close to Coldplay's 'Viva La Vida' (2008), instantly flunks. Other Venice Biennale titles could expect a similar grading. 'Think with the Senses, Feel with the Mind': Fail. 'ILLUMInations': Fail. 'All the World's Futures': definite fail. Without doubt, of course, the task of naming and framing such bumper shows must be painfully tricky. These catchphrases are required to work exceptionally hard, evoking a curatorial tone or orientation without, it would seem, saying anything too precise and, therefore, restrictive. And whatever choice is made (especially in the Venice case), breaking news of a forthcoming biennial's name and governing theme can generate a storm of sniping not unlike that surrounding the title announcement of a Star Wars movie. But the truth is that too many of these big-show titles are terribly weak – failing to achieve the type of acuity, urgency, wit, weirdness or anything else that might make them meaningful or memorable.
The latest edition of the Toulouse-based art festival 'Le Printemps de Septembre' (September's Springtime) – recently changed from an annual to a biennial event – is labelled with the portentous, rather spiritless phrase 'In the Plurality of Worlds'. As is so often the case, this is a title that says both too much and too little: hinting at a broad thematic possibility, while refusing to point us in any particularly intriguing direction. Granted, 'plurality' has a potentially powerful meaning at present. Festival director Christian Bernard's decision to signal an interest in various ways of seeing or being in contemporary life – acknowledging the co-existence of disparate 'worlds' – makes sense at a time of deepening divisions and intensifying prejudice throughout Europe. (And sadly, it seems, outside of Europe too: in Britain). But couldn't that interest in the 'plural' be inflected in a way that promises an unexpected perspective or that speaks more decisively to the uneasiness of the current historical moment? I'm reminded of Louis MacNeice's famous poem 'Snow', written in 1935, with its dizzy lines about how, as he says, the 'world is suddener than we fancy it. / World is crazier and more of it than we think / incorrigibly plural'. Both the delights and the difficulties of the 'plural' world are captured in that canny, quotable use of 'incorrigibly'. Without at least some degree of qualifying, risk-taking specificity when adopting the 'plural' as a core concept, we might be left with a set of rather familiar propositions: art can be many things, occupying multiple settings, arising from diverse contexts.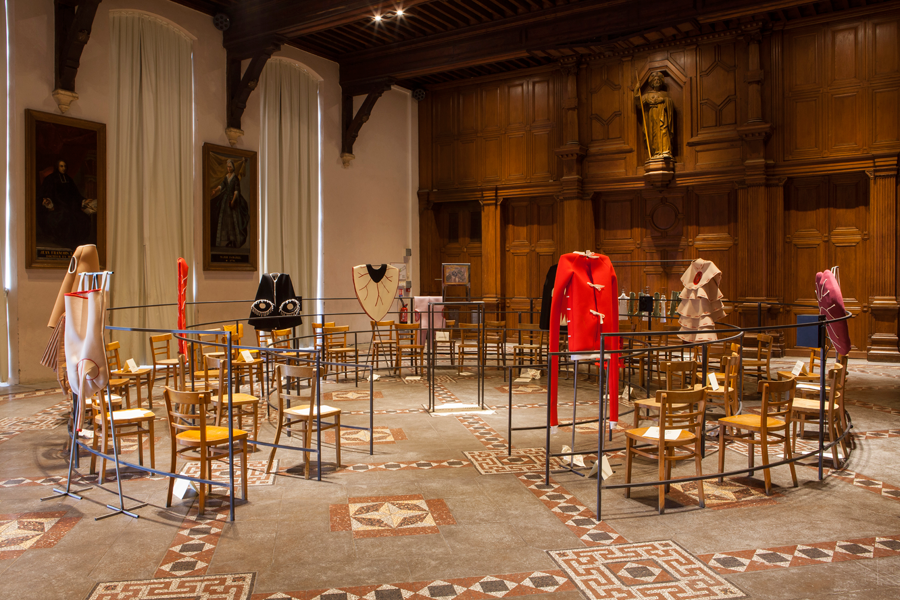 To be fair to Bernard and his team, a number of sub-topics are also identified as part of 'Printemps': each pointing to a different realm of present-day plurality; to some extent, these help to enrich the wider biennial theme. 'The Place Sets the Tone' reflects on how certain artworks respond to or 'nest' in host spaces (and in this strand of programming, stretched across assorted sites, are variously successful interventions by, among others, Eva Kot'átková, Claudia Comte and Hans Op De Beeck). 'An Archipelago of an Opera' foregrounds art with a musical dimension: positioning several strong exhibitions (by Stan Douglas, Ragnar Kjartansson, Vincent Meessen, David Shrigley and others) as moments within an evolving urban soundtrack. 'Museum Games' focuses on artists and curators as museological innovators: re-imagining extant collections or creating their own. (Key examples include: a substantial, ambitious two-person survey of work by French artists Aurelien Froment and Raphael Zarka at Les Abbatoirs, plus a local iteration of Charles Esche's 'travelling institution', The Museum Gone Astray, at the Musée Paul-Dupuy.). 'Common Causes' considers group exhibitions as ways of forging unanticipated political, historical or narrative connection (a suite of shows that includes artist-curator Christine Eyene's exhibition 'Resonances: Second Movement', which developed from her research into the overlooked influence of African rhythmic forms on American avant-garde composition.) Each of the loosely configured conceptual clusters – along with a programme of 'Events Corners', screenings, performances and discussions that offer further lines of thematic flight – has been conceived as a way of articulating an emphasis, proposing priorities within a broader pluralistic abundance of artistic enthusiasms and commitments.
At times, this is subtly and sensitively achieved (the idea of 'nesting', for instance, sounds like a novel kind of site-specificity). At other moments, the extremely light touch of the overall theme is replaced by an unhelpfully heavy-handed approach to curatorial mediation. One accompanying note, for instance, claims that 'the museum' – meaning, I guess, all museums – is now 'an institution that is a hostage to the expectations of politics and the media that, in the best of cases, caresses its own ontological melancholy.' Such forms of caress, I'll confess, are new to me. Elsewhere, we are informed that 'the exhibition ceases to be the major modality and place of artistic activity, which is instead invented as and when it is expressed, contained within the duration of its enactment.' Sentences like this leave me lost in a plurality of words. To cite such imperfect passages might, admittedly, make my own response appear heavy-handed: blowing minor irritations out of all reasonable proportion. But my little fits of exasperation with the festival's framework and associated statements were partly prompted by the increasing sense, over the opening days of the 'Printemps', of just how impressive so many of the individual exhibitions immediately seemed – and of how much their vitality, insight, strangeness and intensity tended to contrast with the Biennial's buzzkill rhetoric.
Froment and Zarka's exhibition (which runs until 8 January 2017) , in particular, is outstanding. Filling the many spacious rooms of Les Abbatoirs, it's a rich, involving survey of the two artists' work, covering around 15 years worth of films, photographs and sculptures. Froment and Zarka are close friends rather than actual collaborators, but they appear to have an almost telepathic understanding of each other's wayward ways of thinking. Both engage in offbeat research into obscure or under-celebrated ideas or stories: Froment, for instance, has an ongoing interest in the lives of singular creative figures such as the amateur architect Ferdinand Cheval, the pioneering educational thinker Frederick Fröbel and the Italian architect Paolo Soleri – and each becomes the inspiration for enigmatic photo-series or deceptively 'straight' documentary films. Zarka has a conspiracy theorist's zeal for identifying recurring images across a wide expanse of cultural material. Again and again, for example, he discovers manifestations of the same geometric form – a polyhedron – in a multitude of real and fictional contexts. He sees it as a city building, a child's toy, a beach sculpture, or an object of occult significance in a Harry Potter movie – accumulating scores of images and constructing what he calls 'documentary sculptures', all as part of an ongoing project that suggests potential access to some secret code of cross-cultural, trans-historical knowledge. Froment and Zarka are obsessive collectors, eccentric cultural historians, offering cryptic but very compelling instances of artistic 'plurality' – sometimes giving us glimpses of other 'worlds' at odds with certainties of the world we ordinarily occupy.
Other highlights at the 'Printemps de Septembre' included several pieces that have been shown before. Vincent Meessen's One. Two. Three. (2015),previously part of the Belgian pavilion presentation at the 2015 Venice Biennale, explores the emigration of Situationist ideas to the Congo after 1968, staging a gradual, gently suspenseful instrument-by-instrument recreation of a recently rediscovered protest song from that era. Shown in adjoining rooms at the Théatre Garonne-scéne Européenne, Stan Douglas's Luanda Kinshasa (2013) – a six hour fictionalized portrayal of recording sessions for an imaginary sequel to Miles Davis's album On the Corner (1972) – and Ragnar Kjartansson's The Visitors (2012) – a baggy, nine-screen installation showing Ragnar and friends performing the same song repeatedly in various rooms of a run-down mansion – are films that pull us into their distinct musical worlds with great seductive power. If asked to choose between them, I'd pick the locked-groove tensions of Luanda Kinshasa over the lovely falling-apart and coming-together repetitions of The Visitor – but the tensions between them seem productive too. And, in general,  'Printemps de September' scores highest when tensions between its 'plural' worlds can be keenly felt. This may, indeed, be why the image I've found hardest to shake is one from Kot'átková's extraordinary installation at the Museum of Medical Instruments: a drawing from 1959 of a child watching her father conduct heart surgery. In this framing of contrasting, overlapping world-views – the child's impressionable outlook and the father's dispassionate apprehension of physical reality – an unsettling kind of intimacy is shown: a close-knit plurality of perspectives that is at once strangely affecting and difficult to deal with.
Le Printemps de Septembre runs from 23 September – 23 October, 2016.
Lead image: Eva Kot'átkovà, from the series 'Not How People Move But What Moves Them', 2013. Courtesy: Hunt Kastner, Prague