Featured in
Life in Music: Ida Ekblad
In the first of a new series, Norwegian artist Ida Ekblad discusses the music that she loves
Researching this piece catapulted me right back into the hidden scents, sights and sensations of a past presumably lost. I raided my old hard-drives and mix-tapes and searched through miles-long emails and Facebook threads of YouTube links and MP3 dumping between my friends and me – and I still don't know where to begin. There's too much insanely good music in this world. I listen to music practically all the time and recently I've also been composing it. I can spend days looking for the right songs to work to in my studio; I consider that part of my job.
I wanted to start off with a childhood favourite but then I realized I couldn't mention anyone before mentioning Arthur Russell. 'That's Us/Wild Combination' (released posthumously in 2000) is undoubtedly the song that I've listened to most in my life. Russell's voice has a kind of badass playful flirt embedded within it. His sound is so radically real and unfeigned – be it poetically rambling on dub, house or whatever – it will reach far beyond earlobes into your auditory nerve to shake you up forever. (Robert Wyatt's version of 'At Last I Am Free' from 1982 also blitzes in here as another all-time favourite.)
Björn Isfält was a Swedish composer and musician who specialized in scoring music for films, amongst them the movies based on the books of my heroine, Astrid Lindgren. But surpassing all of these was his soundtrack for Swedish director Roy Andersson's En kärlekshistoria (A Swedish Love Story, 1970), a film that changed my life with music that is a work of genius, including songs like 'Talk to Me', 'Wake Up in the Morning' and 'Oh No'. And all the instru­mentals are ripe with seduction, lust and pang.
Manuel Göttsching's E2-E4, recorded in 1981, is elegant like Meryl Streep. Steady, smooth, blasting itself into the ultimate rush – it's drugs, baby! And so are his 'Bois de la lune' (Moon Woods) and 'Bois de soleil' (Sun Woods) from The Private Tapes, recorded between 1970–79. Göttsching's work with Ash Ra Tempel throws some equally crazy blows: unearthly extravagance in its purest form. These slow-blow kosmische musik anthems have melted my brain in the studio along with the turpentine. They're perfect music for mashing sodden paint into slushy paper and thick oil into thirsty resins. 'Deep Distance', from their 1976 album New Age of Earth, starts off like whales leaping into blue sky and guides you into the Hölderlinian abyss. Their 1973 release Ash Ra Tempel Starring Rosi includes two tracks ('Day-Dream' and 'The Fairy Dance') that scratch and sniff like a reclusive Hütte with a bulky iron burning stove in the foggy German woods. Rosi Müller's voice is like a candied, curious five-year-old in the dopest way. Another krautrock favourite is the nebulous, trippy gem 'La Mer' (The Sea), the last track on Ejwuusl Wessahqqan's only (self-titled) release from 1972.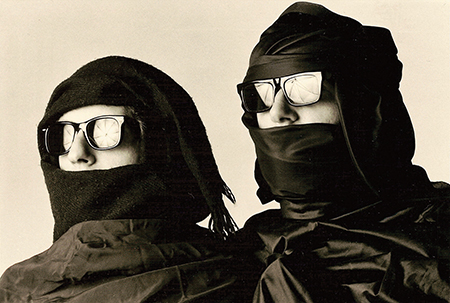 Rhythm goes hand-in-hand with intuition and, sometimes, working in the studio should be like dancing. Wiggling, jerking and twisting are my favourite pastimes. The best tune to throw in for a whole lotta love, extra rhythm and falling around on the floor is Doug Hream Blunt's 'Gentle Persuasion'. That song – leavin' cum stains. Another dance anthem is a supreme track by the name of 'Rock with You', performed by donAteller (Mark Leckey's band).
I can't help but mention Burzum (also known as Varg Vikernes). Just relax: yes, he definitely killed a man and burned down some churches, and he might be a heathen nationalist but, whatever his beliefs, this shit deserves all the oohs and the aaahs. 'Det som en gang var' (What Once Was) on the album Hvis lyset tar oss (If Light Takes Us, 1992) proved that point blank. The two ambient albums he recorded while he was in prison, Hliðskjálf (1999) and Dauði Baldrs (1997), are tunnel-vision beautiful. Not to mention his latest, Sôl Austan, Mâni Vestan (old Norse for 'East of Sun, West of Moon', 2013), which was the soundtrack to the eccentric film he made with his wife and children, ForeBears (2012). The Norwegian media are busy discussing whether they should abstain from publishing reviews of his work for ethical reasons, which in my opinion would be complete cretinism. Devil may care, but Vikernes not so much, I suspect.
MC Lyte's 'Poor Georgie' (1991) and Lady B's 'To the Beat Y'All' (1979) take me across the putrid linoleum floors and gloomy dj-booth of Årvollklubben, the youth club of my pre-teen years where I first learned to breakdance. Foxy Brown's voice will make you want to fuck and fuck and fuck. Her 'Get Me Home' (featuring Blackstreet) from the 1996 album Ill Na Na is a pet of a song. Don't mess with Lil' Kim though, the Don. 'Queen Bitch' (1996) is perfection. She be all, 'Got buffoons eatin' my pussy while I watch cartoons.' All hail the bomb-diggy!
I have a poster of Augustus Pablo on my bedroom wall. Him, Jackie Mittoo and Dr. Alimantado all bring me back through a mothball-smelling hall into a mighty cosy little pad in Lundun town. The latter's Best Dressed Chicken in Town (1978) has so many 'cuckoo-roo-cuckoo' gems, like 'Poison Flour' with Horace Andy's alluring voice, or 'Gimmie Mi Gun' with Gregory Isaacs on the mic. I still remember buying Mittoo's compilation, The Keyboard King at Studio One (2000), at Rough Trade Records in the basement of Slam City Skates in London. I lean back to hail The Bah and honky-tonk wiggle across the floor listening to this just now. Such a cool-looking dude, too.
The Durutti Column's song 'The Missing Boy' (1981, a tribute to Ian Curtis) made a huge impact on me. I've developed an addiction to their mournful sound; they have masses of great new-wave/post-punk releases behind them, but I'd pick their debut studio album The Return of The Durutti Column (1980), especially the track 'Sketch for Summer'. The Japanese psychedelic trio Speed, Glue & Shinki's track 'Don't Say No' (1972) takes me to Brussels and a certain behaviour you cannot pursue on a daily basis. Hanadensha's album Narcotic Guitar (1995) is likewise good for nurturing vices. 'Aegian Sea' (1971) by Aphrodite's Child ships me to Bali – surfing by day and painting by night. Bobb Trimble's 1982 ballad 'If Words Were All I Had' is a treasure on Paracetamol. I used to feast on working at night before having a baby, and the track 'Starlight (Echospace Dub)' (2008) by Model 500 (a.k.a. Detroit legend Juan Atkins) is an ace hymn to stay awake with.
In April, I co-organized the exhibition 'Alt Du Kan Bære' (All That You Can Carry) with Eirik Sæther at a space called VI, VII in Oslo. The show took place in a basement with numerous nooks and strange cabinets to hold the art works. We were lent a religious meeting room upstairs where Nils Bech and Thomas Storkjørren each performed a set. These two musicians make me want to stay in Oslo. I grew up with Nils and heard him a thousand times but I'm still bewildered by his talents. Thomas is a bit like Nils's wee brother and a bit like Tracy Chapman mixed with Russell. The two proved to be more than most could carry that evening – even the floorboards were letting go of brackish water as they finished.
As a sleep-inducer, my dad gave my sister and me a tape of beautiful lullabies after my folks' divorce. We were very young but I can still remember the impact of Radka Toneff's 1979 cover of 'The Moon is a Harsh Mistress'. More agony and infatuation: a friend passed along The Cathy Demos – Kate Bush's demo tapes recorded in the early 1970s by David Gilmour on a crap recorder in her house. I cherish her even more with no production value and lo-fi recording. 'Absolutely terrified and trembling like a leaf, I sat down and played for him,' she said of these un-adapted genial performances. On top of that voice, there's her face, poise and her dance: a Madame Butterfly ridin' like a wick-wack low-ridin' Cadillac. Heartbreak! Joan Baez and Joni Mitchell belong here too, of course. Oh, and Billie Holiday, Nina Simone, Janis Joplin and who is it who has her toes licked? Stevie Nicks! Apropos Madame Butterfly, the late Malcolm McLaren's song by the same name is another diamond cluster hustler. And, finally, my first girl crush, Sade: cherish the day!
Ida Ekblad lives and works in Oslo, Norway. In 2014, she had two solo shows, 'A gentle looking little alien of sorts' and 'A day of toil among its ruins', at Herald St, London, UK. She recently designed the scenography for Constellations by Nick Payne at the National Theatre, Oslo. In 2015, she has forthcoming solo exhibitions at Galerie Max Hetzler, Berlin, Germany, in May, and Karma International, Los Angeles, USA, in June.