Featured in
In Lorna Simpson's Latest Work, Racism Is Like the Weather
The Black female gaze shines resiliently through the stormy surfaces of the artist's paintings on view at Hauser & Wirth
Clouds gather and thicken on monumental panels in 'Darkening', Lorna Simpson's first solo exhibition at Hauser & Wirth's 22nd Street gallery. The artist's immersive, imaginary landscapes of stormy skies, mountains, glaciers and seas convey a sense of planetary turbulence. Thin strips of fragmented text drip down their surfaces like liquid. Volcanic eruptions are veiled by an inky cobalt-blue fog. These new paintings are a map, albeit one that does not follow existing borders or cartographic rules. Nebulous, murky, hallucinatory and oneiric, Simpson offers us a geography of displacements and a topology of the racialized and gendered body.
'Anti-blackness is [as] pervasive as climate', writes literary scholar Christina Sharpe in her trenchant book In the Wake: On Blackness and Being (2016). That climate poses ever greater threats to our survival, while racism is normalized, like wind and rain. Such conditions require adaptability, or as Sharpe suggests, 'changeability and improvisation'. Public health researcher Arline Geronimus similarly termed the deleterious effects of racism on Black women 'weathering'. As if to illustrate this metaphor, buried beneath layers of deep blue on the surface of Simpson's painting Specific Notation (2019) is the face of a woman the artist has screen-printed there.
Throughout her illustrious multi-disciplinary practice spanning four decades, Simpson has poetically excavated the dialectics of power and representation. She employs visual techniques such as fragmentation, abstraction, repetition and superimposition to create 'gaps and contradictions,' as she told Thelma Golden and Isaac Julien in a 2006 interview – deconstructing ways in which meaning is generated and perpetuated through images and language. Her work evades hermetic readings.
'Darkening' is anchored by Timeline (2019), the sole sculpture in the show, a towering column more than three metres tall of neatly stacked Ebony magazines, some still encased in plastic sleeves. Simpson's stack serves as a marker of time, place and politics, as well as a source of cultural knowledge. Ebony, published monthly since 1945, has been a primary locus of Black American life in the postwar era, and a living archive of its changes. Yet Simpson denies us access: these volumes are fixed by an invisible steel beam running through their centre. Collapsing historical distance, Timeline is continuous; past merges with present as it looms over our heads. The column is also a tree that bears fruit: Simpson mines these magazines for images that appear in several paintings on view.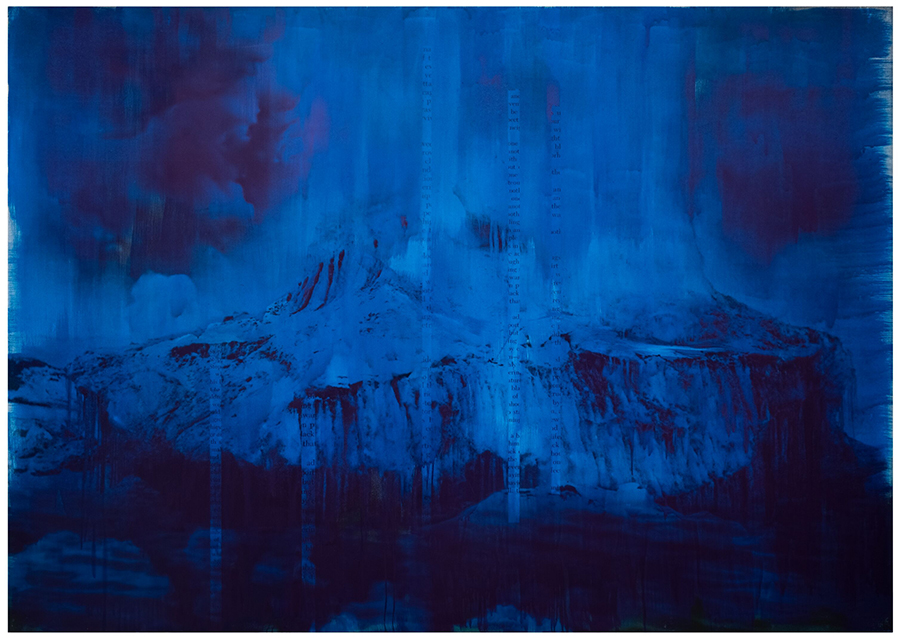 In Special Character #1, #2 and #5 (all 2019), Black women are iridescent in shades of red, yellow, blue and black. Both boldly present and partially obscured, their faces are superimposed, like double consciousness. Most striking about these women is their unremitting gaze. As bell hooks writes in 'The Oppositional Gaze: Black Female Spectators' (1992): 'Looking and looking back, black women involve ourselves in a process whereby we see our history as counter-memory, using it as a way to know the present and invent the future.' There is power in looking, in visibility, in representation. Simpson's Special Characters return our gaze with agency and self-assuredness, in spite of the storms that brew around them. They offer us new ways of seeing in the dark.
'Lorna Simpson. Darkening' is on view at Hauser & Wirth 22nd Street, New York, 25 April to 26 July 2019.
Main image: 'Lorna Simpson. Darkening', 2019, exhibition view