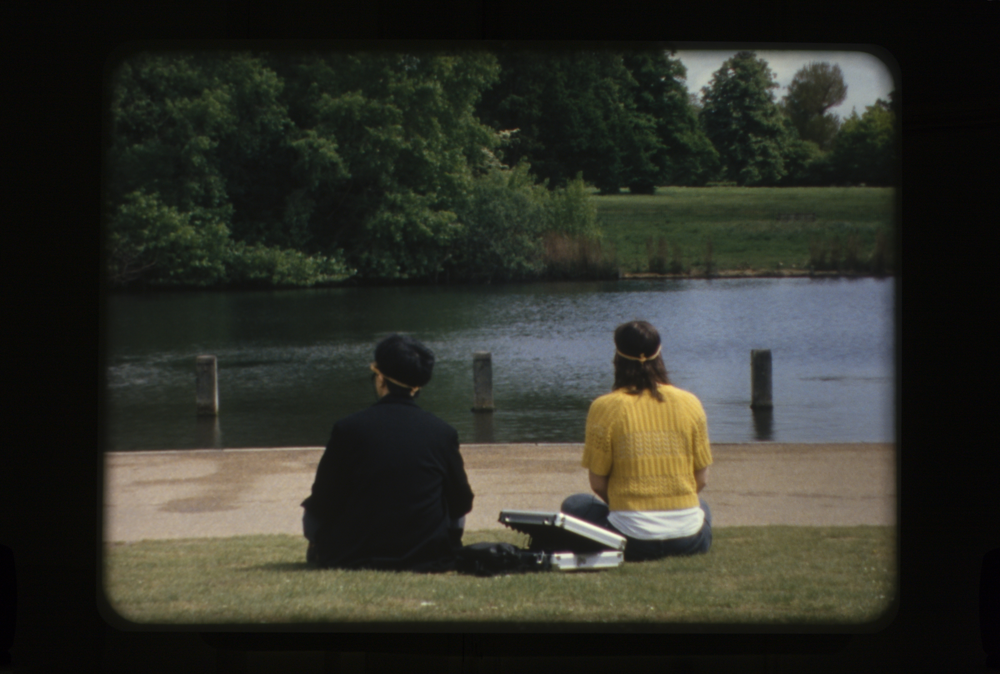 Luke Fowler's relationship with sound – as well as the opportunities arising from his collaborations with musicians and sound artists – has always informed his understanding of audio–visual media. His work consistently examines (or is the result of) such alliances: from his early collaboration with artist Kosten Koper to more recent works with sound artists Lee Patterson and Toshiya Tsunoda, both of whom – along with Eric La Casa – he collaborated with again for 'A Grammar for Listening (Parts 1–3)', a recent exhibition of new work at The Modern Institute. As well as underlining Fowler's ongoing investigations into the relationship between recorded sound and filmed image, the exhibition title suggested a pedagogical significance to the three new works.
In each of the three gallery spaces, the repetitive manner in which the 16mm films were presented – all projected onto similarly sized screens, all sharing symmetrical audio equipment – immediately encouraged comparison. Significantly, however, each work arose from separate dialogues between Fowler and his collaborators. The result was three dynamic films, each of which uses sound to illustrate specific architectural and environmental locations in the UK and Europe.
In previous films, such as Pilgrimage from Scattered Points (2006), Fowler's portrait of avant-garde composer Cornelius Cardew, his use of archival footage helped define him as something of an anti-auteur. This was continued in 'A Grammar for Listening', wherein collaboration was a means of abstaining from complete control over the works. In this instance, at least, Fowler's auteurism could be seen only retrospectively, each of the films comprising three parts of one whole.
The concept of sound mirroring image, and vice-versa, overarches all three of the works (which are titled Part 1, 2 and 3, all works 2009), though it is the third work (a collaboration with Tsunoda) that illustrates this Möbius-strip relationship most clearly. In Part 3, Tsunoda and a participant are filmed at easily recognizable locations in West London: the Royal Albert Hall, the Serpentine Lake and Kensington Gardens. With stethoscopes strapped to their temples, they recorded their internal audio responses to what they are viewing, giving the 16mm footage a synchronous, internal soundtrack. Interspersed with the footage are passages of text that act like philosophical field notes, annotating the action and emphasizing the interrelationship of the audio and observational footage. In these notes Tsunoda describes cataloguing images with sound (the twin recordings 'are about capturing one image with two inputs, which is normally what our eyes and our ears do'). Aptly, the nostalgic and romantic connotations of 16mm as a device for scientific documentation are evoked by Part 3, and this contains the film and audio within a comfortable set of parentheses.
Contrastingly, in Part 1 and Part 2 – collaborations with Patterson and La Casa, respectively – a tension arises from oppositions between analogue and digital recording techniques. Audio and 16mm footage are synced in both, but the crisp digital quality of the audio works against the grain of the 16mm projections. These contrasting facets raise an awareness of each piece's constituent parts, a deconstructive process that aids the works' investigation into the complexities of simple everyday occurrences. In focusing on these commonplace (and sometimes romanticized) events and locations, Fowler's new works have more in common with structuralist filmmaking than the more conventional use of audio and image in cinema. In Part 1, for example, the camera fluctuates between recognizable landscape shots and abstract close-ups; Part 2 shares similar variations in composition, although unlike its precursor it is punctuated by frames of colour and (at times) distorted and incongruously melodic audio. This experimental quality differentiates the two quite similarly inspired 16mm projections, but does not diminish their effectiveness in depicting the specific essence of 'place' through audio-visual description.
The complexity of these collaborative relationships plays an integral role in the understanding of the new works as a collective whole; the artist's sensitive approach to filmmaking and to collaboration has resulted in a trio of films that retell their originating processes with elaborate detail. For Fowler, their paradigmatic nature reiterates his interest in observational filmmaking and marks a further departure from previous narrative works toward a reinvestigation of experimental cinema.