Featured in
The Many Sources of Inspiration in Magdalene Odundo's 'The Journey of Things'
A Wunderkammer-like exhibition at The Hepworth Wakefield shows objects from all times and places alongside the artist's own ceramic vessels
The question 'What are your influences?' may seem like a hackneyed journalistic opener – the most obvious starting point to understanding an artist's work. In 'Magdalene Odundo: The Journey of Things', however, the cliché takes centre stage – to brilliant effect. Around 50 of Odundo's ceramics are installed alongside almost 100 other artworks and artefacts chosen by the artist. Each representative of the making traditions that have informed her own practice, these map an imaginative journey of cross-cultural connections.
Born in colonial Kenya in 1950, Odundo moved to the UK to study art in 1971. While exploring the museums of Cambridge as a student at the College of Art, she became interested in both modernist sculpture and vernacular craft traditions. These sparked a fascination with pottery that, on the advice of the potter Michael Cardew (whom she met during a trip to the Leach Pottery in St Ives, Cornwall) led Odundo to travel to Kenya, Uganda and Nigeria to learn from local makers. On her return to England, she began to synthesize these diverse interests into her own visual language. Today, Odundo is one of Britain's most eminent ceramic artists – in 2008, she was awarded an OBE for services to art. It is this creative history that we see sketched out in 'The Journey of Things', object by object: from 20th-century British studio pottery by early mentors such as Cardew, Zoe Ellison and Henry Hammond, to undated work by anonymous makers from wildly divergent time periods and cultures. These include ritual objects from across the African continent, a 16th-century English iron corset and ancient ceramics from Greece, Egypt and Cyprus.
Installed among them are Odundo's own works, each an iteration of the vessel. These range from early efforts – such as Esinasulo (Water Carrier) (c.1974–76), a matte, unglazed pot with a round-bottomed form that speaks of the traditional Nigerian hand-building techniques Odundo had recently learned in Abuja – to the lustrous, elegant forms she is known for today. These are black or terracotta-coloured vessels, finished with highly burnished terra sigillata rather than a glaze. Their distinctly anthropomorphic quality is both seductive and slightly sinister: raised nodules recall spines, bellybuttons or collarbones, while rims jut out like jawlines. They sit poised in dedicated central islands, occasionally punctuating other works around the walls.
As in a Wunderkammer, there are no hierarchical distinctions drawn between the objects here. Instead, we see a glorious variety. A delicate replica of an Elizabethan lace ruff sits alongside AG+BA (2014), a sumptuous sculpture by El Anatsui, in which crumpled aluminium and copper wire are rendered textile-like. An inch-high Syrian Standing Figure from the Uruk period (3300–3000BCE), depicts a full-figured woman. Behind it, a gouache on paper by Pablo Picasso (Female Nude with Arms Raised, 1907) bears the same curvaceous simplicity, while work by Henri Gaudier-Brzeska, Barbara Hepworth and Henry Moore sits alongside. Each grouping sheds light on some aspect of Odundo's thinking: in this case, the crossover between abstraction and sensuous figuration evident in her vessels, reminiscent, variously, of slim waists, arched necks and round bellies.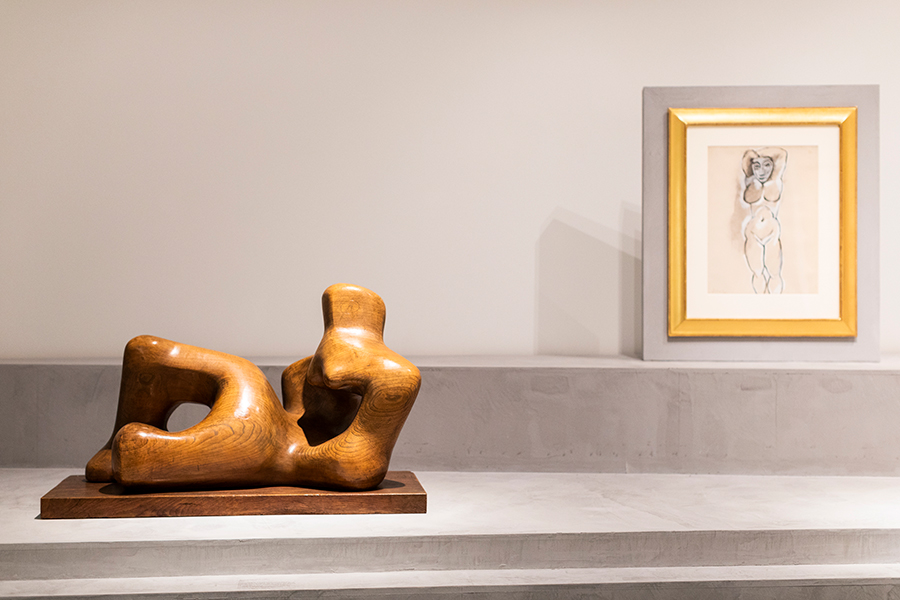 The exhibition's design is an unusually prominent feature of the show. Architect Farshid Moussavi displays Odundo's choices on surfaces of dappled grey, which soften The Hepworth's concrete right angles with zig-zagging lines; central islands are asymmetric triangles or diamonds. The use of graduated step-like platforms for display allows for objects to be seen one behind the other, which supports Odundo's framework of multi-layered narratives. It's testament to the success of Odundo and Moussavi's collaboration that what could easily have seemed a disjointed assemblage manages, somehow, to avoid any awkwardness. 'The Journey of Things' is a remarkably smooth voyage.
Magdalene Odundo, 'The Journey of Things' runs at The Hepworth Wakefield until 2 June 2019.
Main image: Magdalene Odundo, 'The Journey of Things', installation view, 2019. Courtesy: the artist and the Hepworth Wakefield