Featured in
Michele Chu's Ode to Grief
At PHD Group, Hong Kong, the artist mourns her mother through sensorial installations that incorporate personal detritus
On Christmas Eve 2018, I sensed that my grandfather was about to die. The call came the next morning.
For artist Michele Chu, however, the expectation of loss has been a more prolonged ordeal. Her ailing mother received a terminal diagnosis some months ago, which became the catalyst for Chu's solo debut, 'you, trickling', at Hong Kong's PHD Group.
Outside the rooftop gallery, a dense fog billows onto the terrace. Chu has installed a humidifier and heat lamps in the entryway to create an oppressive change in atmosphere that evokes the passage to an unfamiliar realm. Further into the exhibition space, a lit candle flickers atop an antique wooden table, accompanied by a metal plaque with instructions to ignite one of the incense sticks provided and to proceed through a circular mesh tunnel (you, trickling, 2023). A bitter aroma wafts through the air as snatches of the artist's voice emanate from multiple hidden speakers. 'You, trickling, sinking, kissing,' Chu intones in the looped recording, along with other phrases that constitute the titles of the artworks on view.
This haunting ambience is fitting for a show preoccupied with disintegration and death. In a corner of the gallery, glimmer in your eye (2023) comprises shards of broken glass suspended from metal chains and imprinted with emulsion lifts. Ghostly images of Chu's parents and disembodied hands dangle alongside jagged resin pendants containing the artist's cigarette butts, hair, nails and menstrual blood. Similar fragments are strewn on beds of salt inside a pair of wall-mounted drawers, which Chu had salvaged from her childhood home (into tears, into salt I and II, 2023). It is as though she is attempting to arrest time by preserving these mementos and banal discards of life. In these artworks, at least, pieces of mother and daughter will always co-exist.
Chu's conservatorial impulse continues to be lovingly expressed in a series of repoussé reliefs of her mother's marred skin – a consequence of arduous medical treatments. For tracing your rashes I and II (2023), the artist laboriously hammered the shapes of welts and nodules onto lustrous metal plates, reconfiguring sites of injury into symbols of fortitude.
Still, a painful inevitability courses through the show. For twisting, turning belly button (2022), Chu made a bronze cast of her navel – the original point of severance between mother and child. The diminutive cone forms the nexus of two strands constructed from ribbon, lace, safety pins and copper jump rings that the artist looped by hand as a way to try and process her anguish. This cross-shaped arrangement hangs in a corner of the gallery above a mound of salt. Chu seems to be quantifying her sorrow: in objects made, in tears shed.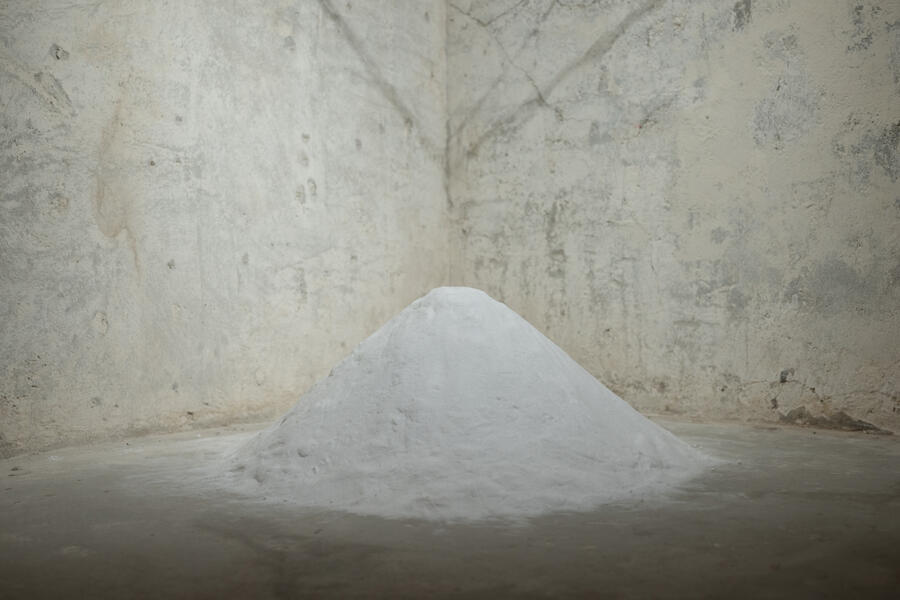 The exhibition concludes with seeping (2023), a participatory installation that invites visitors to lie face down on a massage bed and visualize an emotion as water. The structure is enclosed by labyrinthine copper pipes that release droplets into plastic buckets, generating an arrhythmic soundscape. The ritual is presumably meant to invoke a spiritual cleanse, though I wouldn't say I left the space feeling purer or lighter. Rather, my thoughts were of our mortal helplessness as I crossed the miasmal threshold once more, the damp clinging to my skin in the cool evening air.
Michele Chu, 'you, trickling', is on view at PHD Group, Hong Kong, until 13 May
Main image: Michele Chu, 'you, trickling', 2023, installation view. Courtesy: the artist and PHD Group, Hong Kong; photograph: Felix SC Wong