Mike Henderson's Heated 'Protest Paintings' Re-Emerge From the Flames
The artist discusses his shift from figurative painting to abstraction and the studio fire that consumed his artworks depicting the violence of 1960s California
Painter, filmmaker and musician Mike Henderson has been creating art against all odds for over 50 years. Born in 1943 in Marshall, Missouri, he moved to California in 1965 to attend the now-shuttered San Francisco Art Institute, then one of very few integrated art schools in the country. The protest paintings Henderson made during his studies are raw and visceral, grappling with themes of police violence and racial inequality. His more recent abstract works are a bold redirection but continue to express his experimental energy.
The Jan Shrem and Maria Manetti Shrem Museum of Art at the University of California, Davis, presents 'Before the Fire, 1965–1985', Henderson's first US solo museum show in 20 years. The exhibition features many artworks, restored by the museum, long thought lost in a fire that ravaged the artist's studio in 1985. Henderson and I discussed his continued pursuit of art after devastating loss, the meaning of 'Black art' and his shift from figurative painting to abstraction.
Harley Wong What were your initial reactions to the studio fire that almost destroyed all of your early work?
Mike Henderson The fire was such a traumatic experience for me. I was in Europe, and I thought everything was gone. I wasn't sure if I would go back to the States. All the works that were destroyed felt like the value of my existence as a human on this planet.
I wanted to be an artist for no other reason than that I love doing what I'm doing. I didn't set out looking for fame or glory. I broke away from family tradition to go my own way. People would say things like, 'a Black person trying to become an artist? You're crazy. You've got to do something sensible.' That's why I left home. After the fire, though, I started thinking maybe they were right.
But I told myself that I'm going to bounce back. There were two phrases that came to mind every morning 'No expectations, one day at a time,' and 'don't worry about where the tracks are going, enjoy the ride.' They became my mantras.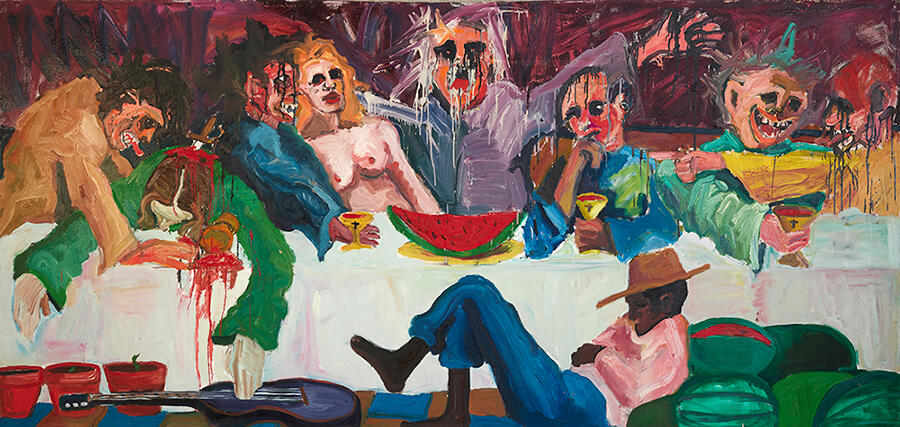 HW Seeing this older body of work that was damaged, some destroyed, restored by the museum of the university where you taught for more than 30 years must have felt like a full-circle moment. What was it like to witness?
MH It was similar to playing at a big concert. Thinking about where you've been and your lifespan, the light at the tunnel getting brighter, and trying to put things into perspective. You need some time to absorb it all. 
When I walked into the museum and saw The Last Supper (1967); it was thrilling. My only reaction was, 'Wow! Who did that?' Someone said, 'It's yours!' When I did that painting, I had looked up Da Vinci's The Last Supper (1495–98) to see what they were eating, but I couldn't see what was on the plates. It looked like little pieces of bread, but for some reason I said, 'Watermelon. That's what I'll put in there.' Throw it right back in their faces.
HW How would you describe the role of religion in your work?
MH Religion catapulted me into questioning everything. The only time I got money was to go to Sunday school. I would pray and pray, and then I'd ask, 'Why are we living in this poverty? Why is it like this?' We prayed, my grandmother prayed, but prayers run out. One day, I thought, 'Why am I praying to a white God and Jesus?' I was a Baptist who became a Catholic, but when I came to California, religion went out the door. Art and music became my religion.
HW Religion is definitely something people still grapple with today, as is police brutality, which is depicted in Peace Demonstration (1966), Non-Violence (1967), and Freedom (1968), which feel like a narrative series. In the first painting, a protestor is being arrested to show that peaceful demonstration isn't a particularly effective way to initiate change. In Non-Violence, police are brutalising Black people, but the title recalls the way conservative and neoliberal news media defend a non-violent response. And in the last work, we see Black inmates taking their freedom by force.
MH Especially with a lot of the political stuff that's happening now, everything is like how it was yesterday. It's been so long, but I remember feeling like there were knots in my stomach, like there was something I had to do as an artist. I couldn't just paint a woman sitting in a chair or something. It was the times. I came out to California and saw Black women like Angela Davis speaking out. The riots were going on in Hunters Point. At night, the cops would stop and hassle me on my walk home.
HW You're referring to the 1966 uprising in San Francisco that occurred after white police officer Alvin Johnson shot and killed unarmed Black teenager Matthew Johnson, Jr. It must have felt jarring to come to a place with a more militant police presence and to see the National Guard called in.
MH It wasn't like that growing up in Marshall. I knew the chief of police as Uncle Vernon, and I had a little studio where people would hang out and have band practice that was a block from the police station. They would chase us around the park if we made too much noise, and that was fun. Then we'd do it again another night, and they'd come out and say, 'Guys, hold it down. You all want to play guitars, but maybe you should turn them down or go inside.' They knew who we were and what we were doing.
HW How did people generally respond to the works you made in the 1960s that had these racial and political themes?
MH A lot of the so-called Black art shows didn't want to show them – wouldn't show them. 'You're not a Black artist,' they said. 'Your work is not Black art.' I didn't mind because I wasn't looking for that. I was trying to see if there was an artist still in me. I didn't care if people liked them or hated them.
HW What was the moment when you decided that you didn't want to do protest paintings anymore?
MH It was after I came back from a memorial rally for Dr Martin Luther King Jr. I was thinking a lot about violence and the world. You felt it all over the city that something tragic had happened. You felt it from everybody. It was in the air that something was wrong. That was when I said I couldn't do another figurative protest painting. I went to the Black Panther Party to work delivering food. And when the teaching job at UC Davis came up, I realised this was a way to make a change.
HW What were people's reactions to you pivoting from the more legible genre of figurative painting to abstraction?
MH Some said I could've kept painting figures. Yes, I could've, but the figure wasn't in me anymore. When I first came here, I wanted to be a portrait painter. Then I saw there was a whole world of painting that I'd shut off. Abstraction freed me.
HW Your work in recent years delves into themes of Afrofuturism and Black utopias. How did that start?
MH That was something somebody wrote. I never thought about Black utopias. I thought about looking at a Vermeer painting where the light comes through the window a little bit, and there's a spot that shines brightly. I want to paint that one spot in a Vermeer.
But it comes with the territory. That's what people see, and I don't take offence to it. I remember the first time my works were rejected for an African American show. After that, I said I'll just accept people's opinions because I've got them too. I'll find where I fit in. When the impressionists didn't fit in, they slowly got together – all the misfits in one place.
I've got nothing to prove. I let the chips fall where they may. Van Gogh never got written about or sold a thing in his lifetime. But that happened with my luck. I don't want to give any less than he gave. But yes, it's been great to be the Picasso of the world.
Mike Henderson's 'Before the Fire, 1965–1985' is on view at The Jan Shrem and Maria Manetti Shrem Museum until 25 June. The artist's concurrent solo exhibition 'Chicken Fingers, 1976–1980' is on view at Haines Gallery, San Francisco until 25 March. 
Main image and thumbnail: Mike Henderson, Love it or Leave it, I Will Love it if You Leave it, 1976, mixed media, 1.7 × 2.7 m. Courtesy: the artist and Haines Gallery, San Francisco; photograph: Robert Divers Herrick