Featured in
MOMENTA 2021 Centres Indigenous and Nonhumanist Notions of Nature
The 17th edition of MOMENTA Biennale de l'image presents a smattering of artworks and immersive installations that transcend Western environmental values
There are few contemporary art events in Tiohtià:ke / Mooniyang / Montreal that unite artist-run centres, university art galleries, museums and community spaces. Yet, since 1989, MOMENTA Biennale de l'image has collaborated with a range of exhibition venues to deliver a diverse programme of local, national and international artists across the city. Over the past decade, and particularly since being renamed in 2017 from Le Mois de la Photo à Montréal (Montreal Photography Month), the biennial has progressed from a focus on traditional photographic practices and curatorial premises to a more inclusive mandate that allows for a broader range of image-based works, artists and collectives to enter into dialogue. The 17thedition, titled 'Quand la nature ressent' (Sensing Nature), takes another leap in this direction, leaving behind two-dimensional representations of the natural world in favour of numerous sensuous installations, affecting landscapes and politically engaged settings for the viewer to literally step into, contemplate and be moved. Under the direction of guest curator Stefanie Hessler (Norway) in collaboration with Camille Georgeson-Usher (Canada), Maude Johnson (Canada) and Himali Singh Soin (India/UK), the biennial's presentation of 51 artists from 24 countries in 14 different exhibition venues is a milestone.
One of the biennial's main sites – the massive Le Carré de Gaspé contemporary art hub, in the city's hip Mile End neighbourhood – welcomes audiences to warm hues of electric purple, fuchsia pink and deep neon blue. The building houses four of the artist-run spaces participating in the programme: the Centre Clarke, Diagonale, Occurrence and OPTICA. At the Centre Clark, the collective New Red Order (Adam & Zack Khalil, Kite and Jackson Polys) present The Last of the Lemurians (2021), an immersive installation anchored by a large circular floating projection. Eerie green and red light emanates from crystal-like sculptures on tall white plinths while domestic plants and their cuttings populate the space. The video – a wandering, archaeological, new-age journey – tackles popular cultural belief in Lemuria, a hypothetical 'lost land' located in the Indian Oceans, which has been the subject of Western fantasy for decades. Revisiting racist and romantic conceptions of Indigeneity with a combination of lasers, dark moody caves and rolling ocean waves, New Red Order address how white colonial desires have collapsed native spiritual beliefs with mysticism and alienness in a fetishized, self-serving quest for wellness.
At OPTICA, another collective, BUSH Gallery (Gabrielle L'Hirondelle Hill, Peter Morin and Tania Willard), display works produced during the summer of 2021 at a residency on Willard's land on Neskonlith Indian Reserve in Secwepemcúĺecw in the British Columbia Interior. Focusing on the relationships between land, light and the political implications of site-specific creation and its Eurocentric treatment of the geological universe as inert, devoid of spirit and/or agency, the exhibition, 'Diffracting of Light and of Land', combines photographs with multiple handmade, brightly coloured objects. Touch the Earth (2021), for instance, comprises paint brushes made of fur, wood from a colonial building and copper; Harvest Bag (2021) is assembled from light-sensitive emulsion on tipi canvas; and Land Art (x7) (2021) is a series of seven porcelain spray paint-like cans with deer buck tail and beeswax. 'Aesthetic disobedience', a slogan stitched to Pocket Guide-vest Power Pocket (2021) – which consists of a suspended, red-wool, sleeveless vest with pearls, accents of 3M reflective orange fabric and red tassels hanging to the ground – manifests throughout the exhibition as the collective rethinks land-art traditions that exploited nature in the name of artmaking.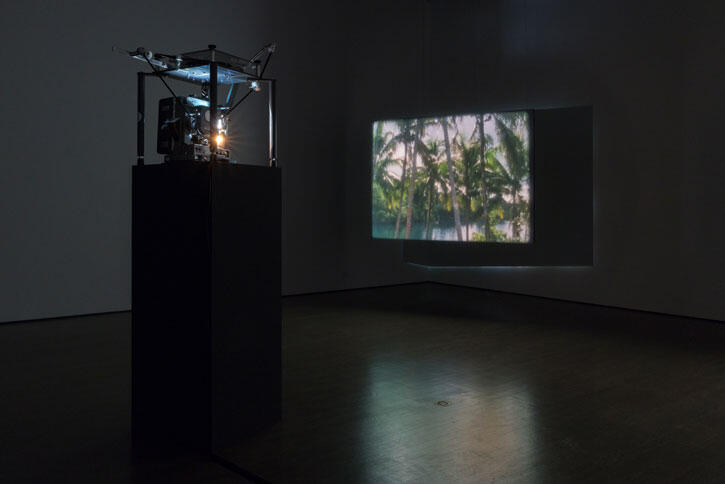 In downtown Montreal, at Galerie Leonard & Bina Ellen, the Puerto Rican artist Beatriz Santiago Muñoz is the subject of the solo exhibition 'Poetic Disorder'. Dissecting perspectives of Puerto Rico, Haiti and other parts of the Caribbean – whose past is steeped in colonization, military occupation and narratives of resistance – the artist's four filmic works are a constellation of nonlinear, prismatic ways of sensing nature. The most impressive of these, Binaural (2019), is composed of six 16mm films shot in Puerto Rico and the Solomon Islands. Projected across the gallery on suspended screens are short loops of people foraging for plants, swaying in a hammock, scanning a horizon, following a carved relief and a neon flickering in the dark. Such images circumvent tourist fantasies to re-create a fractured topography of the prepackaged 'island paradise' found on billboards and in advertisements.
Through its many beautiful and more troubling facets, 'Sensing Nature' is at its strongest when attending to how contemporary and emerging non-white, Indigenous, queer and crip artists, collectives and communities feel nature and/or are felt by it in return. In addition, a series of live and online performances and an augmented reality route through public spaces extend MOMENTA beyond the insular monotone of the white-cube experience. Nowhere is this more apparent than in the Indigenous-led outdoor garden Teionhenkwen: Supporters of Life, a site-sensitive installation on the north lawn of the National Library and Archives of Quebec. Created by T'uy't'tanat-Cease Wyss, with the help of Silverbear and Joce TwoCrows Mashkikii Bimosewin Tremblay, the work draws from the iconography and historicity of the Dish With One Spoon wampum, a treaty made between the Anishinaabe and Haudenosaunee to peaceably share harvesting territory in the region.
Re-creating the wampum design through planters containing native flora with medicinal, utilitarian or ceremonial properties, this open-air collaborative sculpture forms a lush local ecology rich in Indigenous knowledges as well as an easily accessible space of gathering, exchange and spiritual contemplation. Wyss's contribution to the biennial is undoubtedly one of its cornerstones, explicitly positioning the importance of land rights, Indigenous visibility and non-white rites of being in nature at the forefront of contemporary-art discourse. Considering the inseparability of environmental and social justice in forging paths for co-existence within shared ecosystems of thinking and doing, 'Sensing Nature' proposes myriad aesthetic, choreographic, sonic and conceptual manifestations across a variety of media that transcend traditional notions of image-making in scintillating and embodied ways.
The 17th edition of MOMENTA Biennale de l'image, 'Sensing Nature', is on view at various venues in Montreal, Canada, until 24 October.
Main image: Caroline Monnet and Laura Ortman, 'Exquisite Score', exhibition view presented at the McCord Museum, Montreal, as part of MOMENTA 2021. Courtesy: the artists and McCord Museum, Montreal; photography: Jean-Michael Seminaro