Monster Trucks, Marni and PetChatz: Inside the Mind of Jamian Juliano-Villani
The painter discusses the 'weird teenager vibe' of her current show at Massimo de Carlo in London
'Let's Kill Nicole', Jamian Juliano-Villani's current show at Massimo De Carlo in London comprises one sculpture and 12 paintings, one of which, depicting a monster truck crashing through a wall, faces out onto the Mayfair street. The vehicle, rendered in the airbrushed style of a beachside tourist-boutique T-shirt, makes for a fitting introduction to the New York-based artist's body of work: an object half-remembered, instantly comic and presented with reverence and irreverence. It's both a poke in the eye and a shrug. Having quickly earned a reputation for such work, Juliano-Villani has had solo shows in New York (JTT, 2018), Detroit (Museum of Contemporary Art, 2015) and London (Studio Voltaire, 2016) among others, and her work has been acquired by institutions including the Whitney Museum of American Art, the Hammer Museum and the Guggenheim Museum. (She skipped graduate school and worked as an assistant to artists including Dana Schutz and Erik Parker.) Her paintings are no-brow koans, jokes from the cultural id. The work in 'Let's Kill Nicole' references singer Amy Winehouse, Danish outsider artist Ovartaci and Japanese Butoh dancer Kazuo Ohno with the kind of delirious wit and hallucinatory insight experienced after being awake for 48 hours straight – which is something Juliano-Villani has experienced plenty: she's an ultramarathoner in the studio. I spoke with the artist in her East Williamsburg space, a rectangular, nearly empty studio with only a few works on the walls. I sensed that I'd missed a maelstrom of activity in the lead up to 'Let's Kill Nicole': it was like an arena the day after a rodeo. 
Ryan Chapman It seems like you're always working to the point of collapse.
Jamian Juliano-Villani Totally. With 'Let's Kill Nicole', we made 30 to 35 paintings, but we only installed 12. All of the paintings looked good, but then some of them just didn't click. So, fuck it. That's how my brain works. I paint until the last second. If I can paint in the gallery, I will.
RC And you have a lot of space at Massimo De Carlo: three storeys. It's not crowded.
JJV It's really hard to work in that space because it's so historical. I wanted to make all of these mouldings – like the ones you see when you go to AMC Movie Theatres: 'Movies! Popcorn! Candy!' – and install them on top of the pre-existing mouldings. Or put up a really basic border wallpaper, like you'd get in a kid's room, with trucks and bikes and sailboats. But, it wasn't possible because you can't touch that space. On the other hand, I do like how the works just present themselves. My assistant, Fran, said the paintings seemed less jokey than in my last show: they've evolved.
RC There's less pictorial density than in your earlier paintings, like Where Are They Now (2017), which incorporated the cartoon imagery of Ralph Bakshi and Mort Drucker.
JJV Those works were overloaded and maximalist. Now what I'm trying to do is have the paintings present themselves in a more psychological register. Someone I've been looking at a lot is Peter Greenaway, the film director, who I love. His work is dramatic, enigmatic. The same can be said of the photographer Bruce Charlesworth. His work looks like the result of extreme photo direction. It's out of control, but you can still read your own thing into it. If you can do something that's very simple but still loaded … that's tough to pull off.
RC You work on a few specific scales.
JJV I'm not going to make something big just for the sake of it – which is why that large painting over in the corner of the studio didn't make it into the show. I have the same approach to smaller works, too. The painting of Weezer's Green Album (2001) behind you is a piece of shit. I was going to put it inside The Gay Ghost (2019), my big painting of a Marni fashion store, because I was thinking: what's the opposite of Marni? Weezer's Green Album. Also, I haven't seen a Weezer painting.
RC The green album was the pivotal one.
JJV Yeah, when they were good. Weezer was on constantly in the studio while we were working on these paintings: we listened to all their albums. Also Green Day and the Tony Hawk's Pro Skater soundtracks from the early 2000s. I think that's why the show has this weird teenager vibe: starting fires in car parks; doing bad shit for no reason. You know when you're in high school and you're driving around your parents' cul-de-sac in the middle of the night, semi-suicidal, by yourself, listening to Brian Eno? That's what the painting Constructive Living (2019) feels like to me: crying and chain-smoking.
RC If you could mount a piece from 'Let's Kill Nicole' anywhere in the world, where would it be?
JJV I'd put Passion for the Road (2018) – the one with the PetChatz videophone on it – in a Petco.
RC Are you feeling like each painting now demands a new skill?
JJV Yeah, that's the thing: I can emulate most styles. That's why I started to embed one painting into another. How can I push the work even further? I'll put a microwave in it.
RC Or sculpture, with works such as In the Garage (2019), as a palate cleanser.
JJV I can't do everything with painting. I also love performance but, every time I do it, I get into huge fights with all my friends and it costs me US$10,000. But it's fun, it only lasts 45 minutes and there's an element of fear. I had this idea for a painting of a tumbleweed blowing under a garage door just as it closes, barely making it in. And others for a room that burns down to spell out 'OPPORTUNITY' or for a printer that churns out maps of the landscapes Joseph Yoakum painted. None of those would look good as paintings. But as real things, they absolutely would.
RC Do you still want to work in video?
JJV That shit costs so much money and, if I did do something, I'd want it to be really high production values.
RC You have to be a dictator, too.
JJV Trust me, I am. When I have a vision, I'll waste 80 hours on something – even when I know it's a bad idea. The Gay Ghost is supposed to have a gay voguing ghost in it. We did a photo shoot with two models, hired an image retoucher and a CGI person, and it just didn't work out. It will end up being something at some point, I'm sure. Otherwise, we just kill ourselves looking at pictures all day and then painting them, which sucks.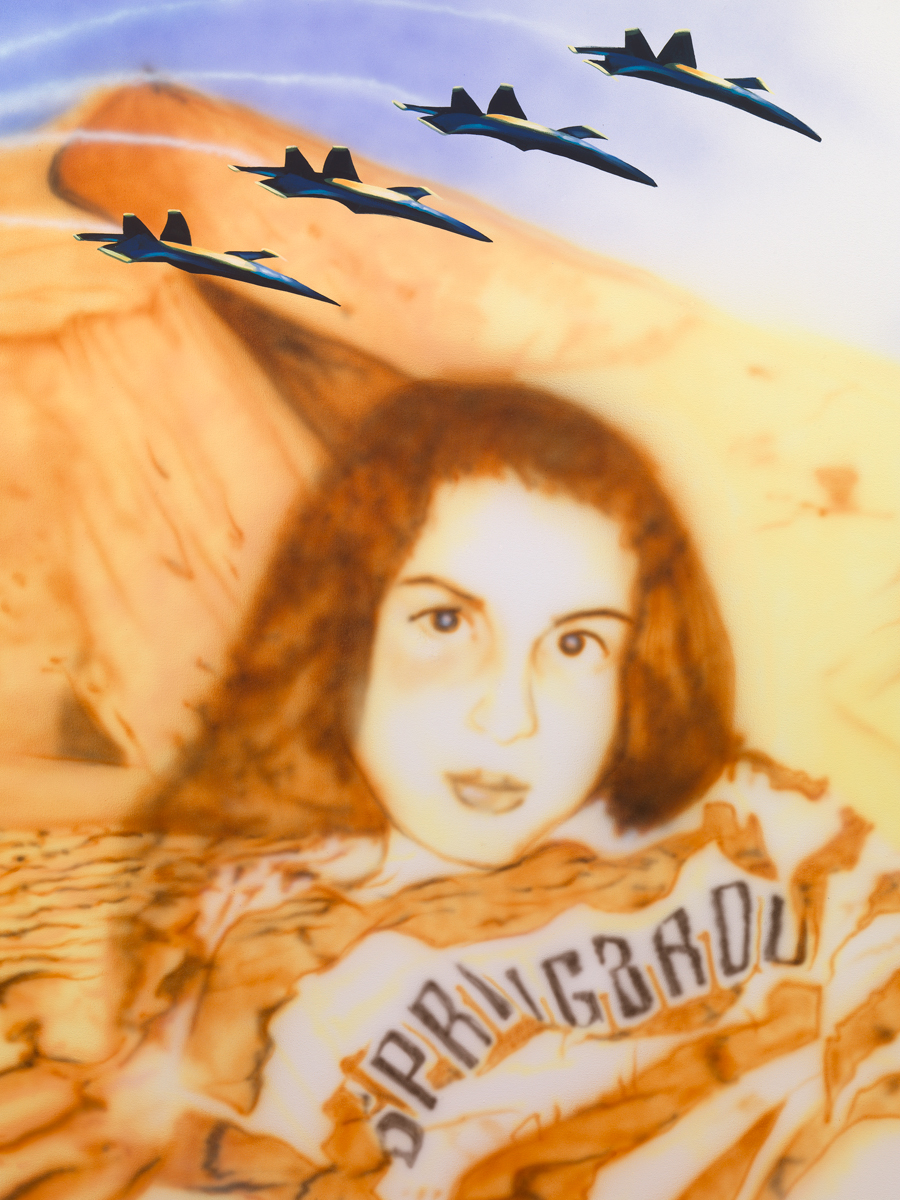 RC There's a mode of address in your work that's personal, but not necessarily autobiographical.
JJV I feel like my work often translates a memory of an experience that everyone has had. Those are the moments I'm looking for.
RC At the other end of the spectrum might be an artist like Matthew Barney: only he knows some of the references in his work.
JJV I hate that insular, jerkoff stuff. But, you know, I also make that insular jerkoff stuff sometimes, like with Ovartaci's Daughter (2019). Except, even if you don't know who Ovartaci was, you know what a lacrosse game is, you know what an annoying parent trying to film their kid is like, you know what rolled-up shorts are. So, if I have some way to connect with an emotive feeling everyone's had, then I can serve it with whatever the fuck I want. What matters is the feeling. I always talk about umami, the fifth taste. This sounds ridiculously corny but, if you think about the painting as a tongue, you want to have all the flavours on it. If you only have one, it falls flat. 
'Let's Kill Nicole' runs at Massimo De Carlo, London, until September 21 2019.
Main image: Jamian Juliano-Vilani, Pweez, No steppy!, 2019, acrylic on canvas, 1.8 × 2.4 m. Courtesy: Massimo De Carlo, London and JTT, New York