Featured in
Mr. Big
What accounts for Ai Weiwei's unique position in the cultural make-up of contemporary China?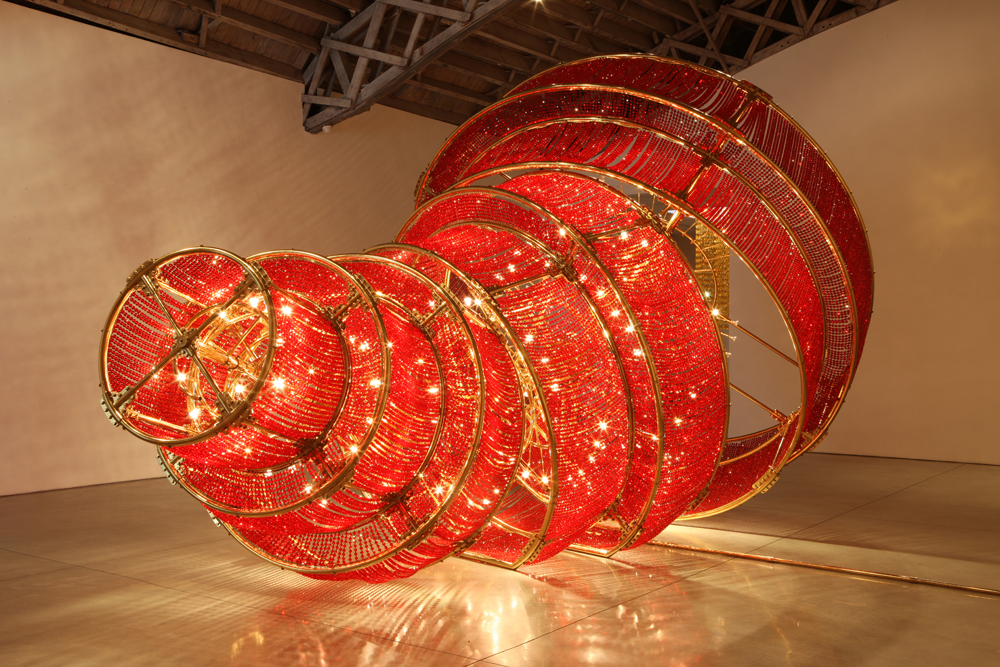 I always remember my father saying before he passed away: 'This is your country. You don't have to be so polite. You can do whatever you want to.' So I had to adapt.1 Ai Weiwei
Exactly how influential is Ai Weiwei? If numbers are any indication, at the time of writing this in April, 2008, Ai's blog, which alongside a journal of his everyday activities contains occasional interviews and curatorial commentaries, had registered well over four million hits since he started it in November 2005. This figure is rivalled only by the number of visitors to Xu Jinglei's blog, one of the most popular young movie stars and directors in China. Reading Ai's blog has become something of a ritual for many who read Mandarin, particularly those working in the art world, as a means of keeping track of the national and international artists, curators, critics, journalists, celebrities and others who make it a must to visit Ai's studio while they're in town, and to keep up to date with his latest art works, exhibitions, friends and enviable international travels. Like most bloggers, Ai fills his entries with photographs and anecdotes of the meetings, interviews and dinner parties that comprise his personal life. On 20 December 2007, for instance, there were pictures of Ai giving an early morning interview at the BBC's Beijing Bureau. On 21 April, it was a hotpot dinner with a large group of Westerners, including architects Jacques Herzog and Pierre de Meuron, in a steamy restaurant called Duobaoge, while on 25 April, there were a dozen photos of Herzog and de Meuron visiting Ai's Beijing studio before being taken to a porcelain-making workshop in Jiangxi Province. The high profile of the people who frequently show up to his studio and parties, as well as the diversity and scope of the projects he's involved in, not least his quirky interactions with friends and assistants – giving them bizarre hair cuts and having his body buried in sand by a friend, for instance – make his blog juicier than the private diaries of most celebrities. Content aside, Ai's own charisma and prominence as one of the most celebrated names in Chinese contemporary culture enables his blog to provide, to some extent, a forum for the open expression of public opinion. Ai's own candid yet balanced writings and responses are inspiring and contagious. The blog draws extremely mixed commentaries and messages in the response column from a wide variety of people, who find it an ideal platform for voicing their own views on a broad range of social, cultural and political issues. Ai's entry on 29 March 2008 was titled 'Fortune-telling and Democracy' and commented on the recent unrest in Tibet and the Chinese media's distorted reporting of the situation. 'In an era without fortune-telling,' he observed, 'what is left is disdain towards the spiritual world and the denigration and violation of religion.'2 The article solicited four-page-long responses, which varied from agreement with Ai's opinion to questioning of his moral position in supporting the Tibetans.
But the blog is just one of his many activities. In January and April 2008, Ai chaired the Ordos 100 International Architects Symposium, in the remote city of Ordos in Inner Mongolia, to kick-start an ambitious and exciting venture to develop 100 villas for Jiang Yuan Water Engineering Ltd. As the initiator and curator of this project, FAKE Design, Ai's studio in Beijing, appointed Herzog and de Meuron to select 100 architects, who hail from 27 countries around the globe (although none are from China), to design a 1,000-square-metre villa each. For some of the participating architects this will be their first experience of working on such a vast scale. The project is scheduled to be completed by the end of the year.
Ai's own architectural career began rather modestly in 1999, and stemmed purely from the necessity of designing his own living space and studio. The result was a barren, basic, modernist block of a building, made completely of grey bricks, which would later become his signature design and spark something of a trend. Ai built his studio in Caochangdi, a village on the northeastern outskirts of Beijing, when the area was completely undeveloped. Today, however, it is home to numerous exhibition spaces and artists' studios, either designed by Ai himself or built by local villagers who have tried to emulate his simple yet effective style. Since then, Ai has gone on to design his own bar and restaurant, various private homes and art spaces, and the Jinhua Architecture Park – which features 17 pavilions by architects from China, Germany, Japan, Mexico, Switzerland and the USA – in his hometown of Jinhua in Zhejiang Province. Notably, he also consulted with Herzog and de Meuron on their design for Beijing's national stadium for the 2008 Olympics, leaving everyone wondering what he will get up to next.
Still fresh in most people's memories, of course, is Ai's headline-grabbing work for last year's documenta 12, Fairytale (2007), for part of which he arranged for 1,001 Chinese citizens to visit the event in Kassel, Germany. Along with the visitors, he also transported 1,001 Qing Dynasty wooden chairs, which were dotted about the exhibition's various sites. The sheer scale and complexity of this project testified, once again, to Ai's ability to access a sophisticated social network beyond the reach of most. It's hard enough for a single Chinese person to obtain a visa to visit Germany, let alone get the embassy to approve 1,001 of them – especially for a group of people who had mostly never travelled outside of China before. (As the title of the work suggested, it really was a fairy tale.) Ai divided the 1,001 visitors into five groups and brought them over to Kassel at various stages throughout the exhibition's three-month duration. They were accommodated in a communal dormitory converted from a former textile mill. Not only did he design their uniformed beds, sheets, outfits, suitcases and towels, but he also brought along his favourite cooks to prepare daily meals for them in Kassel. The project cost a mind-blowing £2.16 million – a sum that was largely raised by the Beijing and Lucerne-based Galerie Urs Meile, and donated by two Swiss organizations, the Leister and Erlenmeyer foundations – and was well-publicized and documented with videos and photographs, and frequent mentions on the artist's blog. At the centre of all this attention, of course, was Ai. Yet with many derivative products to sell, including the 1,001 chairs, and hundreds of hours of unedited documentary footage of the entire process and interviews with participants in hand – which is destined to provide the basis for an upcoming series of video works – the artist consistently refused to elaborate on the concept for the work. One thing he could be sure of, however, was that the project testified to the social and cultural clout he has accumulated both within China and beyond.
Since his big splash at documenta 12, Ai's work has been the subject of a number of exhibitions, including a retrospective at the Groninger Museum in the Netherlands and a solo show at Mary Boone Gallery in New York, both of which opened in March this year. The latter, entitled 'Illumination', featured as its centrepiece Descending Light (2007), a monumental chandelier made of red crystals, which lay askew on the floor of the gallery space. The exhibition also presented another equally large-scale light fitting, Travelling Light (2007), which was a towering pillar made of Chinese tieli wood, festooned with strands of glass crystals. Both were grand declarations of Ai's status as a world-class artist, as well as of his aesthetic sophistication and ambition.
The international reputation Ai enjoys today would have seemed an impossible dream back when he enrolled in the Beijing Film Academy in 1978, as part of the first class to be convened after the Cultural Revolution. Among his classmates were Zhang Yimou and Chen Kaige, who have since become China's foremost film directors. Unable to bear the absence of discussion concerning the country's troubled political situation, however, Ai dropped out of school in 1981 and went to live and study in the USA, where he developed an appreciation for art that had a certain emotional detachment, while exploring questions of artistic authorship provoked by Marcel Duchamp's ready-made. Ai was a young, unknown artist and an outsider to the American art system, but these ideas continued to find resonance in his practice after he returned to China in 1993 to look after his sick father. During the first three years after his return, Ai noticed the diffidence or lack of attention paid to Conceptual art-making among Chinese artists. Together with fellow artist Xu Bing and art critic Feng Boyi, Ai edited and published a series of three independent books: Black Cover Book (1994), White Cover Book (1995) and Grey Cover Book (1997). This unprecedented, valuable collection of proposals and descriptions of concepts by Chinese artists offered different ways of thinking about and communicating art, both conceptually and literally. The timing couldn't have been better, as the books came out at a crucial period for Chinese contemporary art. After the crushing of the democracy movement of 1989, contemporary art was designated an underground status, and kept out of the public eye and official exhibition venues within China. Simultaneously, however, some artists, such as Fang Lijun and Yue Minjun, whose work touched upon China's political situation, began to get noticed internationally, and were chosen to participate in major exhibitions around the world. Many wondered how it was possible for Chinese artists to find their conceptual footing when the country appeared to lack any internal structure for art or access to the international art market. In this respect, the 'Cover' series was an important validation and source of inspiration for Chinese artists, encouraging them to look inward for conceptual motivation. It was also a big boost to Ai's fame and standing among the Chinese art community, which would continue to look to him for inspiration and support in years to come.
As he slowly developed his own artistic practice, Ai's actions became increasingly significant in shaping the development of contemporary art in China. Subsequently, he became the artistic director of the China Art Archives and Warehouse in Beijing, which was founded by Hans van Dijk, an artist from the Netherlands, in 1993. Together, the duo developed a dynamic program that focused on emerging talent, built up a comprehensive archive of printed material about young artists and turned the institution into a bastion for vibrant artistic discussion and research. Among the pitiable few galleries that represented Chinese contemporary art in the first half of 1990s, CAAW was without doubt the most exciting and academically sound, further consolidating Ai's art-world standing. In addition, the artist continued to make his own work. Dropping a Han Dynasty Urn (1995), for instance, was a performance carried out in private, but documented in a series of black and white photographs of Ai dropping a two-thousand-year-old urn that instantly acquires new meaning the moment it is smashed. What would normally be an act of vandalism becomes an act of conceptual transformation.
Compared to his Chinese contemporaries, some of whom were participating in the Venice Biennale as early as 1993, Ai's international recognition was slow in coming. Nevertheless, he is today a sought-after name on the global art circuit, frequently featured in international art magazines and museum shows, and given large-scale commissions by art institutions and biennials around the world. And he seems happily engaged in the multiplicity of his endeavours. Web of Light is a commission Ai is working on for the Liverpool Biennial in September. Costing an estimated £400,000 to produce, the piece will take the form of a spider, made from illuminated strings of crystals, suspended from steel cables that will stretch across the city's Albert Dock, resulting in what promises to be a grand visual spectacle.
Ai flamboyantly flaunts his artistic versatility and taste through the sophisticated levels of craftsmanship and the extensive production his projects call for. In recent years, he has been moving away from his works of the late 1980s and early '90s – which tended to have a performative element and were mostly carried out on his own, either in private or before an audience – towards a more labour-intensive mode of production, which complements his artistic and architectural undertakings. At the same time, he is also shifting further and further away from being an artist who makes studio-based work towards one who embraces a more collective and complex approach to art-making that reaches beyond the constraints and sentiments of the individual artist. For some of his works, such as those involving the appropriation of antique furniture and wood from dismantled temples, he engages the expertise of specialized craftsmen, whose skills are rooted in classical Chinese culture. While incapable of carrying out such work himself, Ai does have the ability to appreciate these antiquated skills and communicate his vision to the workers who then translate it into an art work. In the early years after Ai returned to Beijing, while he was still finding his footing in the local art community, he spent time working with his brother, a dealer in antiquities, and became quite successful at it within a short time. The knowledge he gained from this experience has proven invaluable in more recent years as his practice has developed into a marriage between time-honoured materials, forms and techniques and his international contemporary aesthetic sensitivity. Ai's celebrated 'Furniture' series (1997–2000) – which includes such pieces as Crossed Tables (1997), Table with Two Legs on the Wall (1997), Stool (1997), Cornered Table (1997) and Table with Three Legs (1998) – presents humorous adaptations of Qing Dynasty furniture. Following a long-established tradition, classical Chinese furniture was ingeniously constructed without the use of a single nail, and could easily be dismantled piece by piece. Ai adheres to this fundamental principle of construction to produce seamlessly crafted new items of furniture, which he then deprives of their apparent function with minor interventions. Although the artist himself is physically removed from the production process, the formal qualities of the resultant works render them distinctively his.
Considerations of Ai's work and its concern with history and tradition often make reference to his late father, Ai Qing. Although he trained in Hangzhou and Paris as a painter, Ai Qing took up poetry and became a prolific and successful contemporary poet. He was imprisoned by the Kuomintang (the Chinese Nationalist Party) from 1932 to 1935, an experience that led him to denounce the Kuomintang and change his original family name from Jiang, which was the same as that of the Kuomintang's former leader Jiang Jieshi, to Ai. It also drove him to develop more of an affinity with the Communist Party, which adopted him as a communist literary celebrity until the anti-intellectual campaign of 1957. Denounced as a rightist, he was sent into exile in the Xinjiang Province from 1958 to 1975. With the change of political climate in 1978, Ai Qing moved back to Beijing with his family and was offered important positions, including membership of the Standing Committee of the National People's Congress, and resumed living a privileged life.
Ai's childhood experience of being sent with his family to live in exile is probably the best-known part of his personal story. Yet the impression the experience made on the young Ai, who was a baby in 1958, was far from a bleak one. Instead, he has recalled how inspirational his father was, how he remained optimistic about life, and how he carved out a mental space for himself and his family despite his personal misfortune and in the face of a turbulent reality. Ai once mentioned how his father, a 58-year-old man who had never cleaned a toilet, was forced to clean 14 public toilets in a poor village during his exile. Ai would follow his father and observe how he worked: 'He used to stand and smoke a cigarette; this would renew his inspiration. Then he would lay the sand over the defecation holes, clean them and after about two or three hours he would be finished.' 'Thinking back,' Ai recalled, 'the most important gift he gave me was how he approached everything sincerely.'3
The artist now approaches his work in the spirit his father instilled in him. Employing materials and techniques embedded in Chinese culture, Ai's elegant objects can overwhelm viewers who do not fully grasp the conceptual implications of his work; their imposing, meticulous physical presence and massive scale often require considerable teamwork and vast production spaces to realize, and are made possible thanks to the artist's influence, wealth and sprawling social network. Yet, the bold approach he adopts in his reappraisal of classic Chinese furniture clearly reflects the rebelliousness that drives him to question not only his own existence, but also the current value system and hierarchies of power – a quality that has proved liberating in his cross-disciplinary practice and, above all, the formation of his world view, which is well-informed and critical without being too cynical or pessimistic. When asked in an interview what he considered the biggest difference between himself and most other people, Ai replied: 'I am good at thinking in the opposite direction, and I tend to question all fixed concepts and overthrow certain facts that people always take for granted.'4
Ai's iconoclastic spirit is well-known and his forthright attitude and controversial language have become something of a personal trademark, contributing to his personal myth-making. He is very much a media darling, accepting almost every interview that comes his way. He is always expected to say something outrageous not only about art and architecture, but on any given subject. In an interview he gave in February, for example, he was asked what kind of people he liked. His answer?: 'There is no man I hold in esteem. I have not much interest in menfolk. How can I be interested in men? A person's consciousness is the most important thing of all. I can only say that I have good feelings about human beings but if you ask a man to talk about his own gender or to be aware of the fact that he is a man, it must be related to certain motivations. Men, to be more exact, are incomplete. I am not fond of men.'5 He also challenges political authorities and plans concerning social and urban development, on issues ranging from the Beijing Olympics to the problem of stray cats. On 11 January 2008, after the film director Zhang Yuan had been arrested for taking drugs with friends at home, Ai commented on his blog: 'That the police broke into a citizen's home late at night is an infringement of every citizen's rights. The potential harm of such an act is far greater than what a drug user does.' He went on to quote the constitution to argue how the police's actions were a violation of civil rights, and called for the empathy and responsibility of the media to protect the privacy of those involved and to look into what he regarded as the key issue resulting from the situation.
His outspokenness is such that he has criticized the propaganda the Chinese government has been employing in an attempt to stir up feeling about the Olympics and has gone as far as announcing that he won't be attending the opening ceremony, even though it will be held at the stadium he himself helped to design. It is inevitable that Ai would eventually be regarded by the art world and general public alike not only as an artist, but also as a serious spokesperson.
Ai firmly established himself as the godfather of the Chinese avant-garde art movement when he co-curated (with Feng Boyi) 'Fuck Off' at Shanghai's Eastlink Gallery in 2000. This dissident exhibition featured a roster of over 40 experimental artists from various regions in China. Timed to coincide with the opening of the third Shanghai Biennial, the provocative show – whose title was translated into Chinese as 'Do Not Cooperate' – exhibited numerous works of an extreme nature, which often involved live animals and corpses, and was shut down by the police shortly after it opened. The real strength of the show, however, was not the controversy that some of the exhibits caused, but the statement it made about the importance of maintaining an independent artistic position at a time when the official Chinese art system was starting to make an effort to appease the country's contemporary artists and take control of the contemporary art world. This was the first time since the late 1980s that the Shanghai Biennial, organized by the state-owned Shanghai Museum of Art, had opted not only to work with independent curators such as Hou Hanru, but also to include contemporary art in the exhibition. Ai was quick to warn his fellow artists of the danger of contemporary art being institutionalized and thus compromised by the system. He insisted at the time that this 'critical stance is basic to art's existence, and its status of independence, freedom and plurality'.6
Even though this event has gone down as a heroic historical moment, ultimately it wasn't able to prevent Chinese contemporary art's inevitable succumbing to institutional and market powers. Perhaps surprisingly, however, the elasticity and tolerance of these powers turned out to know no bounds, for notwithstanding Ai's frequent criticism, his appointment by Herzog and de Meuron as design consultant to the Olympic Stadium in Beijing went unchallenged. Apparently happy to use the opportunity to promote himself and broaden his international influence as an architect and cultural icon, Ai insisted on various occasions that he enjoyed designing the stadium purely from an artistic and intellectual point of view, but that if he had been hired by the state to do the same job, he would have turned it down.
Ai occupies a very complex position in the cultural make-up of China today. Unlike most of his fellow artists, he frequently steps out of his personal space, literally and metaphorically, to interact with society on a multitude of levels. His social prominence and independent status as an artist give him the credibility to speak his mind directly. As a result, he has become something of an accepted symbol – both for members of the state apparatus and the general public – of a more open, tolerant society. Yet, as with his series of photographs, 'Study of Perspective' (1995–2003), in which he gives the finger to national icons such as the White House, the Eiffel Tower and Tiananmen Square, Ai's provocative remarks and his critical and irreverent stance towards authority run the risk of becoming an empty gesture or harmless role-play. For all his apparent boldness, Ai enjoys a certain degree of security not only as a result of this international clout but also thanks to the privileged reputation his father has continued to maintain in the eyes of the authorities.
Ai doesn't shy away from the opportunities and attention his profile has given him and he continues to be the centre of his own empire, which anyone can take part in, either by entering the confines of his studio and personal circle, or by looking at his art and reading his blog. It's clear that Ai continues to honour his father's dying words: 'This is your country. You don't have to be so polite. You can do whatever you want to.' Ai has made his adaptation.
1 'Changing Perspective, Ai Weiwei with Charles Merewether,' in Ai Weiwei: Works: Beijing 1993–2003, edited by Ai Weiwei, Timezone 8, Hong Kong, 2004, p. 27
2 'Fortune-telling and Democracy', Ai Weiwei's blog, 29 March 2008
3 'Changing Perspective, Ai Weiwei with Charles Merewether,' op. cit., p. 22
4 'A Dialogue with Ai Weiwei', Zhou Jie and Xu Kaiqiang, Chutian Metropolitan Daily, 13 April 2005
5 'On Men', Ai Weiwei and Wu Hongfei, Ai Weiwei's blog, 8 February 2008
6 'Preface', Fuck Off, Ai Weiwei and Feng Boyi, Eastlink Gallery, Shanghai, 2000