Featured in
Test Dept: Where Leftist Idealism and Popular Modernism Collide
Better understood as a popular modernist collective, Test Dept made records pulsing with panic and were one of the last examples of post-punk
There's something very timely about the return of Test Dept. Their installation DS30 (2014), the accompanying film and the book Total State Machine (2015) – a comprehensive history and critical study of the band – have arrived just in time for the deep crisis of neoliberalism in the UK.
Test Dept were always more than a musical group. They are better understood as a popular modernist collective that had the production of sound at its centre, but which also made visuals, projections and films. Test Dept were formed in London in 1981 by Jonathan Toby Burdon, Graham Cunnington, Angus Farquhar, Paul Hines and Paul Jamrozy. They began as a second-wave industrial act, following on from a first wave led by Throbbing Gristle and Cabaret Voltaire. With their use of found metal objects and their performances in spaces of labour and logistics (disused factories, transport hubs), Test Dept offered what seemed, on the face of it, to be a very literal take on the 'industrial'. Via their involvement in a number of uk struggles – including the miners' strike (1984–85) and the anti-Poll Tax movement (1988–91) – Test Dept also became intensely invested in the politics of the industrial and the post-industrial.
Test Dept's signature sound is intensely percussive, a convulsive dance music that took its inspiration from Soviet constructivism, but which became something like the British equivalent of the politicized us hip-hop group Public Enemy. The records are sonic mosaics, pulsing with panic, the sampled voices of Tory MPs countered by defiant statements by left-wing militants. One of Test Dept's most powerful tracks – 'Statement' from the 1986 album The Unacceptable Face of Freedom – features miner Alan Sutcliffe giving a moving account of police brutality during the strike. The track is a work of emotional engineering, a collectivist response to the manipulation of affect and desire through advertising, branding and political propaganda. Sutcliffe went on to tour with the group: one example of the way in which struggles produced not only new alliances but new social spaces, in which art-making ceased to be a matter for specialists of a certain age.
For any British, left-wing person, remembering the mid-1980s is liable to provoke a sadness that is visceral, choking, wrenching. I still can't recall without weeping the day when the miners returned to work in 1985 after a year on strike. What I have called capitalist realism – the deeply embedded belief that there is no alternative to capitalism – was definitively established in the UK during that period, in Margaret Thatcher's second term in government. For a significant proportion of the population, the 1982 Falklands War had transformed Thatcher from a figure of loathing into a glorious war leader. This renewed popularity, together with the formation of the Social Democratic Party by Labour Party defectors, allowed the Tories to achieve a landslidevictory in the 1983 general election. It proved to be a traumatic defeat for the British left in general, and for the Labour Party in particular. Labour began its long march towards Blairism and its eventual complete capitulation to neoliberalism and corporate tyranny. Meanwhile, the crushing of the miners' strike, and the wave of privatizations that the Tories unleashed created the conditions for the neoliberal Britain that is only now falling apart, 30 years later.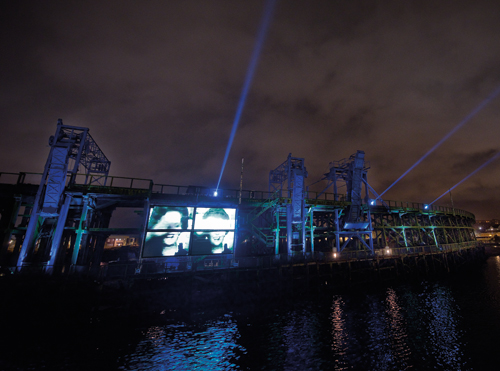 In retrospect, it can look as if the whole of the 1980s was a series of defeats for the left. One value of Total State Machine is to remind us that it didn't feel that way at the time. Rather, like John Akomfrah's video installation The Unfinished Conversation (2013), the Total State Machine book invokes a forgotten 1980s, in which style culture was synchronized with the rise of an anti-authoritarian left that confidently laid claim to a new modernity, set to dispense with capital, patriarchy and racism as so many historical relics; a 1980s in which radical chic and designer socialism weren't dirty words but real possibilities.
Total State Machine includes a section of Cynthia Rose's 1991 book Design After Dark. Inspired by a Test Dept performance, Rose argues that young Britons would 'succeed in staging a dancefloor revolution. It will not be the Komsomol-style overthrow dreamt of by Red Wedge, the ill-fated attempt by a collective of musicians – led by Billy Bragg, Paul Weller and Jimmy Somerville – to spearhead a campaign to defeat the Tories in the 1987 General Election. Instead, it will come about through grass-roots changes – successive waves of guerrilla sounds, guerrilla design, guerrilla entertainments. The new design dynamic will be an impulse born out of celebration, rising out of leisure enacted as an event. And it will change young people's perception about what entities like design and communication should do.' Sadly, it didn't work out that way. Rose was absolutely right that most of the innovative energy in British music culture would come from dance music, which was about to enjoy its most fecund period ever. But the atmosphere around rave, jungle and garage tended towards the apolitical, the libertarian or the capitalist. The alliance of the left with the new technologies, energies, infrastructures and forms of desire that Rose saw emerging was to be very short-lived.
The comparison with Red Wedge is instructive here. Part of the problem with Red Wedge was that, despite taking its name from a poster designed by El Lissitzky (Beat the Whites with the Red Wedge, 1919), its music represented a retreat from modernist experimentalism. Bragg's blokeish neo-folk, the ham-fisted jazz-funk-pop Weller made with the Style Council, the Communards' strangely depressing party music: none of this was capable of articulating a future. It was all bogged down in the worst kind of 1980s gloss.
Test Dept were one of the last examples of what has been called post-punk, but really they are part of a longer trajectory of art pop/pop art going back to the 1950s. The conditions for this popular modernism were subject to sustained attack in the mid-80s, and they have never recovered. The Tories began to dismantle the infrastructure of social security, higher-education maintenance grants, squatting and art schools that had given working-class people access to the resources of so-called high culture and time to produce their own sound, fiction and art.
But the neoliberal capitalism that drove this assault on culture is now heading for disaster – in Greece, in Spain, in Scotland and, finally, in England. Far from being some static monument to a bygone era, Total State Machine is an invaluable archive, an inventory of strategies, gestures and techniques that can now be repotentiated by others ready to begin where the Test Dept of the 1980s left off. Rose's prophecies of a new design dynamic can yet come true. Popular modernism isn't dead: it has merely had a 30-year hiatus.