'New York's Most Important Art Fair'
Frieze New York 2016 drew record attendance and major sales
'Many people say that the quality of work and the environment of the fair were better than ever, and this is thanks to our exhibitors who went to great lengths to create fantastic presentations.' -Victoria Siddall, Director, Frieze Fairs.
The fifth edition of Frieze New York closed on Sunday, May 8, with ambitious showings by 202 international galleries that generated exceptional sales and record attendance throughout the week.
Here's what the media, visiting museum curators and galleries said:
Media
'In just five editions, Frieze has made itself a requisite destination on the global art circuit.' 'Its main value lies in shining light on some unfamiliar galleries and in bringing forward art we might not otherwise see.' -The New York Times
'New York's most important art fair' -Guardian
'The giant snaking marquee on Randall's Island must be one of the most beautiful temporary structures, and inside it's looking better than ever.' -Financial Times
Museum Curators and Directors
Drawing a record level of institutional attendance, this year's fair welcomed 217 groups including leadership and stakeholders from leading art museums from around the world. 
'Frieze New York's unique format—the airiness of the structure and the flow of galleries—creates such an inviting environment to contemplate the works of art on view. There was a great balance of well-established and emerging galleries, creating interesting juxtapositions of art from various generations. And to top it all off, the quality and variety of the food offerings encourages people to enjoy a full day at the fair, as I did!' -Julián Zugazagoitia, Director of The Nelson-Atkins Museum of Art (Kansas City)
'Since the inception of Frieze New York, we have taken the opportunity to host one of our board meetings in New York at the same time and offer a walk-through of the fair preview. Our board is particularly interested in the learning aspects of art and this year felt especially gratifying. Frieze New York offers a brilliant opportunity to consider objects from diverse time periods, geographies and mediums together and for that I am grateful.' -Heidi Zuckerman, Nancy and Bob Magoon CEO and Director of the Aspen Art Museum
'At this year's edition of Frieze New York, the Queens Museum presented a suite of photos by Spencer Lowell of our beloved Panorama of New York City to benefit the Museum. Frieze had commissioned Spencer to create the photos for the promotion of the fair, and we loved the results! When Frieze offered us a booth, we collectively thought it would be fabulous to offer Spencer's photos to support the Queens Museum's educational programs. It was our first art fair and exceeded all our expectations. Not only did we raise significant funds that will make possible our deep work with underserved public schools as well as our renowned art therapy programs, but also raised our profile amongst fair-goers, from longtime collectors to the many artist attendees. And the Frieze team was terrific at every turn.' -Laura Raicovich, President and Executive Director of the Queens Museum, New York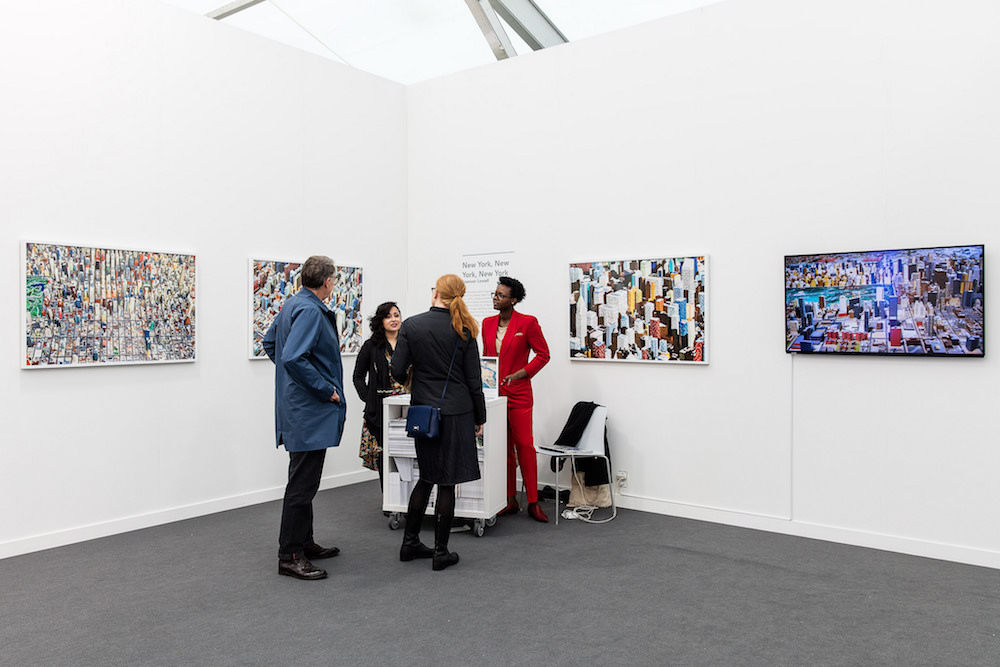 Galleries
'We had a wonderful week at Frieze New York. From our perspective the caliber and internationalism of the visitors, including so many colleagues from museums, reached a great new level. The fair has taken its place among the best in the world. In terms of sales, Hauser & Wirth had a robust week. We placed Philip Guston's important 1977 oil painting Black Coast and a very important drawing from Guston's coveted series of sleeping figures, done in the 1970s. Roni Horn's work was a real draw: We placed two of her cast glass sculptures ($975,000 each) and several works from her series of Hack Wit drawings ($85,000 each). We also sold Paul McCarthy's red silicone Red River, the first sculpture from his new Stagecoach body of works, for $750,000. These and other sales, and the atmosphere of the fair itself, made the week a great success for the gallery.' -Marc Payot, Partner and Vice President of Hauser & Wirth (Zurich, London, New York, Somerset, Los Angeles)
'Though it's only in its fifth year, Frieze New York is a very mature fair. The quality of artworks and collectors are very high. It has become a prominent art destination and a platform that allows us to present to both historical and new artworks in a curatorial context.' -Rachel Lehmann, Founder of Lehmann Maupin (New York)
'We've always enjoyed coming to Frieze and this year was our best yet.' -Wallace Whitney of CANADA (New York)
'Frieze New York attracts the most sophisticated audience of any fair in the United States.' -Joost Bosland, Director of Stevenson (Cape Town and Johannesburg)
'Frieze New York grows stronger every year and is one of the gallery's most vital fairs. This year we noticed an even more expansive range of major institutional as well as individual collectors visiting each day from around the world. Sales for our presentation of works by Lisa Yuskavage and Isa Genzken were very solid. We sold out of all four Yuskavage paintings, which were created especially for the fair; including one to the Long Museum, Shanghai, which will feature the work in forthcoming exhibition dedicated to female artists, opening this July.' -Greg Lulay, Director of David Zwirner (New York and London)
'Frieze New York was very successful for us. Throughout the week we were visited by so many key collectors and museum curators from the USA as well as from Europe—they were all there. Several came back to the fair later in the week to take a deeper look at our presentation and make significant acquisitions. For all these reasons, Frieze New York is the essential U.S. art fair for us.' -Galerie Gisela Capitain (Cologne), winner of the 2016 Frieze Stand Prize
'For us it was the best edition of Frieze New York yet with a very ebullient opening day and strong visitation through the weekend. Also it seems that the fair has an increasingly global pull and we met many friends from Europe and China.' -Matthew Wood, Managing Partner at Mendes Wood DM (São Paulo)
'It was our third year participating and we felt very comfortable in the venue and had fun venturing out again to Randall's Island. Viewers can really see the work at Frieze New York and the space is big enough for artworks to be viewed generously. People spend a lot of time looking. Curators and collectors were there every day, and we were able to make sales each day as well.' -Wendy Olsoff, Co-Owner of P.P.O.W (New York)
'This was the gallery's first outing at Frieze New York and we were delighted by the overwhelming response to our solo presentation of early work by Mary Kelly. Corpus, Preliminary Artwork from 1984 was acquired by Centre Pompidou Foundation on the first day of the fair and we are in the midst of serious conversations with other major institutions and private collectors.' -Pippy Houldsworth (London)
'The Spotlight section provides an ideal platform for our gallery's program, dedicated to established artists whose work deserves greater recognition. The response to Humphrey's work was extraordinary throughout the week. This fair's convening power is unmatched—drawing collectors and curatorial leadership from major institutions around the world—and we were very pleased to have a placed one of Humphrey's most significant works with a public institution.' -Garth Greenan Gallery (New York)
'We've loved participating in Frieze New York and the Spotlight section in particular, which consistently draws thoughtful attention of collectors as well as major curators and scholars. The response to our presentation of works by David Ireland was overwhelming—and Frieze served as the perfect platform to introduce this artist's work to new audiences and re-engage with long-time supporters.' -Ed Gilbert, Director of Anglim Gilbert Gallery (San Francisco)
'We felt a great energy and commitment for the market among the Frieze New York fairgoers. We were particularly surprised and happy by the institutional interest in Latin American artists. This energy and interest was reflected in our sales.' -Beatriz López, Artistic Director of Instituto de Visión (Bogotá)
'We sold out the Pia Camil and Jacin Giordano works we brought and had to change the booth every day to keep up with demand. We met lots of new people, including some major Latin American collectors and Americans. It couldn't have gone better.' -Guillaume Sultana of Sultana (Paris)
'We've had a great time at Frieze New York and were really impressed with the number and quality of Chinese collectors at the fair this year—everyone was here, and on top of that we also met some good American collectors. All the works we brought went to great European and American collections.' -Simon Wang, Director of Antenna Space (Shanghai)
Next year, Frieze New York will take place on Randall's Island Park from Thursday, May 4 through Sunday, May 7, 2017.
To keep up-to-date on all the latest news from Frieze, follow @FriezeArtFair on Instagram, Twitter and Frieze Fairs on Facebook.