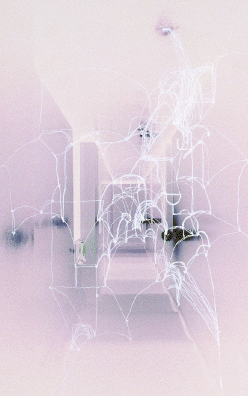 While studying in an art history department in the mid-1990s, I often got the feeling that the faculty of imagination had been shut down pending an internal investigation. Critical theory had arrived to rule with an iron rod and imagination was suspected of all manner of professional misconduct. Accusations flew: imagination's habitual flights were outmoded at best; its excesses grew from vile prejudices; and since its functioning was mostly unconscious, it was also presumed to be incapable of policing itself. And so the doors were shut.
Some artists have recently resorted to unthinking and offensive posturing in their attempts to reopen the faculty, but in this context 'Nightwood', a group show of five European artists, was a more considered endeavour. Curated by Fred Mann and Ian Hunt, the show declared itself 'a defence of the imagination's complexities'. Defence being necessary, it was ironic that Mann and Hunt should have chosen Nightwood, Djuna Barnes' hysterically overwrought Modernist novel of 1936, as their guide: it launches with a lash of anti-Semitism in the very first sentence, before reeling into a neo-Gothic fantasy about lesbianism among the period's aristocratic Eurotrash.
If there was a proper witching hour at which to see the show, it was around noon, when the clear winter light sprang shadows from the sculpture. A particularly long shade was cast by the legs of Kate Davis' Le Vent se lève (The Wind Rises, 1991): a steel platform, standing on four lemons, supporting a portfolio - apparently of drawings - that was just out of reach. If this offered the architecture of a quixotic underworld, then Alison Wilding's Surge (1995) was its gateway: an ellipse of rubbery plastic spread over the floor like a dark pond, from which arose two Perspex cones.
Something devilish was afoot, a notion that was given further embellishment by Mandy Ure's Painting No. 32 (2001), which figured the red head of a horned and bearded demon emerging out of a seed-like scattering of paint on unprimed ground. A similar image, Painting No. 21 (1999), had an older, human head emerging from a putty-like application of white. All of this recalled Leonardo da Vinci's suggestion that artists look for inspiration in the forms of lichen that crawl over walls. Similar notions seemed to support the schematic spray-painted lines of the series 'Neografitti' (2001) by the Portuguese poet and artist Ana Hatherly, their semi-textual, semi-phallic imagery recalling the fascination with urban graffiti in the work of many postwar photographers.
Much of this was perhaps dangerously close to a portentous Surrealism, but what prevented it crossing over into the Bretonian Vatican was the way in which it shied away from a sub-psychoanalytic navigation of the unconscious. There was room to reinvent bogeymen without them ever quite being too obvious symptoms of sexual fear or desire. Indeed, for the most part 'Nightwood' avoided invoking metaphors of the body. Only Ansuya Blom's photographic series 'House of Invertebrates' (2001) came close to doing this, swathing pale, chilly, institutional corridors in oddly skeletal cobwebs. At times Blom's empty halls resembled a sunken ship, hung with oddly aquatic fronds, and in this respect the series was characteristic of the show's understandable, if disappointing, recourse to older, watery, almost coastal metaphors - such natural borders too long having been easy metaphors for the borders of the rational mind. Alison Wilding's Floodlight (2001) was powerfully evocative in this respect: a small, black, oval object enclosing a window of syrupy, luminescent yellow, it was less a stadium light than a lighthouse beam. Floodlight also served to throw a sense of seclusion, light and shadow over another series of drawings by Hatherly, which wove poetic incantation into visual form in a Lettrist fashion.
None of this was going to overturn quickly the way we map out minds, but it did go some way to recovering the heretical notion that we do have private selves of one sort or another. 'Nightwood' was assembled with some refreshingly intuitive curating. While evoking a convincing kind of neo-Gothic - part folk tale, part contemporary sexual haunting - it also sketched out a psyche that wasn't merely brimming with certain sorts of popular culture and whirring to the prescribed psychoanalytic rhythms of repetition and doubling.