Olafur Eliasson's First Building, Fjordenhus: An Elliptical House Partially Submerged in a Danish Fjord
The Icelandic-Danish artist's creation in Vejle, Denmark, responds to the tides and surface of the water: both artwork and architecture
Icelandic-Danish artist Olafur Eliasson's latest project is a building in Vejle, Denmark. Studio Other Spaces, the architectural arm of Eliasson's studio, alongside longtime collaborator Sebastian Behmann, have created the brick structure in a fjord for the company Kirk Kapital (a holding and investment company for the Lego family).
Dubbed Fjordenhus, Eliasson's building is an elegant, palatial structure half-submerged in water, connected to the city's harbour by a walkway. Cylindrical structures stand at 28 metres high, with sections carved out to create an intersecting, curved building. Behmann commented: 'One experiences Fjordenhus as a sculptural presence in the harbour, an interaction of solids and voids.'
The inner and external walls are made up of 970,000 bricks, using several types of unglazed brick as well as blue, green and silver glazed brickwork. Eliasson calls the placement of bricks 'mini-artistic compositions'. The artist said that he wanted to create an organic building 'that would respond to the ebb and flow of the tides, to the shimmering surface of the water.'
The ground floor, which looks out onto the harbour and includes work by Eliasson, is to be accessible to the public. The building 'is at once a total work of art and a fully functional architectural structure,' the artist says.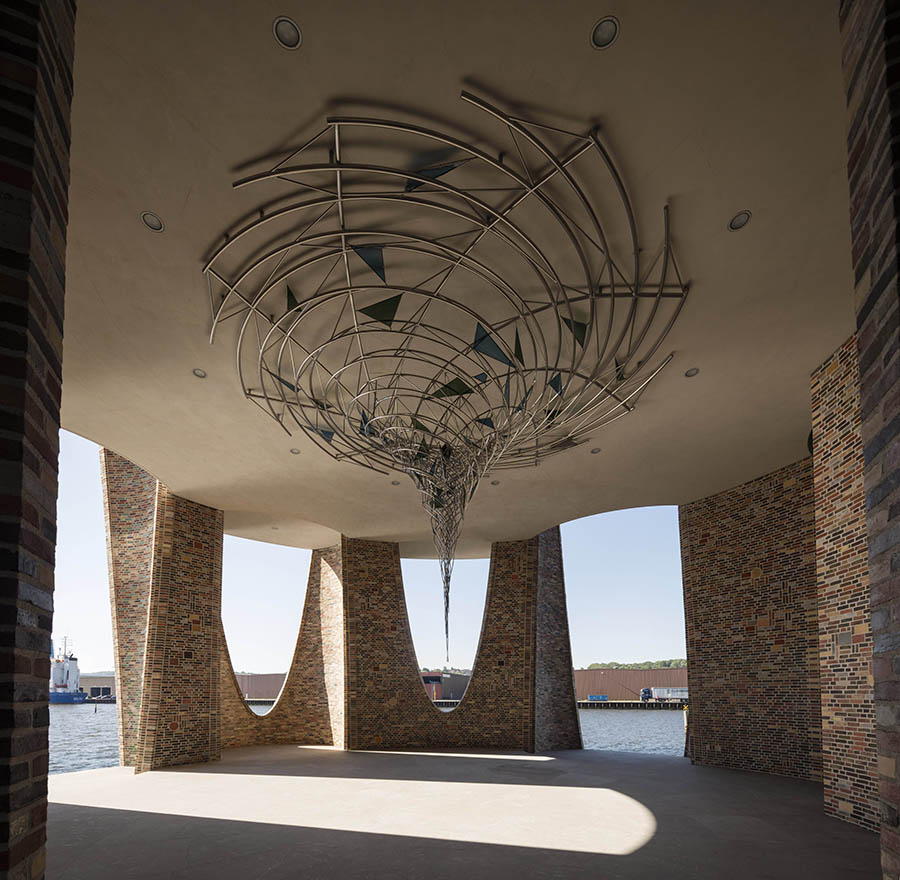 Eliasson has previously collaborated on building projects which include the Harpa concert hall in Reykjavík, Iceland, as well as the 2007 Serpentine Pavilion in London. But this is the artist's first building designed in entirety. It is scheduled to open on 9 June.