The ever-expanding Venice Biennale, with its many collateral events scattered across the city, forces you to give up on the idea of forming a comprehensive perspective on global art. It does, however, encourage you to extend your antennae and remain open to whatever wavelengths start to resonate. In my case, one of the strongest signals I picked up was sent by a Dutch artist who turns 84 in July and has spent much of his life collecting plants and samples of earth. Am I just giving in to romantic leanings? Or am I falling for the good old white male model of artistic relevance through sheer longevity? Perhaps. Nevertheless, let me try to make the case for Herman de Vries and his Dutch pavilion at this year's biennale. 
On entering the pavilion, the first things you see are thousands of rosebuds forming a four-metre-wide, circular plane on the floor in the centre of the room, reminiscent of the work of Richard Long. Or, rather, before you see them, you smell them: the damask roses in question are the type harvested for rose oil and perfume (108 pound rosa damascena, 2003–15). Is the beguiling scent just a cheap trick to make you stay longer? If so, it's a good one. For, as you linger, you realize that things which might seem ordinary deserve more thorough attention. Take, for instance, the 84 framed paper works filling an entire wall, forming a sort of colour chart (from earth: everywhere, 2014–15). We've seen many colour charts in art, but probably none created using only different types of earth from different corners of the world, rubbed onto the paper to form a monochrome. A honeyish warm yellow comes from Cravanzana in Piedmont, while a deep wine red stems from Katsouni on the Greek island of Leros. The broad range of colours forms a patchwork of hues and places, including Northern Cyprus (a pistachio green) or the Pribilof Islands off the coast of Alaska (a rather inconspicuous beige). The earth samples used to make these paper works stem from De Vries's earth museum (1978–ongoing), a collection of about 8,000 different types of soil kept in the Musée Gessandi in Digne-les-Bains. Like the 12 slender oak plinths next to them, on which lie 12 different kinds of rock (the stones, 1996–2009), these monochromes look as much at home in a gallery as they would in a geological museum: there is no false mysticism to them.
As I find myself wondering what kind of artist would make such work, a rather peculiar photograph catches my eye: it shows a naked, bald-headed old man, with an impressive white beard, squatting next to a small river forming a cup with his hands (drinking from the stream, 2011/15). He looks, rather startlingly, like Charles Darwin – not just on account of his long, white beard but also because of his rugged features. Is this, again, a cheap trick, persuading us to think of De Vries as some kind of hippie scientific explorer? In fact, it makes me read works such as the sickles (2014–15) – a small collection of sickles from around the world, which De Vries has placed in loose rows on the floor in another part of the pavilion – as neither simply an oddball druidism nor a clinical taxonomy of traditional functional design. It's a careful balance between both of these aspects. A video documenting De Vries flipping slowly through a book that lists all of the plants he's ever consumed produces a similar tension: between, say, lucerne – a common plant resembling clover, used mostly as forage – and, on the next page, grand wormwood – the weed used to make absinthe, the drink that Oscar Wilde once described, upon leaving a bar, as provoking the sensation of tulips brushing against his legs (i am what i am. flora incorporata, 1988–2015).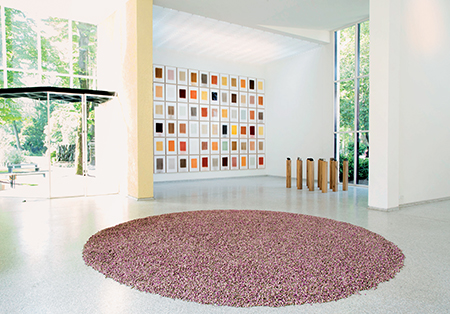 'O chestnut-tree, great-rooted blossomer / Are you the leaf, the blossom or the bole?/ O body swayed to music, O brightening glance / How can we know the dancer from the dance?' These are the famous last lines of William Butler Yeats's poem Among School Children (1928). They could have been written with De Vries in mind. Which is to say that we can neither ignore the artist's life and personality as a way to explain the work, nor can we simply declare life and work to be one and the same. So, who is De Vries?
He is most often associated with the Zero movement, from the late 1950s to mid-'60s, when he made austere, usually white hybrids of painting and sculpture. What is also frequently mentioned is that he was friends with the late Albert Hofmann, the father of lsd. In Venice, I met De Vries under a tree next to his pavilion. He still sports the impressive beard and is a gentle, accommodating fellow. I asked him whether his interest in weeds grew out of his interest in art or vice versa. 'I cannot separate it,' he replied, 'it belongs together. I collect all kinds of weeds, also the kinds you smoke. I first smoked with Algerians in Paris in 1954, and I still do so today – and I'm still healthy, and my mind is not damaged by it.'
A year before his encounter with cannabis, in 1953, De Vries had started to draw and paint. However, his interest in plants dates back much further; at the age of 18, in 1949, he starteda two-year gardening apprenticeship and, for most of the 1960s, he worked in Arnhem at the Institute for Applied Biological Research in Nature. 1969 marked his foray into psychedelic experiences, during his travels in Algeria, across the Sahara, Tunisia and Turkey. De Vries's interest in psychedelic drugs continues: he recently co-authored, in German, a book on psychoactive fungi entitled Rauschpilze (Intoxicating Mushrooms, 2015).
It is with all of this in mind that elements of the pavilion which might otherwise have been mistaken for entries in a hobbyist's pressed-flower album (though I'm sure De Vries is fine with hobbyists) are, in fact, shown to be a sober research project into the mind-expanding qualities of found materials. These might be long leaves of grass gathered over decades (rasenstücke, lawn pieces, 1983–2004) or the odd items he collected in the months leading up to the biennale, while researching uninhabited islands in the Venetian lagoon. Pieces of charcoal, for instance, or broken Murano glass lined up in a grid like pinned insects, or delicate plant seeds spread randomly under the glass-fronted frame like a swarm of jellyfish floating through the sea (from the laguna of venice – a journal –, 2014).
The title De Vries chose for his pavilion project is 'to be all ways to be'. On one of the walls, however, it declares: 'all ways to be to be ways to be to be', written in black ash taken from burnt tree trunks placed on the floor beneath (burned III, 2014–15). These are the remnants of a midsummer-night fire in the small northern Bavarian village in which De Vries has lived since 1970. He says he can always imagine different combinations and repetitions of the words in the title making sense, and maintains that he first came up with the line after a 1974 visit to Kathmandu, while listening to the chants of Nepalese monks. The idea that there are different ways to live in the world, that we can co-exist without hierarchy, is reflected in the inter-changeability of the words. Indeed, De Vries's 'to be to be' marries the gravitas of an existentialist mantra with the breeziness of Frank Sinatra's 'do be do' – which is to say that De Vries is careful to ensure his works don't degenerate into puffy esotericism.
At the entrance to the pavilion – which was designed in 1954 by Gerrit Rietveld and which reflects De Vries's first-generation, modest-yet-confident minimalist sensibility – is a sound piece. It's so subdued that I didn't hear it at first: the artist repeating the word 'infinity' with a slight pause so that it can also be understood as 'in finity' (infinity in finity, 2013–15). The recording can be perceived as a meditation on the relationship between human thought and nature: our attempts to comprehend something that dramatically outlasts our finite horizons and lives. But the way De Vries utters it suggests that blaring out statements at the doorstep would be a strange way to welcome visitors.
Upon leaving the pavilion, I learned that De Vries's project also included a 90-minute boat trip to Lazzaretto Vecchio, a small island just off the Lido. There, a guide named Hugo – who belongs to an association which seeks to preserve the island – told us that, from 1423 to 1797 (the year of the fall of the Venetian Republic), Lazzaretto Vecchio was a hospice where plague victims were brought to die. The small island also served as a place where incoming goods were quarantined for 40 days. In the overgrown garden, De Vries has placed a number of simple, small marble plaques. One of them, which states death was here (2015), marks the place where the bones of 1,500 plague victims were discovered.
Nowadays, about two thirds of the dilapidated, single-storey buildings on the island are empty. Vegetation has taken others over. 'In evolution,' De Vries told me, 'you can't stop a development. We are in the stream of that development. That said, I'm not a pessimist.' As we sailed back towards the bustle of the biennale, it seemed to me that the island De Vries has chosen – more than many of the other works on display in Venice that piously referenced current world crises – is a sobering reminder of how civilization itself is at a brink: a fragile fabric constantly under attack, mainly by forces from within.
Herman de Vries lives and works in Eschenau, Germany. He is representing the Netherlands at the 56th Venice Biennale until 22 November. In January 2015, he had a solo exhibition at the Stedelijk Museum, Schiedam, the Netherlands. Last year, his work was included in 'Zero' at the Guggenheim Museum, New York, USA, last year, and is currently showing at Martin-Gropius-Bau, Berlin, Germany, until 20 June, after which it will travel to the Stedelijk Museum, Amsterdam, the Netherlands, from 4 July to 8 November. His solo exhibition at Kröller Müller Museum, Otterlo, the Netherlands, opens on 6 June.