Featured in
Pablo Bronstein on How Catherine Wood Changed the Way We See Performance Art
'People younger than myself will be under the false impression that performance has always been taken seriously'
It is not easy to write about Catherine Wood, as she is one of my oldest collaborators and closest friends. So, permit me to camouflage real emotion with florid language. Catherine, who has led Tate's performance programme since 2002, has radically changed the way performance exists and is promoted within museums. There was a time before her, but few can remember it and people younger than myself will no doubt be under the false impression that performance has always existed so prolifically and been taken seriously by art institutions. The 1980s and '90s were a desert by comparison. Once every couple of years, as a peripheral event related to a solo exhibition, an artist, dressed in a suit, might bang a hammer against a piece of wood for two hours in front of a delighted audience. Since Catherine's inaugural series, Tate & Egg Live (2003) – in which a large group of artists, from Spartacus Chetwynd to Mark Leckey, created an evening of short events at Tate Modern – the volume and richness of performance has expanded dramatically.
With Catherine's Tate & Egg Live and her subsequent appointment as the institution's first permanent performance curator, a framework was born that was able to reconfigure a historical art form into something relevant. She created an incentive for artists to make performative work, in turn generating a sense for them that there was a safe and serious place for performance, and that they would not be confined to providing the entertainment between trays of finger food at openings. For today's art students, performance has become a perfectly normal modus operandi. Over her years at Tate, Catherine has collaborated with many artists. For the few of us lucky enough to have worked with her on multiple projects, conversations develop on a lengthier timescale. At core, Catherine has a few very deep-rooted concerns, and several artists have been picked by her in order to illustrate and give life to those ideas. She and I often joke that I am a figment of her imagination, but it is more accurate to say that, when we work on something, she has a pre-existing idea of what is to be achieved yet expects that to be challenged during the development of the piece. That is why the conversation continues to evolve and has not, so far, run dry.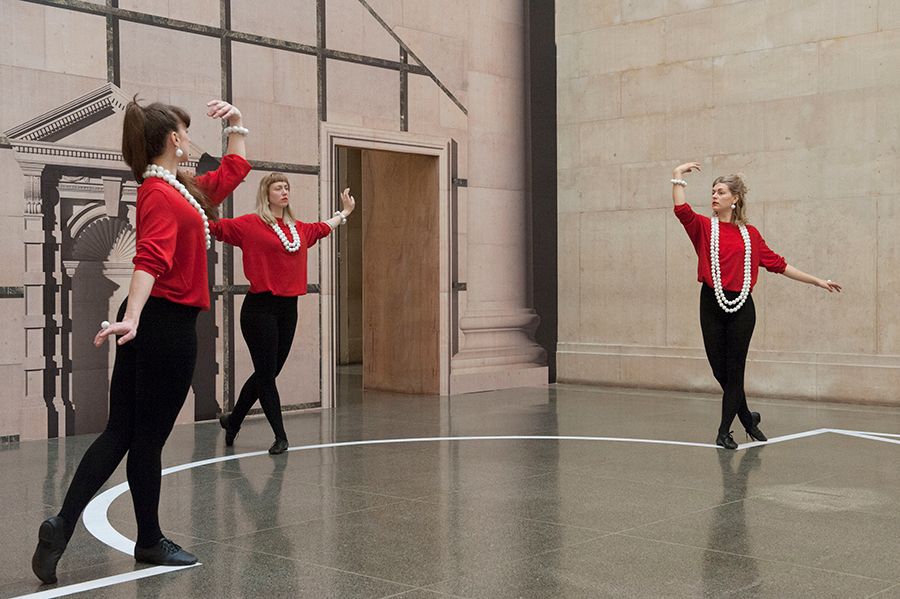 We have just finished working on a large and complex project for OGR in Turin, which extended to a small offshoot in Venice and has just been condensed into a book. The idea took shape through long chats over cheese twirls at Gail's Bakery. We discussed detailed installation plans and choreographic sketches together. Catherine materialized at dance rehearsals and during installation and had opinions on everything. I asked her to write a fairy tale based on the performance for the book and she, in turn, has produced something that she knows to be based on shared imagery and tastes. I demand endless advice from her on pretty much everything, asking for innumerable alternatives to a given problem. She suspects this is a sort of charade on my part and that I'm waiting for her to tell me exactly what I want to hear. My way of working is pandered to with tact. There are also times when her brutal honesty is ignored at peril: she can come and see a piece once it has opened to the public, or five minutes before curtain up, and say it isn't working at all. I am embarrassed that I need to be told what I already secretly know, but our relationship, like most, has its element of role play.
At Tate, Catherine has to oversee a large and diverse programme. The performance world has gone into overdrive during the last couple of years and is, at the moment, producing new starlets daily. Catherine has to filter and process a lot of work; she is heavily involved with some pieces and more hands-off with others. It is easy to see why artists become jealous and bitter when they are replaced on the merry-go-round of fashion and relevance by others unfurling their new plumage. What I would do well to remember is that greater depth is one of the compensations of approaching middle age. Such is the importance of Catherine Wood to an artist like myself. We could talk about generosity here – and there is plenty of that on her part – but her involvement in much work, not least in mine, comes from a stranger, more creative place.
This article first appeared in frieze issue 206 with the headline 'A Role to Play'.
Main Image: Pablo Bronstein, 'Historical Dances in an Antique Setting', 2016, performance documentation. Courtesy: the artist and Tate Media; photograph: Brotherton Lock/ © Pablo Bronstein