Paint-Hurling Demonstrators Hit LA Gallery
In further news: New York art project fights mass incarceration with house music; Marcia Hafif passes away at 89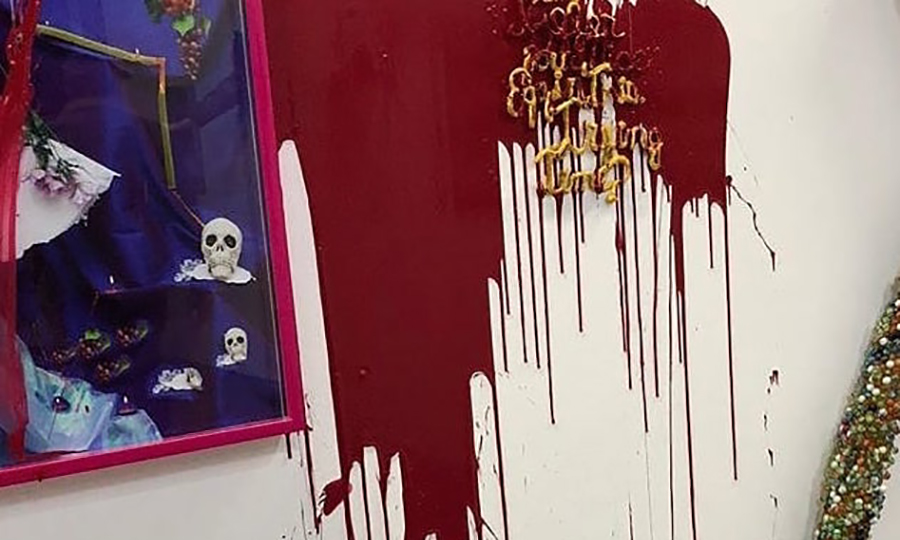 This weekend protesters entered Dalton Warehouse, in South Central Los Angeles, and threw red paint around the walls of the art gallery. The action damaged artworks on view with the paint splashing on gallery visitors as well. It's not the first time the gallery has been the target of demonstrations in the area. According to a report in LA Weekly the gallery was protested last year, with anti-gentrification activists holding banners that read 'Gringo Get Out'. Although the reasons for the latest demonstration at Dalton Warehouse have not been revealed, the anti-gentrification protest group Defend Boyle Heights has issued a statement, congratulating 'the faceless, tactical militants who initiated the offensive on the Dalton Warehouse space. We join the chorus on social media and the streets who thanked these militants for fighting for their community.' Earlier this month, LA nonprofit 356 Mission, founded by the artist Laura Owens, gallerist Gavin Brown and bookshop owner Wendy Yao announced its closure – the arts space had been the target of increasingly aggressive anti-gentrification protests, with Owens alleging that she had even received death threats.
Get our bi-weekly briefing of art world news straight to your inbox by signing up here.
New York public art nonprofit Creative Time has revealed details for its new programme 'Bring Down the Walls', a partnership with The Fortune Society and artist Phil Collins, which sets out to probe issues of mass incarceration. Based in a historic decommissioned fire station in Manhattan, the project, which runs from 5 May, will consists of workshops from writers and activists during the day, discussing the prison system and abolition, with the space shifting into a nightclub at night, championing the radical history of house music. 'Historically, house culture has often been a mode of resistance, opening up new understandings of community and solidarity. Its radical proposition of simply being together offers another way of engaging the conversation around the prison industrial complex, which sentences discriminately and disproportionately, but impacts us all,' Collins commented.
Chinese dissident artist Ai Weiwei has defended posing for a selfie with the far-right AfD politician Alice Weidel. 'I don't believe that differences in political views or values between people should act as a barrier in communication,' the artist told frieze. Read our full report here.
California-born artist known for her monochrome paintings Marcia Hafif has passed away at the age of 89. Her New York gallery Fergus McCaffrey confimed the news. 'As is common with so many of the great American artists of her generation, Marcia's work found favour first in Europe', Fergus McCaffrey commented. 'Her 'Italian Paintings, 1961-69' exhibition in New York in 2016 provoked deep institutional soul-searching as to how such an important body of work by an American artist had remained unrecognized for so long. There is so much more for America to come to terms with. I will miss Marcia's gentle laugh and steely certainty.' Meanwhile Chief Curator at the Hammer Museum in Los Angeles, Connie Butler said: 'Marcia Hafif was an extraordinary artist who was finally getting her due. Her career spanned from early body-inspired, erotic pop paintings, in which she developed a palette of saturated color, to minimalism and drawings made from serial mark making, to photography and finally to the glorious monochromes which occupied her mature career.' A major show of her work will open at Pomona College of Art later this year.
After delays, Hong Kong's Tai Kwun – Centre for Heritage and Art has revealed details for its opening this year. The centre, located in the former Central Police Station with new buildings designed by Herzog & de Meuron, is a collaboration between the government and the Hong Kong Jockey Club. An opening ceremony has been announced for 25 May 2018 which will be followed by a soft opening with limited visitor numbers.
In gallery news: Thomas Dane Gallery now represents Dana Schutz in the UK, with an exhibtion planned in October 2019 at the London gallery (her first solo show in the UK capital); London's Victoria Miro now represents the estate of Ilse D'Hollander, with a solo show at its Mayfair space planned for November; Rome's Frutta Gallery is opening a new space in Glasgow with a solo exhibition by Santo Tolone; with a much publicized scandal of artists claiming nonpayment, LA gallery CB1 will close – 'Given our cash flow and slow sales, in late March we made the difficult decision to close the gallery' founder Clyde Beswick told the LA Times; Copenhagen gallery David Risley has announced it is closing its doors, writing, 'We need to remember that without artists there would be no art fairs, no sponsors, no collectors, no consultants, no critics, no magazines, no museums, no transport companies, no gala dinners. No Art World'; New York gallery Real Fine Arts has also confirmed it is closing; and New York's Burning in Water Gallery is opening a new space in San Francisco, with an inaugural solo show by Valerie Hegarty opening today.
In awards news: the Future Generation Art Prize is now accepting entries for its 5th edition – established by the Victor Pinchuk Foundation in 2009, it invites artists 35 or under from anywhere in the world to apply, with shortlisted artists commissioned to create work for exhibitions at Kiev's PinchukArtCentre and the Venice Biennale; and Sophia Al-Maria has won the inaugural Dunya Contemporary Art Prize, which comes with a USD$100,000 award and commission and exhibition at the Museum of Contemporary Art Chicago – 'A polymath in the truest sense – an artist, writer, and filmmaker – Al-Maria's practice illustrates the diversity of ways that artists are working in the twenty-first century' the jury said.
Artist Eva Rothschild and curator Mary Cremin have been selected to represent Ireland at the 58th Venice Art Biennale, in 2019. Rothschild's pavilion proposal will explore notions of political precarity and environmental shifts, forming an immersive piece that will invite the audience to consider how political change can be effected – 'I want to create a situation that suggests multiple sculptural possibilities for rearrangement and reordering in which it becomes difficult to distinguish renewal from collapse' Rothschild commented.