Painting From $10K to $1M on Frieze Viewing Room
Discover paintings across price points on the Frieze New York 2022 edition, from Rebecca Sharp to Lee Kang-So and Alice Neel
Rebecca Sharp 
Basics and my electric field, 2022
Oil on canvas
$7,000 
Presented by Sé, Booth FR7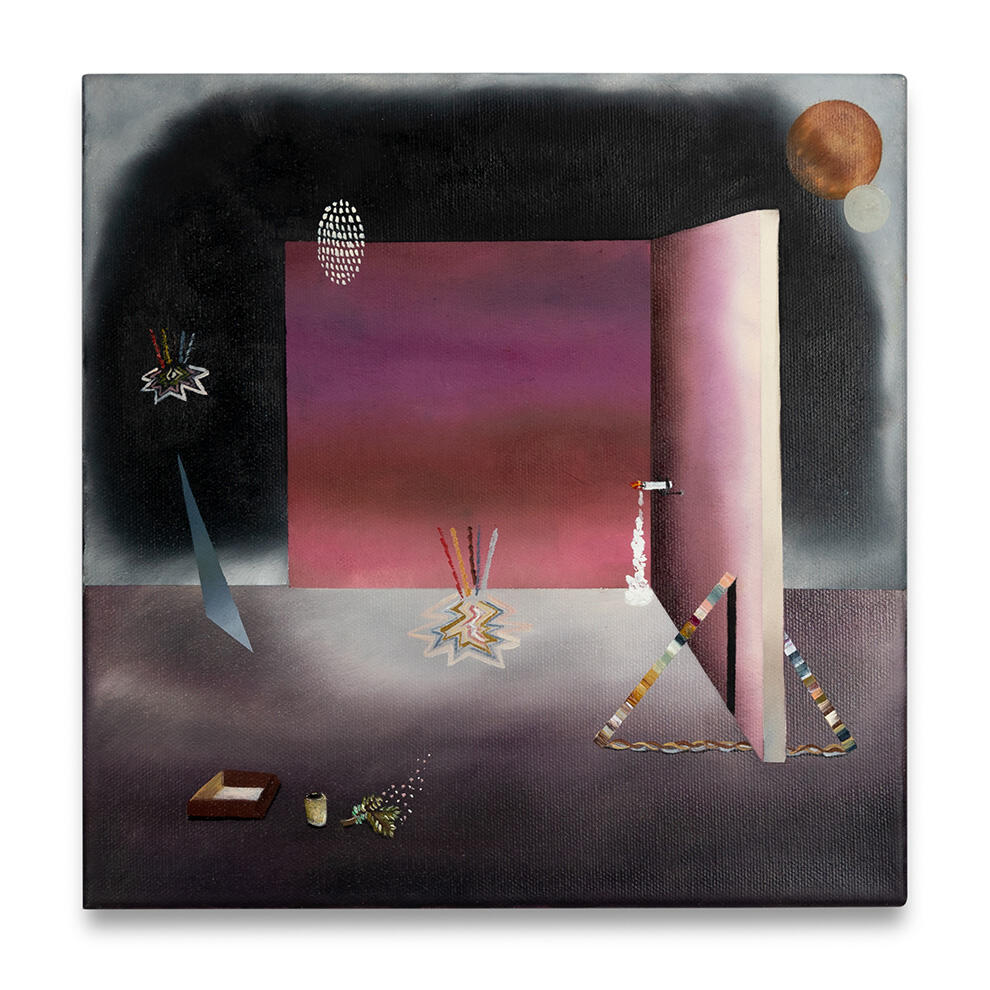 Rebecca Sharp's poetic oil paintings speculate on landscapes — in part topographical, in part psychological. Using meditation, Sharp creates surreal images from the unconscious which seem enveloped in an aura of mystery and fantasy. 
Lewis Miller
n creases, in time, in folds, 2021
Oil on canvas
$14,000 
Presented by The Modern Institute, D5
This work by Lewis Miller was created for his exhibition 'Curtains' at Aird's Lane Bricks Space, Glasgow, in which he is showing a body of paintings that interact with the distinctive architecture of the gallery. Resembling film stills, a paused moment suggests possibilities of what happened before this frame and what is to come in the next one.
Secundino Hernández

Untitled, 2022
Acrylic on linen
$50-100k 
Presented by Victoria Miro, A5
Secundino Hernández's varied and energetic painting practice resists easy characterisation. In his works, you might recognise a physicality of mark-making that recalls Action Painting, the figuration of cartoons, or passages evoking other painterly precedents. Often his paintings feature intricately structured compositions that mix strong linear elements and rich bursts of colour.
Kang-So Lee
Emptiness-11154, 2011 
Acrylic on Canvas
$100-250k 
Presented by Gallery Hyundai, B6
 
Lee Kang-So (b. 1942) is an indelible presence in the history of Korean contemporary art. Lee's recent paintings are composed of concise yet graceful brushstrokes, evoking traditional East Asian philosophical ruminations on the canvas. In his paintings, 'emptiness' acts as a compositional element in dialogue with the lyrical mark-making. 
 
Alice Neel
Irma Seitz, 1963
Oil on canvas
$ 1,100,000 
Presented by Xavier Hufkens, A7
This portrait by Alice Neel (b. 1900, Pennsylvania; d. 1984, New York) depicts Irma Seitz, an artist and philanthropist. Seitz adopts a confident pose for the artist, Neel pays great attention to the sitter's sophisticated attire and jewellery.
About Frieze Viewing Room
Frieze Viewing Room is a free digital platform, connecting global audiences with Frieze's galleries and artists.  
Opening from May 13 – 22, the Viewing Room offers fair visitors a preview of the wealth of gallery presentations coming to Frieze New York 2022, as well as the chance for audiences around the world to experience and acquire the artwork on show.
Frieze New York 2023
For updates on Frieze New York, follow @friezeofficial on Instagram, Twitter and Facebook and sign up to the Frieze newsletter to be the first to know when early bird tickets go on sale.