Paintings from $10k to $1m at Frieze New York 2023
From Tosh Basco's performance-based works to Naudline Pierre's utopian scenes and Tracey Emin's representations of love, desire and loss – explore artists pushing the boundaries of paint on Frieze Viewing Room
MIN HA PARK
Nostos, Spring Rain, 2023 
Acrylic, vinyl paint, oil, wax and MIRAVAL® on canvas 
70.87" x 55.12" (180 cm x 140 cm) 
$10-20k 
Presented by Whistle
By composing a unique language in her paintings, Min ha Park materializes the intangible, creating a landscape of memory, sensation, atmosphere, illumination, and microscopic change. (Whistle, Seoul, Focus).
SAM LIPP
Pornocracy 2, 2022 
Oil on steel 
65.75" x 24.02" (167 cm x 61 cm) 
$ 18,000 
Presented by Derosia 
Sam Lipp's work explores the intersection of images and power, particularly representations of the body in relationship to systems of control (Derosia, New York, Focus). 
TOSH BASCO
sanguine, 2023 
Oil and pigment on canvas 
61" x 63" x 1.5" (154.94 cm x 160.02 cm x 3.81 cm) 
$ 20,000
Presented by Company Gallery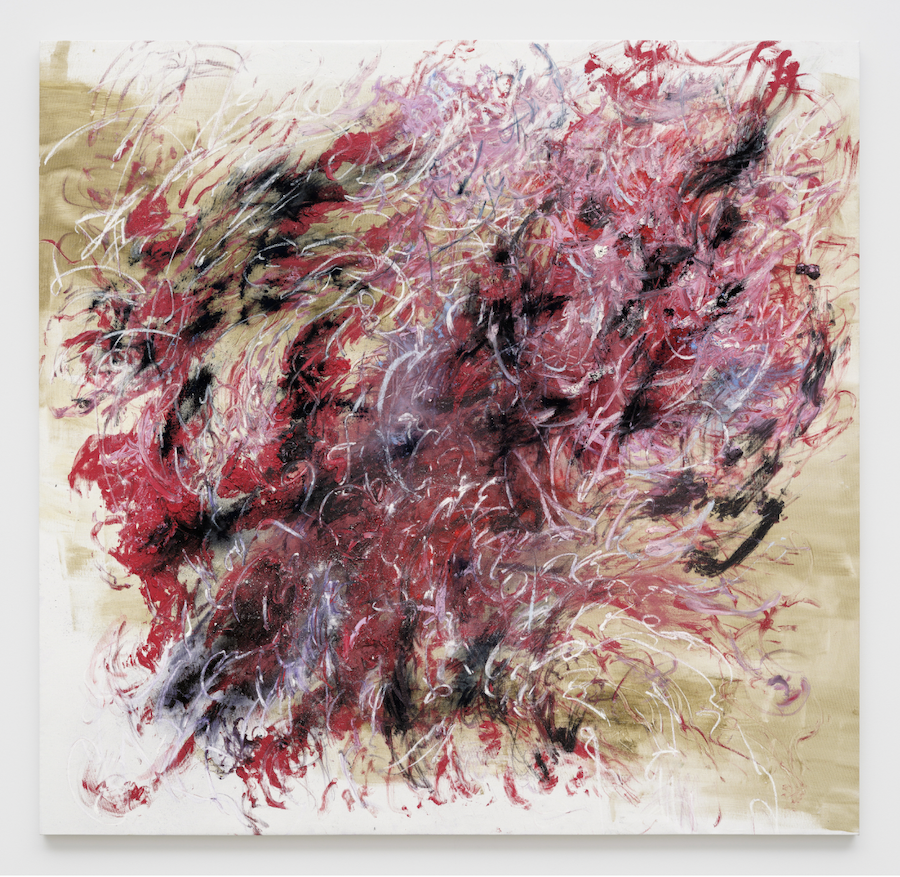 Company Gallery presents Tosh Basco's improvisational performance work, paintings and drawings. Under the name boychild, the artist arose from the underground drag scene in San Francisco and since then, collaboration has remained a vital aspect to her work. Her drawings, which are made by pressing her body tinted with makeup and paint onto paper, are the physical and emotional imprints of these movements (Company Gallery, New York, Focus). 
HANNAH QUINLAN & ROSIE HASTINGS 
After the Protest, 2023 
Fresco on wood 
78.74" x 94.49" (200 cm x 240 cm) 
Edition Unique 
$ 45,000 
Presented by Arcadia Missa and Emalin
Comprised of new frescos by Hannah Quinlan & Rosie Hastings, their shared presentation brings together artists whose practices investigate systems of authority: social, aesthetic and ideological. (Arcadia Missa, London, Emalin, London, Main) 
FARAH OSSOULI
Good and Evil, 2015 
Gouache on Cardboard 
22.05" x 29.92" (56 cm x 76 cm) 
$50-100k 
Presented by Dastan Gallery
One of the most respected and well-renowned Iranian painters of her generation, Farah Ossouli takes the traditional form of Persian miniature paintings into new, contemporary territory. (Dastan Gallery, Tehran, Main).
GHADA AMER
Homage à Tut in Black and White, 2021
Painted bronze 
23.31" x 17.32" x 1.1" (59.2 cm x 44 cm x 2.8 cm) 
$50-100k 
Presented by Tina Kim Gallery
Ghada Amer is a renowned New York-based artist, whose work confronts cultural objectification of the female form, repositioning it for a feminist dialectic (Tina Kim Gallery, New York, Main).
NAUDLINE PIERRE
The Only Way Out Is In, 2023
Oil and oil stick on canvas 
95.98" x 120" (243.8 cm x 304.8 cm) 
$ 135,000 
Presented by James Cohan
James Cohan presents a solo booth of new paintings by Naudline Pierre. The Brooklyn-based artist draws on references that are deeply rooted in the history of European art, looking back to historical iconography to conjure alternate, utopian realms. Her work situates personal mythology and intimacy alongside canonical narratives of devotion (James Cohan, New York, Main). 
EMMA PREMPEH
Kamwokya, 2023
Oil, Acrylic and schlag metal on Canvas 
35.43" x 78.74" (90 cm x 200 cm) 
Price on Application 
Presented by Tiwani Contemporary
Tiwani Contemporary presents new paintings by Emma Prempeh, a London-based, British artist with Ghanaian and Vincentian heritage. Prempeh's recent body of works explore interior spaces pictorially colliding with aspects of her personal history (Tiwani Contemporary, London, Focus). 
CARLOS VILLA
Tubby in Love, 1980-1983
Acrylic on canvas- diptych 
80.75" x 143.5" (205.1 cm x 364.49 cm) 
Price on Application 
Presented by Silverlens
Silverlens will debut its new representation of the Estate of Carlos Villa. His ground-breaking practice of culling materials from indigenous cultures across the globe combines feathers, bone and physical body prints to create strangely-human works that challenge colonial perspectives and lay radical claim to a cross-cultural, diasporic identity. Villa's aim was to make Filipino art history visible and build a foundation for generations of artists to come (Silverlens, Manila, Main).
SUZAN FRECON
earths and plum, 2023 
Oil on linen 
107.99" x 87.52" x 1.5" (274.3 cm x 222.3 cm x 3.8 cm) 
Price on Application 
Presented by David Zwirner
David Zwirner presents a solo presentation of new and recent works by American artist Suzan Frecon. Made over long stretches of time, Frecon's work invites the viewer's sustained attention: these, she says, 'are not pictures that you look at. They are paintings that you experience' (David Zwirner, New York, Main).
MARY LOVELACE O'NEAL
Race Woman Series #7, circa 1990s 
mixed media on canvas 
84.02" x 60" (213.4 cm x 152.4 cm) 
$500k-1m 
Presented by Jenkins Johnson Gallery
Mary Lovelace O'Neal, a force in art since the mid 1970s, is renowned for fusing the painterly and gestural elements of Abstract Expressionism with the social consciousness of the Black Arts Movement. The artist's paintings have progressed through many different phases over her long career, beginning with loose abstracted forms, evolving to including more precise patterns, stenciling, and geometric shapes (Jenkins Johnson Gallery, San Francisco, Main).
TRACEY EMIN
I needed you to love me, 2023
Acrylic on canvas 
79.92" x 110.24" (203 cm x 280 cm) 
$1m or above 
Presented by White Cube 
Tracey Emin's expressive and visceral art is one of disclosure, dealing with personal experience and heightened states of emotion. Frank and intimate but universal in its relevance, her work draws on the fundamental themes of love, desire, loss and grief, unravelling in the process the nuanced constructs of 'woman' and 'self' through probing self-exploration (White Cube, London, Main).
Frieze Viewing Room is an online platform that offers a preview of gallery presentations at Frieze fairs, as well as the chance for audiences around the world to experience the fair and acquire the art on show from wherever they are.
Frieze New York returns to The Shed in Manhattan from May 17 to 21, 2023 and promises to be an unmissable event. With an unparalleled selection of galleries and artists, alongside a critically acclaimed curated program the fair is a highlight of the global art calendar. 
For more information, sign up to our newsletter and follow @friezeofficial on Instagram, Twitter and Facebook. 
Main image: Tracey Emin, I needed you to love me, 2023, acrylic canvas, 205.7 x 279.7 cm | 207.1 x 180.9 x 5.7cm (framed), © Tracey Emin. All rights reserved, DACS 2022. Photo © Ollie Harrop