Paintings from $10k to $1m on Frieze Viewing Room
Explore works by Park Seo-Bo, Sanam Khatibi, Kelly Lynn Jones, Joan Snyder, Richard Diebenkorn and more on the Frieze Los Angeles 2023 edition
Hana Ward
Like a long forgotten dream, 2022
46" x 54" (116.83 cm x 137.15 cm)
$10-20k
Presented by OCHI
New paintings and ceramic works by artist Hana Ward, an LA-based artist, depict Black and Brown feminine figures who reflect and dream as they build their own sovereign worlds. Influenced by anticolonial histories, spiritual texts, and cycles of the natural world, as well as by the canon of art history, Ward's works communicate deeply personal metamorphoses (OCHI, Los Angeles, Ketchum, Focus).
Miranda Byk
Everything I've Seen Before, 2022
Oil on canvas
72" x 60" (182.88 cm x 152.4 cm)
$13,000
Presented by Sow & Tailor
Miranda Byk depicts the human experience of temporality by exploring notions of duality and nostalgia through a mystical lens. She is interested in creating magic realism, blurring the lines between fantasy and reality (Sow & Tailor, Los Angeles, Focus).
Chris Watts
The spirits that lend strength are invisible XVII, 2023
Pigments, resin, acrylic, organza silk, stained wood
63.98" x 43.98" (162.5 cm x 111.7 cm)
$15,000
Presented by Welancora
'Seen and Unseen' is a presentation of varied works including paintings by Chris Watts. It builds on his interest in exploring the representation of the Black body and indigenous cultures, through the formal engagement of abstract painting (Welancora Gallery, New York, Main).
Kelly Lynn Jones
Meridian, 2023
Acrylic, Oil and Oil Stick on canvas
60" x 48" (152.4 cm x 121.92 cm)
$15,000
Presented by The Pit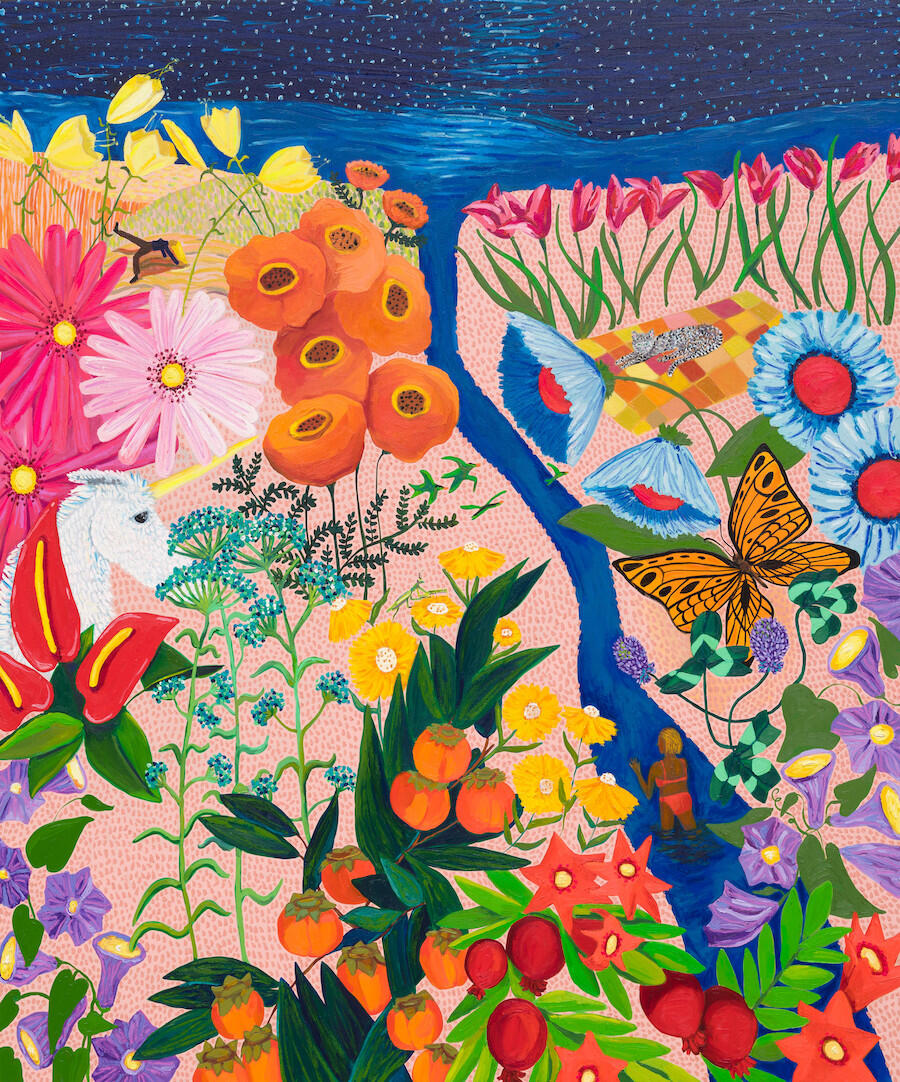 Kelly Lynn Jones's artworks narratively reflect children's tales, hinting at mythology through theatrically lit vignettes, symbolic animals, and figurative performance rooted in her very real experience as a mother (The Pit, Los Angeles, Main).
Uman
Untitled, 2022
acrylic, oil and oil stick on canvas
38.19" x 38.27" (97 cm x 97.2 cm)
$30,000
Presented by Nicola Vassell Gallery
Widely traveled and self-trained, Uman's practice explores gender and cultural fluidity through paintings, drawings and sculpture, while remaining spiritually engaged and instinctive (Nicola Vassell Gallery, New York, Main).
Park Seo-Bo
Ecriture No.911107, 1991
Acrylic with Korean hanji paper on canvas
18 x 26 cm
$50-100k
Presented by Johyun Gallery
Park Seo-Bo reflects Korean sentiments and aesthetics via an investigation into flatness, materiality, and mediation in art making. His rhythmic actions repeatedly performed on the canvas are intended to build a sense of unity between materials, objects, and the self (Johyun Gallery, Busan, Main).
March Avery
Provincetown Zen, 1962
Oil on canvas
42.01" x 48.11" x 0.75" (106.7 cm x 122.2 cm x 1.9 cm)
$75,000
Presented by Blum & Poe
Raised with the dividing line between life and art blurred, this is the subject matter of March Avery's work: daily domestic scenes, portraits of friends and family members, and landscapes visited and revisited over the course of a lifetime (Blum & Poe, Los Angeles, Main).
Katherine Bernhardt
Bubbly Soap Shower, 2022
Acrylic and spray paint on canvas
60" x 48" (152.4 cm x 121.92 cm)
$ 110,000
Presented by Canada
Through her index of images, from childhood sticker books to a ketchup bottle seen during travel, Katherine Bernhardt chronicles her life and the broader culture, synthesizing her visual material with hard-won ease (Canada, New York, Main).
Joan Snyder
Burlap Bars, 2022
Oil, acrylic, rosebuds, twigs, burlap on linen
54" x 66" (137.16 cm x 167.64 cm)
$120,000
Presented by Canada
Through a fiercely individual approach and persistent experimentation with technique and materials, Joan Snyder has extended the expressive potential of abstract painting and inspired generations of emerging artists (Canada, New York, Main).
Sanam Khatibi
Daily Domestic Routines, 2022
oil and pencil on canvas
94.49" x 74.8" (240 cm x 190 cm)
$100-250k
Presented by Mendes Wood DM
Sanam Khatibi's work explores notions of animality and the primal impulses that we all share. At the core of her practice is a questioning of our relationship with power structures, and the duality of triumph and failure (Mendes Wood DM, São Paulo, Main).
Andreas Eriksson
Texture Mapping III 2019-2021, 2022
Acrylic, egg oil tempera and oil on canvas mounted on panel, Forty-five parts, each: 50 x 40cm
109.45" x 163.78" (278 cm x 416 cm)
$250-500k
Presented by Stephen Friedman Gallery
Andreas Eriksson's artistic practice encompasses a wide range of media including painting, tapestry, sculpture and installation. Rendered in earthy and botanical hues, his works are understated yet possess a poetic quality which has a lasting effect on the viewer (Stephen Friedman Gallery, London, Main).
Richard Diebenkorn
Green, 1986
Color spit bite aquatint with soft ground aquatint and drypoint
53.74" x 41.5" (136.5 cm x 105.4 cm)
Edition of 60
$500k-1m
Presented by Berggruen Gallery
Richard Diebenkorn is prolific in the still life genre: some of his nearly monochromatic still life drawings are among the most distinctive, and ravishing, in twentieth century art (Berggruen Gallery, San Francisco, Main).
About Frieze Viewing Room
Frieze Viewing Room is a free digital platform, connecting global audiences with Frieze's galleries and artists. Opening to all from February 09–20, the Viewing Room offers fair visitors a preview of the wealth of gallery presentations coming to Frieze Los Angeles 2023, as well as the chance for audiences around the world to experience and acquire the artwork on show.
TICKETS 
Limited full price tickets for Frieze Los Angeles 2023 are now on sale. Don't miss out and buy yours now before they sell out. 
 
For more information, sign up to our newsletter and follow @friezeofficial on Instagram, Twitter and Frieze Official on Facebook. 
Main image: Miranda Byk, Everything I've Seen Before, 2022, Oil on canvas, 72" x 60" (182.88 cm x 152.4 cm), Courtesy the Artist and Sow & Tailor