Featured in
Pedro G. Romero Shifts Through Narratives of Spanish Identity
The artist's survey exhibition at Museo Reina Sofía, Madrid, explores Spanish cultural and socio-political practices and how collective belonging is intertwined with cultural production
'Versifying Machines', Pedro G. Romero's solo show at Museo Nacional Centro de Arte Reina Sofía, presents an extensive survey of the Spanish artist's editorial, pedagogical, screenwriting, artistic and curatorial projects to examine the notion of collectivity as a vital apparatus through indexes, devices and displays.
In Communication, Culture and Hegemony: from the Media to Mediations (1993), media theorist Jesús Martín-Barbero explores the formation of social identity through the intersection of popular imagery, class memory and cultural mores to emphasize how ideologies and iconographies resonate with labour and social struggles. Departing from a similar premise, 'Versifying Machines' examines Spanish cultural and socio-political practices – including religious iconography, flamenco culture and urban speculation – wherein references to collective belonging are deeply intertwined with cultural production. As a result, the show transitions through a series of narrative shifts that extend beyond the limits of individual authorship.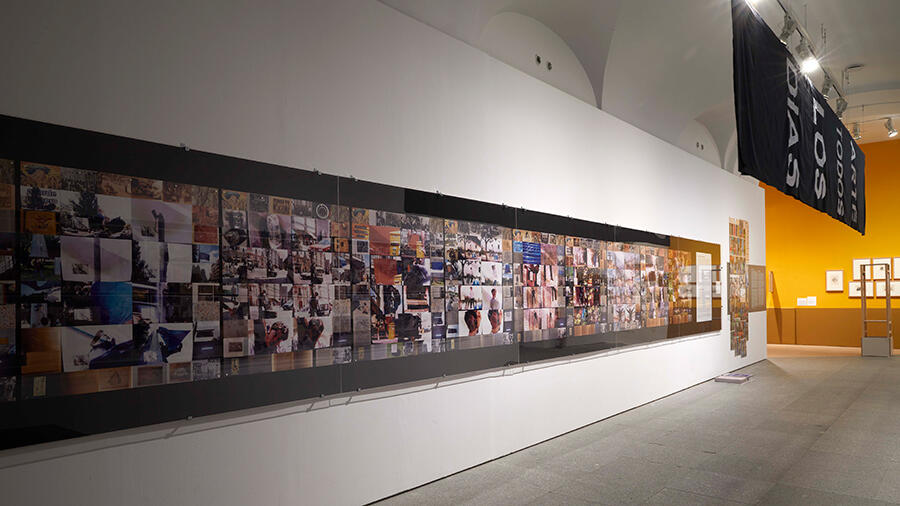 Romero assumes not only the role of artist but that of curator, writer, scenographer and researcher of a series of works that amplify their interrelatedness – a common thread throughout his practice. Yet, while his creative omnipresence signals the lack of a collective ethos, and its configuration offers no clear understanding of the interactions and hierarchies between them, there are, in fact, a number of collaborators involved in each project.
The first gallery presents a selection of works in which violence and power unfold as acts of negotiation through the materiality of moving bodies and gestures. Las espadas (The Swords, 2017) comprises a series of videos screened on mobile-phones showing various collaborators dancing and holding swords. Ritual dances echoing traditional choreographies, such as the Basque ezpata-dantza (sword dance), are here presented as social transactions, evoking the multilayered connotations that these traditions carry in the constitution of the modern nation-state. In the next gallery, notions of negotiation and transaction are explored through currency. La farsa monea (The False Coin, 2017), first presented at documenta 14 in collaboration with Niño de Elche and Israel Galván, includes documentation, coins of a fictive currency, objects and performative elements examining the relationship between subaltern economies and collective imageries.
The poetic potential of oral tradition is invoked in Canciones de la guerra social contemporánea (Songs of the Contemporary Social War, 2021), which comprises a large-scale installation of archive material and a stage set hosting regular performances of 12 songs that the artist adapted – in collaboration with several composers and performers – from texts by French philosopher Guy Debord. This transition from vernacular archive to social space underscores the potential for visual representation to legitimize political hegemony.
As evidenced here in installations that fuse sculpture with iconography and social documentary, the archive is a key element of Romero's practice. Titled Archivo F.X. (1999–ongoing), the artist's assemblage of materials operates as an institution within the museum itself to question the apparatus that validates art and its systems. Presented differently for each iteration, Archivo F.X. is displayed here in various configurations: Archivo F.X Esthesis questions the role of art in representational hegemonies while Archivo F.X Politics investigates the tactics of capitalism as ideology.
By referencing multiple means of image-making and their attendant social infrastructures, Romero speaks to the events that have historically framed the country's aesthetics, politics and social spaces. Eschewing a linear narrative, 'Versifying Machines' presents hybrid forms of power and identity as historical and contemporary tools for political and cultural legitimization.
Pedro G. Romero's 'Versifying Machines' is on view at Museo Nacional Centro de Arte Reina Sofía, Madrid, until 28 March.
Main image: Pedro G. Romero, 'Versifying Machines', 2021, exhibition view, Museo Nacional Centro de Arte Reina Sofía, Madrid. Courtesy: the artist and the photographic archive of the Museo Reina Sofía