Featured in
People's Choice
A new book documents 17 years of projects by art collective Group Material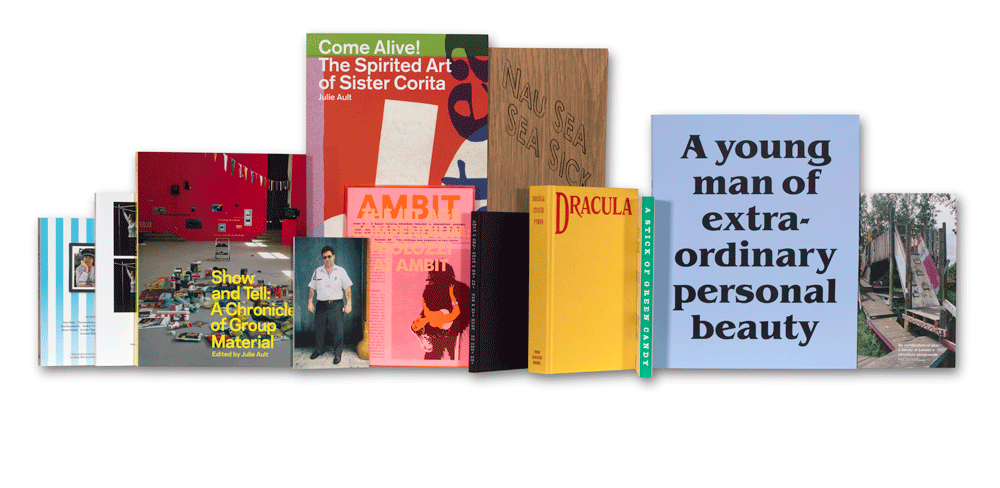 The 1980s had one redeeming feature: Group Material. At least, that was how some of us in the mid-1990s felt about the role that this New York artist collective had played during a decade that gave us yuppies and Neo-expressionist painting. However, as the new millennium approached, the '90s spawned monsters of its own, and the rise of 'creative industries' and of 'Prozac Modernism' made it increasingly hard to blame it all on the '80s.
Of course, it was unfair to hold Group Material hostages to a generational conflict or to turn them into the poster boys and girls of political art: there were more facets to this collaborative project. They were activists who had something to say about art, social organizers who came with a vision, rather than pragmatics. They were critical, but not negative or moralizing. Their project had a structural rigour and semiotic sensitivity that allowed them to address the schizophrenic condition of a world in which politics was being aestheticized.
A recently published book documents the collaborative's formation, process, inner workings and more than 45 projects they carried out between 1979 and 1996. Edited by founding member Julie Ault, Show and Tell: A Chronicle of Group Material (Four Corners Books, London, 2010) takes the form of a project timeline – a format the group employed more than once in its exhibitions. Initially synonymous with a shopfront space at 244 East 13th Street, New York, Group Material's ten founding members – recently graduated artists and a musician – produced shows that revolved around themes such as cultural activism, alienation, electoral politics and consumption. Against the backdrop of the conservative climate of the Reagan administration and the culture wars of the 1980s, a smaller group of members later dealt with other issues such as AIDS, US intervention abroad and crises in democracy.
Coming to the conclusion that even a non-profit space was too compromised by its gallery format to represent a real alternative, the group abandoned the space in 1983 and pursued a new practice based around distribution, using public spaces and transport as well as advertising media as sites for exhibition and address. This also included shows at existing art institutions – from alternative spaces to university galleries, museums and biennials – as well as the creation of an exhibition-within-an-exhibition for Documenta 8 in 1987. The collaboration continued until 1996, with a changing cast of members – including artists who became famous in their own right, such as Félix González-Torres and Jochen Klein – with Ault remaining the only continuous member.
The prototypical fate of Utopian collectivity is that the group identity, like some cannibalistic monad, takes over those of the individual members (think Otto Muehl's Action Analytic Commune). Other collectives become bigger than their members, with groups embarking on radical experiments that are incompatible with the fragility of individual opinion and art-making (think Art & Language). In their own words, Group Material saw themselves as 'the outspoken distant relative at the annual reunion who can be counted on to bring up the one subject no one wants to talk about'.1 This collaborative self-institutionalization entailed a painfully democratic working method consisting of a time-consuming collective process that was also fuelled by frank exchanges of views. As Tim Rollins wrote in a despairing unsolicited statement to the rest of the group in July 1980: 'We should have nothing but enthusiasm for our project because – and your head is really up your ass if you don't realize this – WE HAVE NO OTHER SATISFACTORY OPTION [...] Group Material really needs to tighten up, to be more efficient in our work methods and organization, to be more conscientious to priorities if we are not to deteriorate into a messy, arbitrary, indistinctive co-op gallery that dresses indecisiveness in the garb of humility, "down to earth"-ness and a commitment to the casual.'2 Perhaps it was the result of such internal dressing-downs that Group Material was no loose hippie outfit, despite being, in many ways, a 1980s interpretive re-enactment of '60s activism. As Mike Glier, who participated in the collaborative's AIDS Timeline project (1989–90) at the University Art Museum, Berkeley, put it, they were looking at things somewhat dispassionately, with a result that was optimistic, 'like science is optimistic'.
Through works such as AIDS Timeline and Democracy (1988–9) at the Dia Art Foundation, Group Material defined the visuality of cultural studies through a radical mixture of elements. In their exhibitions and installations, children's drawings, abstract painting and electoral campaign publicity co-existed with everyday market commodities and advertising design, all of it exhibited with deference to the order and clarity of aesthetic display. Discursive events and collaborations with people external to the group – other artists, organizations affiliated with particular movements and non-artist participants such as the group's 13th Street neighbours for the 1981 show 'The People's Choice (Arroz con Mango)' – ensured that these exhibitions could never be construed as indicative of Group Material's entire project.
Yet, even though Group Material pursued their exploration of exhibition-making for almost two decades, they are rarely mentioned in curatorial debates today. This is somewhat surprising, given that they developed their projects concurrently with the re-definition of the curator during the 1980s, when it became an acceptable notion that exhibition organizers could act independently from the archive. One may speculate that their activist stance has been felt to be at odds with the managerial functions that continue to be associated with curating.
It was the establishment of a Group Material archive in 2008 that lead to the compilation of Show and Tell. At a library – the Downtown Collection at New York University – the archive is more readily accessible to the public than if it had been placed at a museum. To Ault and other former group members, establishing the archive constituted a symbolic reconvening of the collaborative, or a 'reopened case' as Ault puts it: 'Inspired by the television series The Wire and programmes about investigating "cold cases", we imagined ourselves detectives making sense of the surrounding evidence, charged with solving the case of Group Material.' If the archive is used in the spirit of the material traces it holds, it will also allow for sense-making operations vis-à-vis contemporary culture at large. In the words of former member Doug Ashford: 'Today's ascendant culture of war and its accompanying economic collapse bring home many of the state-designed public fictions initiated in the 1980s.'
For Group Material, democracy is a genesis of aesthetic invention, and the publication of Show and Tell provides an opportunity to reconsider this perspective at a time when it is perhaps more difficult than ever to visualize democratic processes. Given that global crises prompt questions about nationhood and citizenship, and that notions such as 'creativity' and 'imagination' – indeed 'aesthetics' itself – have become prime vehicles of economic exploitation, it seems an almost insurmountable task for contemporary artists to inject their work with democratic reason in the way Group Material did, by organizing shows that were like parliaments of multiple voices. Still, there is no reason to assume that things were any easier in the 1980s. And in the spirit of Rollins' remark, you have to make sure your head is not up your ass. As Margaret Thatcher used to say, 'there is no alternative'.
1 Brian Wallis (ed.) Democracy: A Project by Group Material, Bay Press, Seattle 1990
2 This and the following quotes are taken from Julie Ault (ed.), Show and Tell: A Chronicle of Group Material, Four Corners Books, London 2010