Featured in
Pictures, Before and After
Galerie Buchholz and Arsenal Institut für Film und Videokunst, Berlin, Germany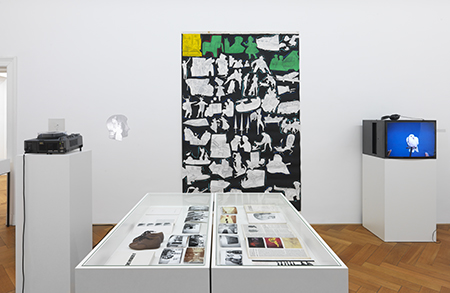 In late August, when curators and gallerists are usually putting the finishing touches to their season-openers, a band of art historians and gallerists came together to create an event celebrating the life of an art historian on his birthday: the scholar, critic, theorist, occasional curator and activist Douglas Crimp, who recently turned 70. Unofficially dubbed 'Crimp Fest' and officially titled 'Pictures, Before and After', the festivities took the form of an exhibition hosted by Galerie Buchholz and a two-day symposium of lectures and screenings at the Arsenal Institut für Film und Videokunst – both organized by Crimp's friends Diedrich Diederichsen, Juliane Rebentisch and Marc Siegel.
The symposium featured talks by the event's organizers and lectures by colleagues, former students and friends of Crimp. Most riveting was Rosalyn Deutsche's lecture on New York's ideologically problematic National September 11 Memorial and Museum, which she called a 'narrative, fetishistic response to a traumatic loss'. Deutsche's choice of subject referenced the conceptual basis of 'Mixed Use Manhattan', an exhibition Crimp co-curated with Lynne Cooke at the Reina Sofia in 2010. 'Mixed Use Manhattan' looked back at the economically depressed Manhattan of the 1960s and '70s, the birth of sub-cultural and gay activity, and the area's eventual re-zoning, which led to the destruction, rebuilding and sterilization of Lower Manhattan, generally seen as a sacrifice of cultural and artistic productivity for the sake of economic gain. Deutsche's lecture provided an update on the contested real estate that Crimp and Cooke's show identified, again linking Lower Manhattan's development with runaway American ideology.
The exhibition at Galerie Buchholz was organized according to the chapters of Crimp's memoir, which will be published in early 2015. Titled Before Pictures, the book details his first ten years in a recession-stricken New York, before he curated the now-legendary 'Pictures' exhibition at Artists Space in 1977. Like any good art-theorist-birthday exhibition, 'Pictures, Before and After' covered some of Conceptual art's greatest hits – Louise Lawler's 'Birdcalls' (1972–81), letters from Marcel Broodthaers's Musée d'Art Moderne, Département des Aigles (1968–72), and lots of issues of October in vitrines – nice to see again, if a bit redundant. The exhibition also included the work of a later generation of New York artists, such as the contemplative photographers Moyra Davey and Zoe Leonard. 'The exhibition is about me and the first ten years of my life in New York,' Crimp said in his lecture at Arsenal, 'but it is also really about New York.' And a very mutable New York it was, as the exhibition demonstrates. Most visible was Crimp's predilection for connecting the body – particularly the gay male body – to the city via artists such as Peter Hujar and the all-but-forgotten New York photographer Alvin Baltrop, who documented Manhattan's gay cruising scene in the 1970s. At Arsenal, Crimp read from his memoir's remarkably funny last chapter, 'Hotel des Artistes', which he named after the building Ellsworth Kelly lived in near Central Park. The text recounted the awkwardness (and destitution) at the beginning of Crimp's career as a critic, including his flirtations with the much-older Kelly. 'What Ellsworth liked to do was shrimping,' Crimp said, laughing through his reading. 'This didn't make for great compatibility because I'm ticklish.'
I had a moment of uncanny recognition in the exhibition. Peering into a vitrine, I read that Crimp had worked as an assistant to the Guggenheim curator Diane Waldman when she removed Daniel Buren's Peinture-Sculpture (1971) from the Sixth Guggenheim International. I then watched Agnes Martin's video, Gabriel (1976), near a window that looked out over a shop selling expensive skin-care products. In the Berlin neighbourhood surrounding Galerie Buchholz there is a whole world of luxury and property development, but it is not mine, nor, perhaps, will it ever be: a slightly deflating realization, perhaps. Still, there I was, standing in an exhibition celebrating someone who had also experienced a city that had felt like his own slip away into something alien and unrecognizable. As evidenced by this show, Crimp came out on the other side, apparently very successful and happy. Perhaps the next prescient question is: What happens when it's art production, rather than a city, that is transformed by the whims of the privileged?