'Pose' Is Proof of the Power of Representation
Season 2 of Ryan Murphy's campy television series mixes magical realism and conventional melodrama to radical effect
In a recent interview with Variety, actor Billy Porter asked how he could be of service to a system that views his authenticity as a liability. That system is Hollywood, which has historically rejected gay black actors like him, or reduced them to comic stereotypes. Porter's question seems to motivate Pose, Ryan Murphy's FX series about the New York ballroom scene of the late 1980s and '90s, and the queer and trans performers of colour who find a home in it. Season 2, which premiered on 11 June, finds Porter's Pray Tell, the balls' emcee, coping with a recent HIV diagnosis as he mentors the young members of the House of Evangelista.
It feels redundant to explain the premise of the show in a world where JetBlue sponsorship logos plaster the façade of the Stonewall Inn. The jargon of academic queer theory is now second language in Mastercard and Gilette commercials. However, Pose remains extremely compelling and necessary. There's educational utility in the way it employs the cinematic language of fairy tale, Twin Peaks-level melodrama and brash late-night realism for the masses. It excels in its unique hybridization of magical realism, partly inspired by Tony Kushner's iconic play Angels in America: A Gay Fantasia on National Themes (1991–93), and the real events captured in Jennie Livingston's 1990 documentary Paris Is Burning.
History repeats itself if you forget it; such is the purpose of a period piece like Pose. The storyline of Season 1 unfolded parallel to the first rise of Donald Trump: it featured Evan Peters as Stan Bowes, a Trump Organization employee, and chronicled the predatory reign of Wall Street and real-estate titans over 1980s New York City, with minorities and the LGBTQ+ community suffering while white men profited in gilded board rooms. Season 2 delves deeper into the effects of AIDS and gentrification, and the myriad ways our economic and political system is designed to erase queer nonwhite people. Blanca (MJ Rodriguez) and Pray Tell are paranoid that the antiretroviral drug AZT might be a government plot to poison them. One of them does well taking the notoriously toxic medicine, while the other's health declines even more rapidly. Elektra Abundance (Dominique Jackson), the imperious mother of Season 1, develops a lucrative career as a dominatrix for rich Wall Street johns. Unfortunately, one of her clients dies during a session; afraid that, as a trans woman, she will never get a fair hearing in court – and will be locked up in a male prison and then forced into prostitution by fellow inmates – Elektra cites the star of Paris Is Burning, legendary trans drag performer Dorian Corey, as she mummifies her client and stuffs him in her closet. It's a moving moment delivered as a high camp classic.
There's a self-aware predictability to the show's plot and characters, drawn readily from television tropes, despite the fact that these are characters we've never actually seen on television before. As a standard-issue soap-opera performed by a mostly trans and queer cast, it affirms the identity and humanity of people who have historically been erased from our cultural narratives. I'll admit that I'm jaded and no longer interested in seeing Hollywood or the art world satisfy puny quotas for gay, black, handicapped, mentally ill and PrEP-taking perspectives in group shows and institutional programmes; but seeing Damon and Ricky's relationship unfold on primetime was healing for me. It's proof that representation really matters.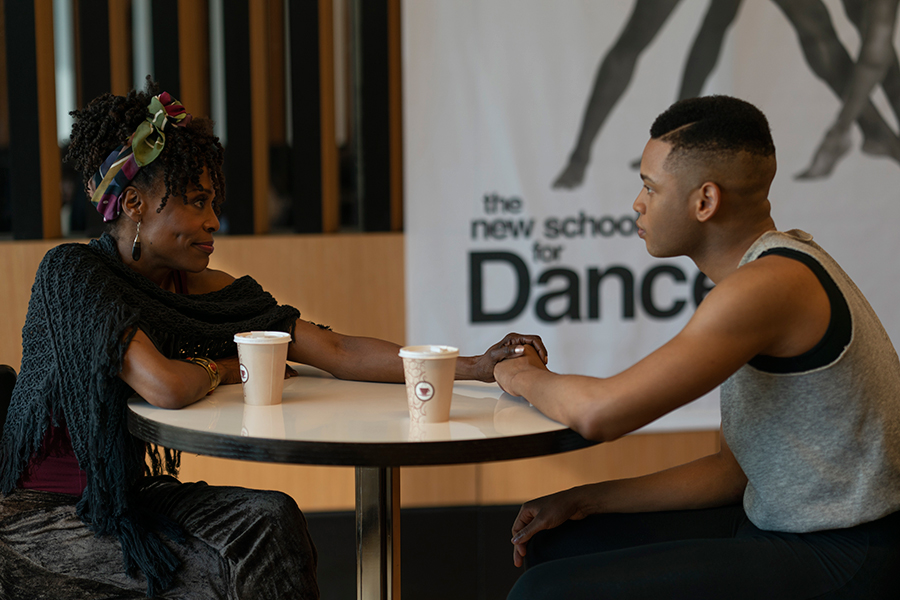 Most of the characters on Pose have been exiled from their homes for being trans or queer. Their need to express themselves is denied by default. It's a bittersweet truth that minority groups, refused access to an endless cycle of white institutions, have turned to new forms of expression and established their own spaces, which have contributed indelibly to the canon. Queer artists of colour formed the ballroom scene as a space to develop and interrogate their own forms of modernist expression, not unlike the Studio Museum in Harlem and El Museo Del Barrio. In Pose, balls are a safe space and a laboratory that incubates ACT-UP protests and educates homeless youth on AIDS and other aspects of survival. It is a home for a group of people who otherwise wouldn't have one.
If Donald Trump was the foil for Season 1, Madonna and her hit single 'Vogue' (1990) soar over Season 2. By co-opting the ballroom scene (not unlike Ryan Murphy), Madonna offers hope for most of the characters on the show that the rest of the world might admire their talents. Blanca opens a nail salon called 'Vogue Nails', her community now suddenly on-trend. Damon and Ricky prepare to audition for Madonna's 'Blond Ambition Tour'. The Queen of Pop is a meta-conceptual reference throughout the season that demonstrates how media representation can offer those who feel invisible the knowledge that they matter.                
There are other cultural references, too. (Spoiler alert.) When Candy is murdered by a john, she returns as a ghost and haunts Pray Tell while he convalesces in the hospital. This direct nod to Angels in America demonstrates the effectiveness of Pose's combination of magical realism, fairy tale and real history in the language of primetime television, played by a trans and queer cast unlike any we've seen before. In a way, it's the most authentic move of all. 
Main image: Ryan Murphy, Brad Falchuk and Steven Canals, Pose, 2019. Courtesy: © FX Networks, 2019; photograph: Macall Polay