Postcard from Melbourne
On the city's increasingly fluid fields of contemporary dance and art
Despite its vastness, Australia's recently returned Coalition government promotes a policy of insularity: borders are closed to asylum seekers arriving by boat, marriage is restricted to heterosexuals and funding for the arts has been reduced by $300 million since 2013. However, a selection of recent exhibitions in Melbourne defy these constraints suggesting that – as with all rigid structures – there are many things that can not be contained. In response to these political and economic forces we have seen a refocusing on the agency of the individual, and the possibilities and implications of the subjective body, whether it be post-colonial, trans-identified, or post-human.
As part of this return to the body, Melbourne, like many other places, has seen an increase in the flow of ideas between contemporary dance and contemporary art. Artists are working with movement and dancers are collaborating with artists in what is increasingly shared conceptual terrain. One example is contemporary dance company Chunky Move's new work L U C I D, choreographed by Artistic Director Anouk van Dijk, which was performed in May and June by Lauren Langlois and Stephen Phillips. The company's theatre is located in Melbourne's burgeoning cultural hub on Sturt Street, which includes the Australian Centre for Contemporary Art (ACCA), The National Gallery of Victoria, the Victorian College of the Arts, and the soon to be constructed first major private museum in Melbourne, The Buxton Collection Museum.
In L U C I D, van Dijk explores the steady encroachment of technology on our bodies and how it aids and abets individual agency. Using a screen anchored on a pivot as a kind of iPhone-swipe device, it includes multiple cameras and screens, which are utilized to record and reveal fragments of the body, of movement and of dramaturgical action. Gradually, the screen-based action geGetynerates an abstracted narrative and builds a portrait of each character in much the same way that an online profile might. This familiarity reveals the cyborgian infestation of our perception, and how our bodies sometimes seem to make more sense to us when viewed through an interface.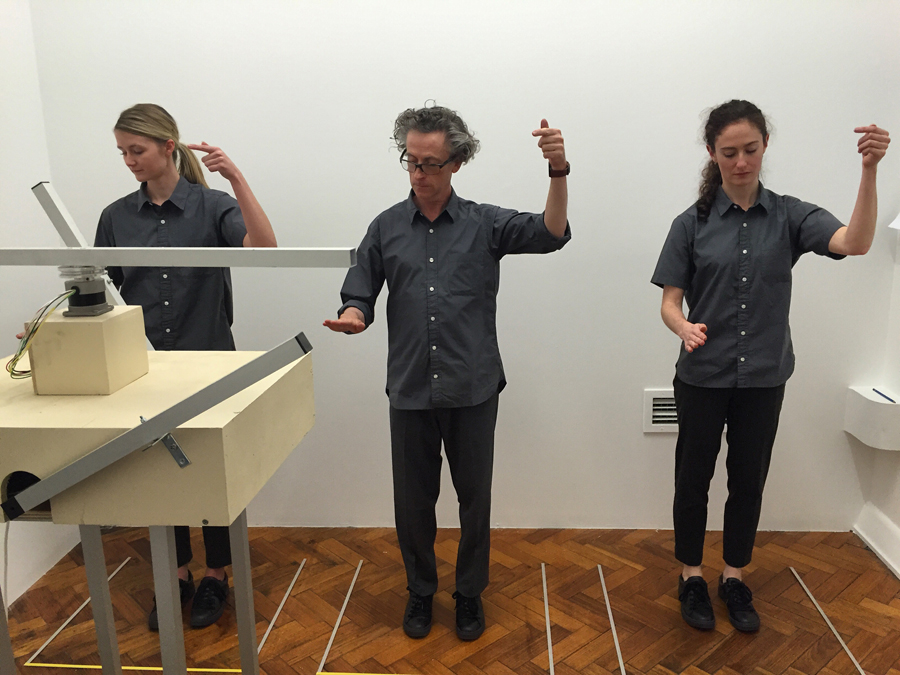 Unpacking this idea further was the recent performance and installation, Automaton, at the commercial gallery, Sarah Scout Presents. Created by choreographer/director Sandra Parker and sculptor Rhian Hinkley, Automaton is a response to the increased use of interfaces in our lives. Hinkley's kinetic sculptures, the starting point for Parker's choreography, feature the dull grey tones and mechanical ticking of pre-digital office machinery. From these machines, whose tasks seem arbitrary and inscrutable, Parker has developed a series of gestures and actions performed throughout the exhibition's opening hours. The durational element echoes the repetitive analogue office tasks once commonplace in buildings similar to the one that Sarah Scout Presents now occupies.
Anna Varendorff and Haima Marriott further explored these intersections between the body and inanimate objects in a major new commission presented as part of Australian Centre for Contemporary Art's (ACCA) annual NEW 16 exhibition earlier this year. They created a series of finely crafted, freestanding brass arches which have the capacity to generate sound through touch. The sculptures are mobile (with recessed wheels) and illuminated, which encourages audience involvement and allows for endless spatial and shadow play in the space.
Each year, the studio and exhibition complex Gertrude Contemporary, in association with the festival for emerging artists Next Wave, nominates a curator for the Emerging Curators exhibition. This year, the Samoan/Persian artist and curator Léuli Eshraghi curated 'Ua numi le fau' – a Samoan expression which translates as 'the string tying the lupe pigeon is entangled' –  in other words, something that is complicated or difficult. The show was a powerful response to the possibilities of rebellion in the face of, as Eshraghi wrote in the catalogue, the 'ongoing traumas of capitalism, colonialism, evangelization and neoliberalism …'. Engaging with eight artists whose cultural, social or sexual freedoms have been curtailed, Eshraghi attempted to clear a space for new ways of thinking that are 'more honest, more curious, more aware, more possible.' The exhibition included needlepoint works by the increasingly important Australian artist Dale Harding, alongside French artist Frédéric Nauczyciel's striking film series 'House of HM' (2015) which features dancers engaged in vogue 'battles' within Paris's neo-classical ballrooms.
Perhaps the most significant rebellion in the face of Australia's conservatism is Paul Yore's exhibition in June at Neon Parc. In 2013, the artist's collages – which included an image of a boy with Justin Bieber's superimposed head peeing from a dildo – on show at Linden Centre for Contemporary Art, saw him accused of child pornography. A ludicrous political tactic by a suburban counsellor, the charges were eventually overturned, but Yore was profoundly affected by the accusations.
Having recently undertaken a research trip to Europe, Yore's exhibition repurposed some of the work from his Linden exhibition, along with large-scale new collages, tapestry and sculptural works. His new works draw on European folk art and craft-based textiles as well as artworks from socially marginalized and outsider communities. Kaleidoscopic and kitsch, Yore's magical worlds submerge the viewer in the ephemera of teenage identity construction and consumer excess. Toys and dildos, pornography and plastic jewellery – some mechanized, lit and musical – coalesce like childhood shrines, revealing the small freedoms that can be found when popular culture is queered.
Main image: Frédéric Nauczyciel, Red Shoes [Kendall Miyake Mugler], 2015
, HD video. From the 'House of HMU' series shot at the Chapelle du Musée d'Art et d'Histoire de Saint-Denis, Paris, 2015. Courtesy: the artist