Is it possible for male hip-hop artists to represent something besides 100% hardcore heterosexuality? It seemed as if we finally had an answer to the question earlier this year, when Frank Ocean blogged that his first true love at the age of 19 was a man. Yet as Ocean made the headlines as the 'first gay rapper', this title was doubly misleading. Although he hangs out with the Odd Future collective in Los Angeles and works with Kanye West and Jay-Z, Ocean is less a rapper than an R&B singer, closer to gentle crooning than rough rhymes. And he has not referred to himself explicitly as either gay or bisexual. In his 'coming-out letter', he talks mostly about love, sex with women and this one very important man – an epistolary autobiography that suggests a wide range of queer identities.
It may be a coincidence that Ocean is from New Orleans. Despite recent setbacks, the city has seen the rise of a new brand of hip-hop, which transforms uncertain sexual identities from the exception into the rule. The style is known as 'sissy bounce', although some followers consider this term restrictive and prefer to call it 'bounce music'. The artists – like Big Freedia, Sissy Nobby or Nicky Da B – are male African-Americans who rap in a deep, often husky staccato style about the 'ass' as the pivotal point of all social behaviour. Yet their own behaviour has caused serious confusion in some quarters. Like some gay men, these artists are known to address each other as 'girl' or 'sissy', yet without being transsexual; they also cultivate a feminine appearance (make-up, dyed hair, blow-dry styles). Reporting on sissy bounce for the Süddeutsche Zeitung in 2010, the journalist Jonathan Fischer called the artists 'homosexual, male transvestites'. A blurb about his article posted on the online German press review Perlentaucher described 'the most disreputable clubs in New Orleans' and transvestites who 'stutter instead of rapping'.
In the end, the fictional character Lafayette Reynolds – the muscular gay chef and part-time hustler in the HBO vampire series True Blood (2008 – ongoing) set in Louisiana – may have done more to promote an understanding of the specifically African-American Southern states type embodied by the tough-camp sissy bounce rappers than any media report or gender studies essay ever could. While the music features quick-fire electro samples, the copulation dance is all about twisting and shaking one's ass as skilfully as possible. As many YouTube clips
suggest, it's easiest to make these moves while doing a handstand with one's feet against a wall, legs akimbo, and plenty of orgiastic jerking. Women at sissy bounce parties reportedly push gawking straight men off the dance floor so they can bend over more easily and communicate about 'dick' with the gay men on stage in a call-and-response style. Big Freedia had a hit called Azz Everywhere (2011), and there's even a bounce dance course in New Orleans called 'Pop your ass like a pro!'
Sissy bounce experienced its first wave of popularity outside New Orleans after Hurricane Katrina; then, Big Freedia temporarily relocated to Texas and performed there. Although much of the sissy bounce oeuvre is now online, the rappers still seem to need prominent promoters with a less explicit image in order to get noticed outside the Southern states. Big Freedia – long celebrated back home as 'The Queen Diva of Bounce Music' – did not get a first major record release until last June, with a slot as a guest rapper on RuPaul's single Peanut Butter (2012). Sissy Nobby – now being pushed by the Californian hipster rapper Kreayshawn – debuted on a European stage after being invited to Austria's Donau Festival last April by Antony Hegarty, the singer from Antony and the Johnsons. Hegarty – known among fans more as an ethereal gender bender than a sexual one – sang alongside his rapping stage guest with surprising gusto: 'Dick ain't nothing but a muscle relaxer', 'Fuck the piss out of me'.
It's not surprising that sissy bounce gained its largest exposure to date in a slightly diluted form through the video Express Yourself which was released last March by the DJ and producer Diplo and the New Orleans rapper Nicky Da B. Diplo – who co-produced M.I.A.'s debut album Arular (2005) – has since earned a reputation for creating the most direct link between the charts and undiscovered 'ghetto styles'. He now supplies Beyoncé, Usher and Snoop Dogg with his exotic local beat discoveries. A few years ago, Brazilian baile funk was all the rage; now it's New Orleans's turn. Diplo's Express Yourself (2012) is an infectious tune, but the lyrics sung by Nicky Da B are comparatively tame. The video features a few men among many women shaking their asses, but the men's faces are either digitally blurred or hidden behind masks. So who's embarrassed here? Maybe Diplo wanted to make the queer style look a bit straighter to give it a wider appeal. Or maybe the male dancers – aware that Diplo would reach a large audience – suddenly got scared that they might be recognized. Both scenarios suggest that gay asses in New Orleans are not yet fully liberated.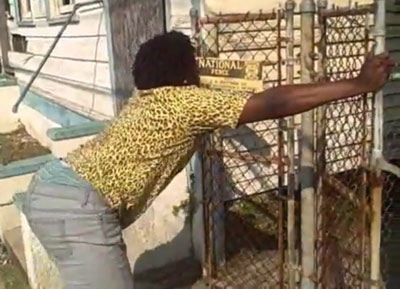 Diplo doesn't shake his own butt in the video. He just sits on his ass, counting dollar bills – a gesture that is doubly ironic. On the one hand, he's playing with the widespread criticism that he profits much more from his discoveries than the ghetto does (a generalization that is still open to dispute). On the other hand, it's unlikely that anyone is going to be making much money with sissy bounce any time soon. The lyrics and styling are a tad too extreme. Plus, it's pretty hard to pop your ass like a pro.
Translated by Nicholas Grindell