Featured in
'Propositions in paint': The Many Lives of Martin Barré
In a retrospective at MAMCO, Geneva, rigour is underscored by play
In Jorge Luis Borges's short story The Book of Sand (1975), an unnamed narrator is gifted a mysterious old book. Leafing through it, he is startled to find that the tome is endless, with new pages appearing out of nowhere, each one dissimilar to the last. If Borges here applies himself to the limitlessness of language, the French painter Martin Barré (1924–93) addresses similar concerns but his toolbox consists of canvas, line, colour and space. His solo exhibition at MAMCO, the first major institutional show since his death, covers Barré's career from the late 1950s through to the end of his life. In this carefully considered presentation of painting, intercut with archival documentary material, Barré's work surfaces as a set of strict cerebral rules in terms of form and style, but is equally attuned to the sensory and physical properties of the medium.
The 60 works on display are divided into five distinct categories of a roughly chronological order. Three paintings in the first room point to the influence of postwar abstraction. However, the earthy greys, browns and blacks applied brusquely with a palette knife that define 1950s Barré – seen in paintings such as 57-50-B (1957) – quickly give way to myriad other 'propositions in paint', as the artist described his works in a 1976 interview with critic Anne Tronche.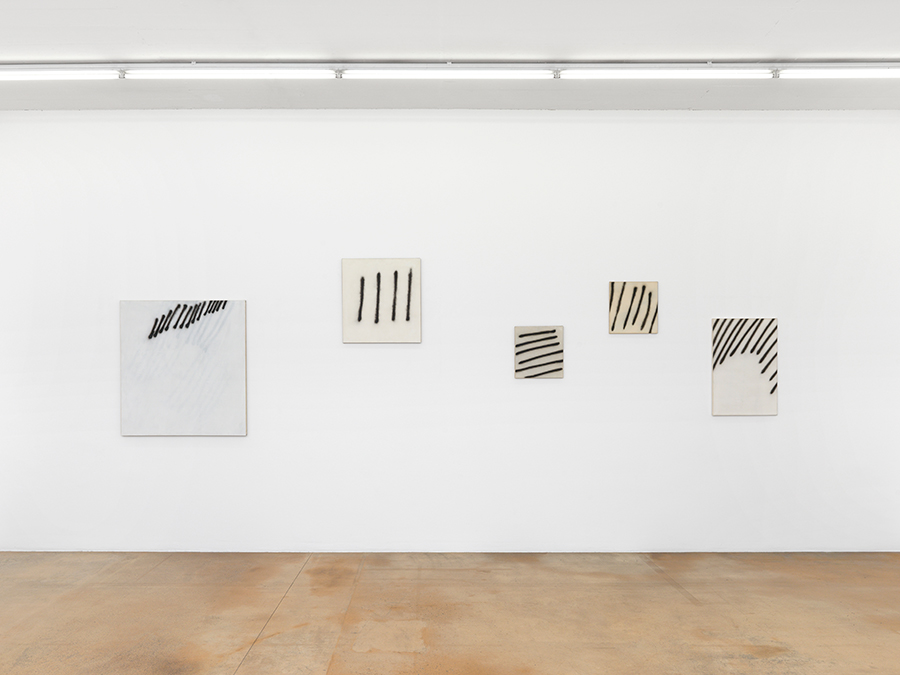 Born in Nantes, Barré moved to Paris in the early 1950s, where his work developed during the age of abstraction. Although never aligned with a particular group, Barré's predilection for seriality, the grid, the dissolution of delineation between background and figure, and his sensitivity to painting's relationship to space and time were shared by many artists working at that time. Yet, Barré always found ways to deviate.
Take the grid. It is faintly visible in 59-116x97-A (1959), in which a grey-white patina is interrupted by two thinly painted dark lines; perpendicular to each other, and with ends that don't fully meet, they suggest the outlines of a square teetering on one of its corners. It is there also in Barré's mid-1960s corpus, in which aerosol sprays stand in for the paintbrush. In these stripped-down compositions – which sometimes are nothing more than a small, black, spray-painted circle (63-O, 1963) – black lines run in parallel across the off-white painted canvas: vertically, horizontally, diagonally. The works' lack of resemblance to one another is as much a potentiality of failure, accident and human error as it is a performative marker of time and gesture.
Hanging on one wall in close proximity, but at varying heights, are five paintings that nod to the artist's penchant for seriality, which makes a regular appearance in his later investigations of colour and combinatory processes. For Barré, who had studied architecture and painting in Nantes, the spatial arrangements not only within each individual painting but between multiple works are the components of a pictorial language that pushes beyond the natural confines of the canvas. Even when he switches from line to blocks of colour, in works such as 90-91-96x112-A or 90-91-72x144-B (both 1990–91), Barré maps the picture plane as a fragment of a continuum, in which the gesture of a brushstroke, paint tube or spraycan stretches and suggestively leaps across multiple canvases and through space.
Elsewhere, stripes crisscross the canvas in a palimpsest of overpainted layers of varying degrees of tonal presence (75-76-C-174x164, 1975–76). These striped pentimenti make a regular appearance throughout the decades; they point to Barré's desire to leave no part of the canvas unmediated, and are the result of a complex choreography whereby each painting is part of a masterplan, but one in which holes and gaps abound. With Barré, if anything, rigour is underscored by play.
'Martin Barré' runs at MAMCO, Geneva, until 2 February 2020.
Main Image: 'Martin Barré', 2020, exhibition view, MAMCO, Geneva. Photograph: Annik Wetter–MAMCO Genève