Featured in
Raphael Montañez Ortiz's Destructivist Proposition
At El Museo del Barrio, New York, a survey of its founder reveals the artist's commitment to making by unmaking
In 'Destructivism: A Manifesto' (1962), artist Raphael Montañez Ortiz wrote: 'The art that utilizes the destructive processes will purge, for as it gives to death, so it will give to life.' This idea of disfiguring or killing a pre-existing structure in order to give birth to a new one lies at the heart of Montañez Ortiz's practice and remains one of the few consistencies in a remarkable and disparate career spanning film, installation, painting, performance, sculpture and social activism. 
Now the subject of a survey at El Museo del Barrio, the Brooklyn-born artist is best recognized as one of the founders of the upper Manhattan museum and a key figure in auto-destructive art – a 1960s movement in which objects were violently destroyed to critique social and political conditions. Montañez Ortiz's infamous 'Piano Destruction Concert' series (1966–98) earned the artist a somewhat misguided reputation as a piano-smasher focused on spectacle, rather than as a commentator on the associations between Western 'high art' and colonialism.
'Raphael Montañez Ortiz: A Contextual Retrospective' takes on the overdue task of contextualizing the ways in which destruction has functioned as a decolonizing vehicle for the artist, both materially and ideologically, for more than seven decades. The first section, 'Destruction', focuses on Montañez Ortiz's early works. Along with a selection of battered, splintered remains of pianos he shattered with an axe, this section also includes the series 'Archaeological Finds' (1961–65), works that he made by tearing into domestic objects such as mattresses, chairs and sofas during his performances. Despite its title, the works in the series were not meant to recall unearthed objects, but to exorcize the violent histories involved in their making: creation through destruction. 
Equally ritualistic are the artist's early recycled films, which he made by hacking prints of found footage with a tomahawk axe, placing the fragments in a medicine bag and shaking them while issuing what is rather generically described in the exhibition's wall text as a 'Native American war cry'. When he felt the evil had been released from the footage, Montañez Ortiz 'edited' the film by randomly pulling pieces out of the bag and splicing them together with cement. Of the 16 films the artist created in this way, the two on view, Cowboy and 'Indian' Film and Newsreel (both 1958) – which recycle a canonical Hollywood Western and a Castle Films newsreel – are the only ones still in existence.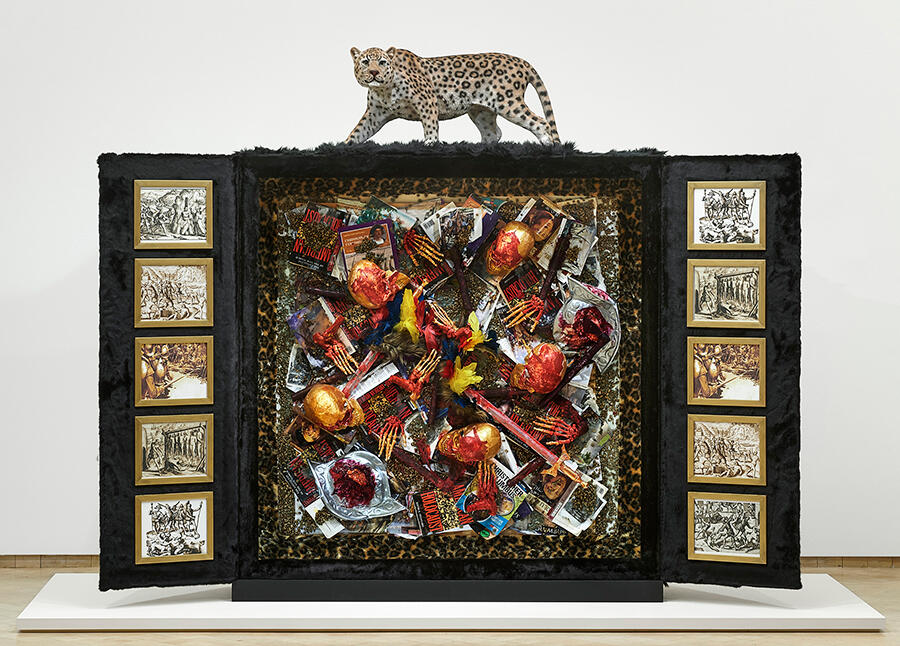 Both these works are largely missing from the history of late modern film but, rather than attempt to introduce a 'forgotten' figure into an expanding canon, curators Rodrigo Moura and Julieta González pepper the retrospective with works by Montañez Ortiz's contemporaries and peers, such as María Teresa Hincapié, Roberto Gil de Montes, Gordon Matta-Clark and Ana Mendieta. At times, these pairings feel forced and their connections to Montañez Ortiz's work unclear, but it is a fitting way to represent an artist who, as art historian Chon A. Noriega argued in a 2009 article for Afterall, actively works 'against the archive', constantly protesting the excess of clarity and formality with which we attempt to shape everyday life.
'Ethnoaesthetics', one of the later sections of the exhibition, is titled after a term the artist coined to critique the relegation of Indigenous art to the ethnographic museum. It features two of his Maya zemis (1975) sculptures: green, pink and yellow geometric works evoking pyramidal forms and Indigenous featherwork, drawing from his Mayan and Taíno heritage. The radical divergence of these works from his violent performances signals the porousness of the destructive process in his practice. Displayed alongside holdings from El Museo's extensive Taíno collection, these sculptures underscore that the artist's commitment to unmaking not only objects with colonialist histories but the institutions that house them, is nowhere more evident than in his founding of the pivotal space within which the show is sited. 
'Raphael Montañez Ortiz: A Contextual Retrospective' is on view at El Museo del Barrio, New York, until 11 September. 
Main image: 'Raphael Montañez Ortiz: A Contextual Retrospective', 2022, exhibition view, El Museo del Barrio. Courtesy: the artist and El Museo del Barrio; photograph: Martin Seck