Reflection and Luminescence at Seoul Frieze ​​​​​​​
Light and mirrors from across the globe put a spin on perception of all kinds, from the geometric play of Rana Begum to Anish Kapoor's optical illusions 
Rana Begum 
No. 1107 Tiles, 2021 
Paint on mirror finish stainless steel rimex 
Jhaveri Contemporary (Booth F4)  
 
A geometric installation that combines the artist's ongoing explorations of light, colour and form with her interest in architectural materials.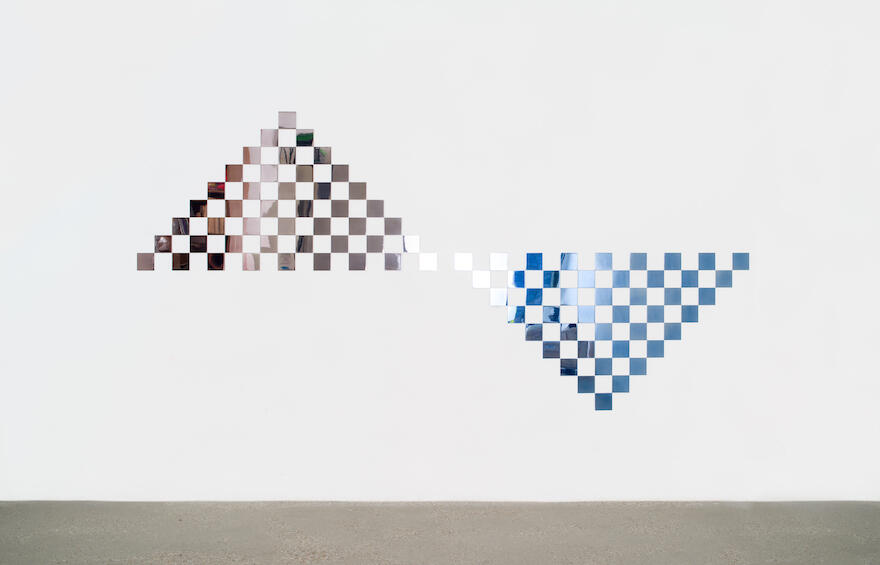 Hurvin Anderson 
Beaded Curtain, 2008 
oil on canvas 
Thomas Dane (Booth A16) 
 
A luminous work in oils from British-Jamaican artist Hurvin Anderson, known for capturing glimpses of enigmatic, in-between spaces. 
Anish Kapoor 
Bridge Twist, 2016 
Stainless steel 
Lisson Gallery (Booth A29) 
 
A mirrored experiment with optics reminiscent of some of the iconic sculptor's celebrated public installations. 
Apichatpong Weerasethakul 
A Conversation (On Metaphors), 2022 
Framed Gicleé print with hand drawn marker on glass 
Kurimanzutto (Booth B16) 
 
Hand-drawn designs on glass cast shadows on the giclée print below, in this evocative, layered piece by the Thai artist and filmmaker. 
Linn Meyers 
Untitled, 2021 
Acrylic ink and spray paint on panel 
Jason Haam (Booth B17) 
 
The pulsing, flowing patterns of dot and line that characterize Meyer's work seem to sparkle and glow in this striking piece.