Featured in
Richard Hawkins: Layers of Loneliness and Longing
An exhibition at Galerie Buchholz, Berlin, reveals how the artist uses the technique of collage to create an aesthetic of ambivalence
At Galerie Buchholz, a number of dense canvases in similarly lurid colours are hung low on the walls. Swirly painterly abstractions are interrupted by magazine cut-outs of celebrities, pornography or artworks, which, in turn, may be painted over again or masked by another layer of collage. A few, like Purple Melody (all works 2018), are arranged into neat grids of images, while others, such as The Confectionaries, could almost pass as old-school ab-ex, were it not for the rather more youthful abs of Justin Bieber.
Bieber's signature look – dumbfounded surprise at his own existence – graces several paintings, but he is the rookie of Richard Hawkins's row of hang-ups. The more tried and true among them include the hazy eyes and feathered hairdos of 1970s teen idols Leif Garrett and Matt Dillon, and Brad Renfro, a 1990s child actor who died from an overdose in 2008, aged 25. Such a destiny is not uncommon amongst this bunch. Hawkins's trashy-tragic muses have an element of the Dorian Gray about them: we know the boys are bad, but they look like angels. Their fall from grace – held in suspension by this dissonance – will be two-fold: from life to death, in the literal sense; from beauty to vulgarity, pornography, in the aesthetic. These are the knife-edges on which Hawkins manages to balance, poising his encounter with the muses in the murky territory between desire, worship and defilement. His are paintings interfered with by lust, interfered with by painting.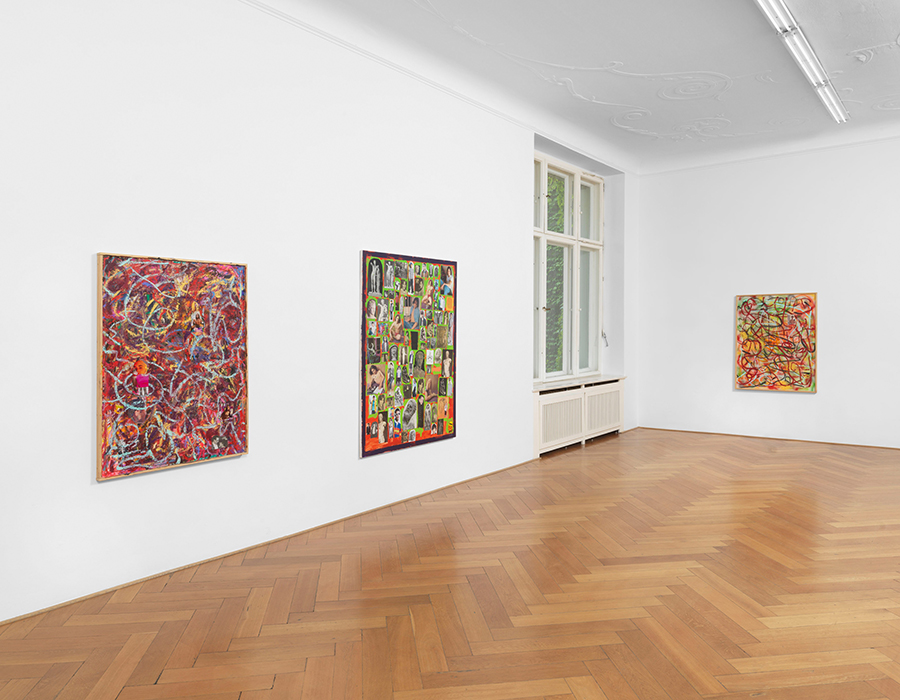 In Bee's Bumble (2018), a naked woman with a flower in her hair looks over her shoulder and pulls down her knickers, accompanied by a fragment of one of Paul Gauguin's kindred motifs from Tahiti. The two neither elevate nor debase one another – there is no juxtaposition here. They are merely subjects of the same compulsion. For while there is something troubling about these works, it is not the nudity or the violence inferred from them, so much as a sense of privacy infringed upon. And it is not the woman's either, but Hawkins's and, by extension, our own. The pictures evoke the louchest, most private of fantasies and, with that, a deep, almost desperate sense of identification. But they also have a lot to say about loneliness, obsession and longing. For all the primal fervour betrayed by the more relentless of the compositions, it is on the emptier canvases that Hawkins really gives it all away. How there's only one guy depicted in Uncials, for instance. Is he special? How on Purple Melody, only half of the canvas is collaged. Did the artist run out of clippings? Or perhaps he ran out of whatever purpose had fuelled his operation until then – say passion or hope? 
In 1999, the writer and occasional collaborator of Hawkins, Dennis Cooper, asked Renfro about his reputation for being 'trouble'. 'I'm not,' the then-17-year-old actor answered. 'I'm real. Real only seems like trouble if you're not real yourself. Honest to God.' Similarly, and in contrast to other paintings of the lewd, provocative sort – those of Paul McCarthy or Jonathan Meese come to mind – Hawkins's work is strikingly personal. And, in the end, it is a quality that also renders them romantic. They want to be beautiful and they want for the desire that they express to be beautiful too. They do believe in love, only they inhabit a world in which this is what love actually looks like. These paintings are not trouble, they're real. And, on top of that, to die for.
Richard Hawkins, 'Collage Paintings, Gesture Paintings' was on view at Galerie Buchholz, Berlin, from 14 September until 13 October 2018. 
Main image: Richard Hawkins, A Painting Which Serves as Bait for Young and Beautiful Souls: Beware (Detail), 2018, oil stick and collage on panel, 165 × 124 × 4 cm. Courtesy: the artist and Galerie Buchholz, Berlin/Cologne/New York