Roger Malbert: The Curator as 'Humble Midwife'
After 34 years as Head of Hayward Gallery Touring, the 'organizer' looks back on a career spent championing art exhibitions outside of London
At the new Museum and Gallery in St Albans, Roger Malbert is putting the final touches to 'Hand Drawn Action Packed' – a joyous show, bringing together diverse works on paper by ten artists, among them Raymond Pettibon, Marcel Dzama, Otobong Nkanga and Nalini Malani (who, strictly speaking has presented works on sheet acrylic). Tucked into chambers around the gallery are animations by Amy Sillman and Inci Eviner. 
Queuing for a cup of ginger tea in the museum-front café, Malbert says he hopes that young people will come and see the show. On a weekday in late August we are standing in a gallery populated largely by retirees, parents towing toddlers, and vice versa. Perhaps things will change once the schools go back? 
After 34 years, 'Hand Drawn Action Packed' is Malbert's final exhibition as Head of Hayward Gallery Touring, where he has been responsible for a quite astonishing number of exhibitions shown at galleries and museums across the UK, among them 'Fetishism: Visualising Power and Desire' (1995), 'Carnivalesque' (2000) and 'Curiosity: Art and the Pleasures of Knowing' (2013) with Brian Dillon. He has also been responsible for the quinquennial British Art Show since its second edition, and a long series of cart-blanche artist-curated exhibitions, of which Elizabeth Price's 'In A Dream You Saw A Way to Survive and You Were Full of Joy' (2016–17) was the latest instalment.
There has been no big announcement of Malbert leaving the role – his plan was to 'quietly evaporate' – but at least the curator is going out on a passion project. Drawing is a subject close to Malbert's heart (retirement, he hopes, will allow him to bring pencil to paper himself again with greater regularity), and something he hopes to return to after the Hayward. The first artist-curated exhibition he worked on was 'The Primacy of Drawing'with Deanna Petherbridge in 1990. Petherbridge went on to produce 'a magisterial book about drawing – a big fat thing published by Yale,' says Malbert, admiringly. His own book on the subject, Drawing People: The Human Figure in Contemporary Art, was published in 2015. 
Until a few years ago Malbert says he would have 'hesitated' to call himself a curator. When he joined the Arts Council – which then ran Hayward Gallery and the Serpentine – the given nomenclature for exhibition-making staff was 'organizers.' Based at 105 Piccadilly, the entire art department of about 25 people would meet on Monday mornings before dashing off to their respective institutions to install shows. Programming was determined by quarterly meetings of a sub-committee composed of regional museum directors, artists and 'a slightly random collection' of others.
Malbert still draws a strong distinction between his own role and the autonomy of an institutional curator. His curatorial approach has 'always been a process of dialogue: conversations, inviting people and responding' he said, adding: 'I think of curating as a slightly more humble midwifery role in relation to the work, rather than the one who is making history and steering the direction of taste,' For Malbert: 'the curator has been raised to almost more important than the artist now. I'm suspicious of that model.'
Still, the shows he has helped create over the last three decades have been driven firmly by his own ideas and interests: 'I'm interested in art that potentially has some critical edge to it and is engaged with human issues rather than purely formal aspects. I'm not so interested in cool, I'm more interested in something hotter. Though I'm sympathetic to cool presentation and something that is smart, I like art that speaks to people. I feel anti-elitist in that way, I suppose,' he admits. 'I like shows that mix the historical and contemporary.'
This final peccadillo was acquired through the eclectic approach to programming adopted by the Hayward Gallery, which in earlier years made little distinction between living and dead artists. 'You could see an exhibition of Tibetan Tantric Art followed by Matisse, followed by Richard Long.' He recalls, delightedly, the touring show 'Carnivalesque' that he staged with Timothy Hyman, explored the comic and grotesque in art. 'I felt very in sync with that show. It had Breughel [the Elder] and Paul McCarthy right next to one another. We had the Breughel Fat Kitchen and Thin Kitchen [1563] and then a Paul McCarthy work with a chef mixing up blood and shit and all sorts.' He does not recall there being any complaint. 
There was one notorious misfire, though it was not an exhibition Malbert worked on. The 1990 British Art Show was staged in Glasgow as part of the City of Culture Celebrations, but omitted to include any work by Scottish artists. 'Our host, Julian Spalding, the head of Glasgow Arts, denounced the show before it opened and disowned it to the press. He publically said: "this is not the British Art Show" challenging the Arts Council even though he had sat on Arts Council Committees. It was a very weird moment. He said he was going to do his own British Art Show, which he did the next year, called the Great British Art Show.'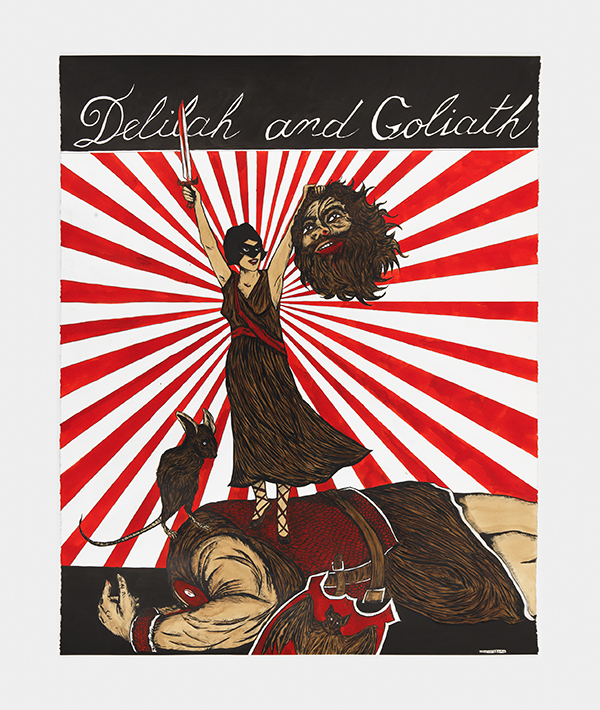 London may see itself as the alpha and omega of the British art scene but a career dedicated to touring exhibitions has given Malbert the opposite view. It is one in which 'museums and galleries are themselves little bubbles, wherever they are,' he admits. 'It's always felt like a safe zone where one could pretty much speak to the audience.' While 'people are receptive all over' he has also learnt that an undimmed commitment to staging shows at smaller galleries needs to be accompanied by realistic expectations. 
John Walter's exhibition 'Shonky: The Aesthetics of Awkwardness'is currently finishing its tour at Bury Art Museum and Sculpture Gallery. 'It's hard to get people to go from a city such as Birmingham to Walsall, or from Manchester to Bury. So you couldn't say with any confidence that a lot of people were going to see that show in Bury,' he says, philosophically. 'It was really great – one of our best shows as far as I was concerned. But you just have to accept that numbers will be limited.'
The landscape of regional British venues has changed radically since 1984. Malbert's arrival coincided with 'some patrician reactionary introducing a new policy for the Arts Council called The Glory of the Garden.' That policy (later reversed) shifted exhibitions away from independent regional galleries like Ikon in Birmingham and Arnolfini in Bristol, to red brick Victorian buildings that were 'coincidentally supported by the city councils, so it was much more cost effective for the Arts Council.' Malbert found himself awkwardly installing the British Art Show on the day the Glory of the Garden paper was published: 'one of the consequences was that the Arts Council declared it was going to withdraw funding from the Ikon, the building I was in at that moment.'
Most of the galleries that Hayward Touring now works with – from Turner Contemporary in Margate to mima in Middlesbrough – didn't exist in 1984. 'Paradoxically,' notes Malbert. 'Although we all hate Thatcher, it's actually owing to her introduction of the National Lottery that somehow the arts got this windfall.' 
If he has one regret, he says, it's that Hayward Touring has been 'insufficiently political, we've been too establishment, not keen to ruffle feathers. Looking at culture now: we should possibly have been a bit more outspoken.'
While the artist-curated series and British Art Shows continue, 'I think the operation is probably ripe for reinvention,' he says, finishing his ginger tea among the chatter of young families in St Albans' central square. 'I think possibly the type of exhibition I've been doing over these years – it hasn't run its course, but there's room for revision.'
Hayward Gallery Touring presents 'Hand Drawn Action Packed' at St Albans Museum + Art Gallery from 2 September – 11 November. The show tours to Wolverhampton Art Gallery, The Hunterian, Glasgow and Glynn Vivian in Swansea.
Main image: Nalini Malani, Part Object (detail), 2007-08. Included in 'Hand Drawn Action Packed', St Albans Museum + Art Gallery, 2018. Courtesy: Nalini Malani and Galerie Lelong & Co., New York/Paris/Zurich © the artist