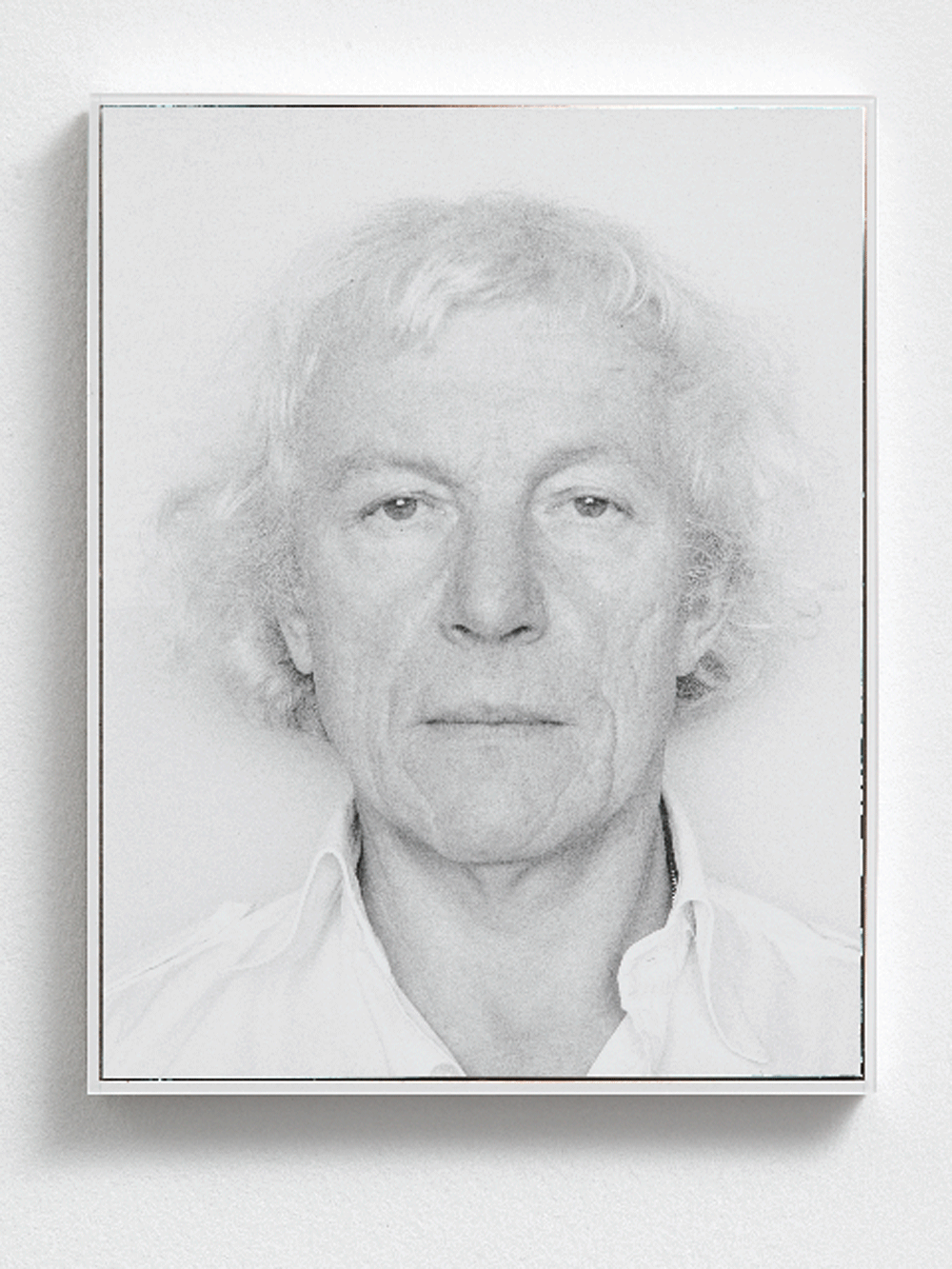 Roman Opalka deploys a decidedly obvious method for dealing with the unstoppable force of time. He counts. On 4 September, waves of gallery-goers flowed through Paris' Marais district for the season's first major night of openings. Many found reprieve from this miscellany of events at Yvon Lambert, which – in conjunction with a parallel exhibition at the gallery's New York location – presented 'Passages', a selection of five paintings and 100 photographs from the 79-year-old's life work.
In 1965, Opalka picked up a #0-width brush, dipped it in white paint and wrote a small '1' on the top left corner of the canvas in front of him. The numbers '2, 3, 4, 5, 6...' soon followed, until the canvas' surface became veiled by a handwritten grid of successive white digits. And so began his first Detail, as the artist refers to each one of his 196x135cm paintings, a process that has occupied him for the past 45 years, in the form of a never-ending stream of works collectively titled 'OPALKA 1965 / 1 – ∞' (1965–ongoing), which sees each painting resume the numerical sequence where the last left off. Opalka is said to follow the inscription of each number with a verbal recitation of it, in his native Polish. That this procedure will continue until the artist's death inevitably intervenes in his stated goal of counting to infinity.
Since 1972, Opalka has been adding one percent increments of white paint to the grey ground of each work. As his brush goes dry, the short, fast lines of his handwriting fade from deep opacity to milky translucency. In this way, integers numbering in the millions variably float above and dissolve into the background, forming diaphanous planes that rise and fall, alternately receding and advancing in optical space. Here, a conversation begins between manual labour as an aesthetic force and that esoteric, mythological bugbear of modern art, monochrome painting.
In a series of photographs that were arranged in a horizontal band – broken intermittently by vacant sections of white wall – around the perimeter of the gallery's first room, Opalka's portrait appears after each studio session, backed by his own unfinished canvases and wearing a nondescript white-collared shirt. His hair, moving through a range of greys and whites, falls to the sides of a progressively weathered face punctuated by patient dark eyes. Seriality is interwoven with the observation of changing physiognomy. What if – these images seem to ask – we could bring ourselves to disregard agreed systems for gauging time, in favour of a constant reflective attention paid to the unremitting deterioration of bodies?
Opalka's project has emerged slowly, and it is likewise slowly absorbed. This suspicion of fast action foiled my own attempts to rapidly vivisect the work into so many notes and references. The shrewd husbandry of time and information necessitated by injunctions to behave productively in a contemporary world often seems incongruous with the careful attention required to experience works of art. This is an old-fashioned thing to say, of course, but it is in the rift between anachronism and a contemporary context swamped by torrents of 'innovation' that the value of Opalka's consummate slowness becomes apparent.
Metaphorical languages have the capacity to speak of human situations in a way that belies life's underlying complexity. As a visual transcript of life's passing, 'OPALKA 1965 / 1 – ∞' does not see the problematic details of life recorded so much as transcended through an ascetic process. Having begun with the scrawling of white numerals on dark grounds, Opalka's project will ostensibly end with the production of white-on-white monochromes. This painterly progression, described by the artist as an 'exultation […] that goes, every day, towards the white', seems to follow a mythological narrative, wherein life begins as a speck in infinite blackness, only to become lost in the sublime white light of death. The expulsion of his family from France to Poland in 1940 has obviously had an effect on his work. At work in his studio in southwest France, he resolutely involves himself in a constant, forward tumbling of documentation, poetry and myth.