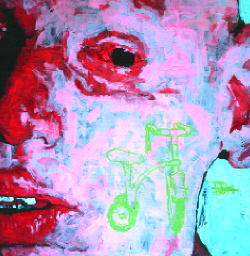 It's been a long time since kings and cardinals went shopping for paintings in Naples, but even so the city authorities can still flatter their artists, whether they're natives or not. An American, Ryan Mendoza has been in Naples for seven years and has been painting for little more than that, yet the city happily granted him two rooms in the 13th-century Castel Nuovo, overlooking the bay. When I visited, there was an unseasonably hot sirocco blowing in from Northern Africa, tourists were shielding their eyes from the dust and a beggar with one leg was playing the violin: it was very much the Naples of the imagination.
There could be few more persuasive backdrops for Mendoza's mini-retrospective, and happily his art is very much in tune with its setting. Given his transplantation from the chillier culture of the USA, one might be tempted to cast Mendoza as a Byronic figure and indeed, much of his work may be said to describe a journey through the recesses of Naples' sexual underworld. Unfortunately, however, it would be more realistic to see his ancestors as being Julian Schnabel and David Salle, though on the issue of the sexual underworld the issue is ambiguous. On the one hand his predilection for photographic sources suggests that the images derive from the Internet, yet a picture such as Prostitute #3 (1998) suggests that he aslo finds his models, like so many painters before him, on the streets. Either way, one thinks of all the desperate places that this material spews from, and it doesn't feel merely coincidental that Naples sits on the doorstep of Eastern Europe's ballooning sex industry.
If this aspect of his work has Mendoza throwing off the moral shackles of home, much of the rest is imbued with an ambivalent homesickness. The picture that lends the show its title, Almost American (2002) depicts a lumpy simpleton propped in front of the Stars and Stripes, suggesting that if Mendoza is out of sympathy with his homeland, it's a contemporary, political grumble. This impression is reinforced by the fact that his work is packed with a veritable emblem book of far older Americana, arranged over the canvases as if they were pinboards. Boxers, GI types and long-forgotten colonels appear, often in tiny vignettes, and sometimes in contrast with a chronological opposite. In Bread and Butter (1997) a tiny portrait of Abe Lincoln appears alongside a rendition of a black Victorian 'house on the hill'; in the lower half of the picture are the torsos of two women, labelled 'bread' and 'butter'; and down the middle of the picture are the words 'clap, clitoris, clam, clock, cling'.
Mendoza's history of the USA is a psycho-history, a diagnosis that records countless deformities in the patient arising from generations of sexual repression. In Snip, Snip (1998) a panel of pink flesh suggests what's itching under the dark, ballooning skirts of a feisty dowager; in As I Was about to Eat (1998) the contrast of a picture of a young black girl in the frame with a stout Dutch pioneer suggests a deep-seated complex of routine injustices rising to massive historical inequalities; and in the portraits with a more contemporary feel, 'Rosebud' emblems, such as children's bikes, obscure the faces. If this is political work, however, it only echoes the caricatures of imperialists and patriarchs of old, mocked not just for being rapacious overlords but also for being queasy and po-faced in the bedroom, as if the former were in some way the consequence of the latter. One could say, following Mendoza's logic, that it is this brief history of repression which licenses the sexual violence and casual objectifications in his other pictures. Someone has to take responsibility for this, after all, and it's unlikely to be the artist.
When Mendoza showed four pictures at White Cube in London in 2000, he published a catalogue with an extract from a novel by Irvine Welsh, emphasizing in bold print lines such as 'I thought about her daughter and blew my muck inside her'. The catalogue that accompanies the Naples show, with essays by Barry Schwabsky, Patricia Ellis and the curators, Emma Underhill and Alessandra Paudice, isn't so nasty, but neither is the work they have chosen to include. In fact, while they have celebrated Mendoza, shamelessly, as a 'bad boy painter', his worst excesses seem to have been edited out. Unfortunately you can still read between the lines.