Sculpture on Frieze Viewing Room from £7K to £1 Million
Discover a world of sculpture on the London 2022 edition, including a figure from 2nd-century Arabia and Grayson Perry's recent likeness of Chris Whitty's cat, plus immersive 3D experiences with Vortic
South Arabian 
Figure of a woman, ca. 3rd century – 2nd century BC 
Veined calcite alabaster 
18.11" x 5.31" x 4.53" (46 cm x 13.5 cm x 11.5 cm) 
$1m or above 
Courtesy of the Artist and Axel Vervoordt 
Experience in 3D on Frieze Viewing Room
Axel Vervoordt's (Frieze Masters, Stand C5) Viewing Room juxtaposes a collection of 20th-century avant-garde art with a selection of high-quality antiquities. This beautiful figure represents a woman of means and status. Derived from Yemen, Qatabān Kingdom, said to be from Ḥayd Ibn ʿAqīl, the necropolis of ancient Timna, the carved likeness would have almost certainly been intended to adorn the woman's tomb, either as a testament to her earthly life or in hopes of assurance for a life hereafter. 
Roy Lichtenstein 
Profile Head, 1988 
Painted and patinated bronze 
36.61" x 22.52" x 9.49" (93 cm x 57.2 cm x 24.1 cm) 
Edition 6 
$1m or above 
Courtesy of the Artist and Castelli Gallery 
Castelli Gallery's (Frieze Masters, Stand F3) Viewing Room features works by American Pop artist Roy Lichtenstein, one of the most influential artists of his time. The presentation focuses on works from the 1980s, a particularly rich decade in which the artist created works in a variety of media including, painting, collage, and drawing. 
Zhang Ruyi 
The Dry-As-Dust Island, 2022 
Concrete, rebar, steel wire 
15.75" x 8.27" x 5.91" (40 cm x 21 cm x 15 cm) 
Edition 4+1AP 
Price on Application 
Courtesy of the Artist and Don Gallery 
Don Gallery (Frieze London, Stand G8) presents works by Shanghai-based ZHANG Ruyi. Finding inspiration in everyday materials, her work occupies a unique space which reconciles artifacts, the industrial experience, and urban life.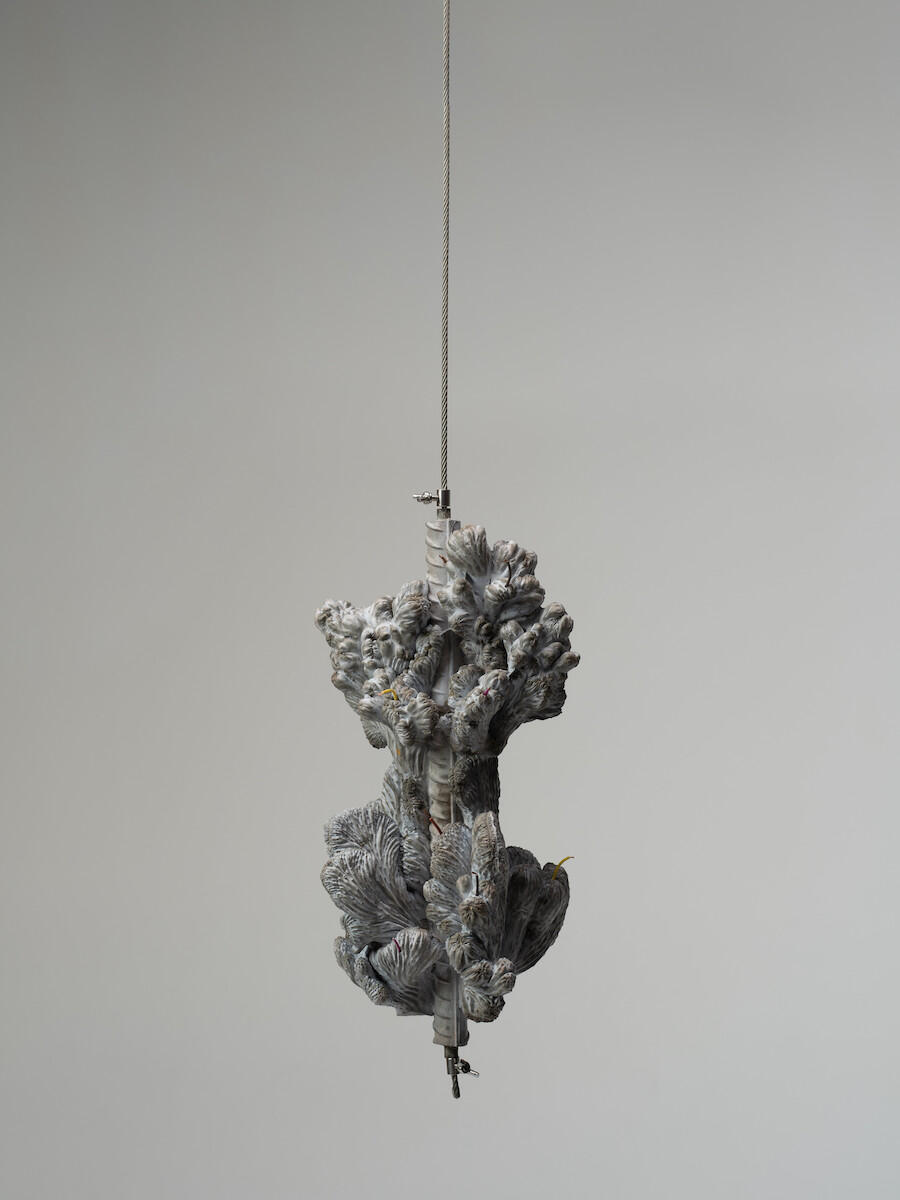 Peggy Ahwesh 
Re: The Operation, 2019 
4-channel HD video on stacked CRT monitors, sound 
39.76" x 9.84" x 9.84" (101 cm x 25 cm x 25 cm) 
00:08:02 
Edition 3 + 2 APs 
Price on Application 
Courtesy of the Artist and Microscope Gallery 
Experience in 3D on Frieze Viewing Room
Peggy Ahwesh's pigment prints, video sculpture, and 360 degree touchscreen videos on view address issues of displacement, cultural identity, world events as portrayed by news media and the role played by our hyper-connected society (Microscope Gallery, Frieze London, Stand H4).
Chandraguptha Thenuwara 
Reminiscence III/ Thorns, 2019 
Brass Cast 
7.09" x 5.12" x 5.12" (18 cm x 13 cm x 13 cm) 
£ 7,500 
Courtesy of the Artist and Saskia Fernando Gallery 
Experience in 3D on Frieze Viewing Room
Featuring in the curated section Indra's Net at Frieze London, Chandragupta Thenuwara works comments on contemporary Sri Lanka. The artist's personal iconography includes the lotus flower (a symbol of the mind rising from murky waters in Buddhism, now turned into a nationalist trope as the end of a lion's tail), white vans (used for abductions during the Civil War), camouflaged soldiers, fallen bodies, barbed wire and Buddhist stupas (Saskia Fernando Gallery, Frieze London, Stand IN9).
Grayson Perry 
Chris Whitty's Cat, 2020 
Bronze 
18.9" x 18.9" x 7.87" (48 cm x 48 cm x 20 cm) 
$50-100k 
Courtesy of the Artist and Victoria Miro 
Experience in 3D on Frieze Viewing Room
Discover a recent sculpture by Turner Prize-winning artist and national treasure Grayson Perry, modelled on the pet cat of Chris Whitty, the government's Chief Medical Adviser. Other works in Victoria Miro's (Frieze London, Stand C17) Viewing Room include a tribute to the late Paula Rego as well as works by Milton Avery, Hernan Bas, María Berrío, Secundino Hernández, Kudzanai-Violet Hwami, Chantal Joffe, Doron Langberg, Wangechi Mutu, Chris Ofili, Celia Paul, Conrad Shawcross, Hedda Sterne and Flora Yukhnovich. 
About Frieze Viewing Room
Frieze Viewing Room, which features more than 100 galleries participating in Frieze London and Frieze Masters fairs, is open until 16 October.
To keep up to date on all the latest news from Frieze, sign up to our newsletter at frieze.com, and follow @friezeofficial on Instagram, Twitter and Frieze Official on Facebook.
Main image: Zhang Ruyi, Cured Column, 2022, Concrete, ceramic tiles, wood panel, metal, electric wires, 10.12" x 9.84" x 4.13" (25.7 cm x 25 cm x 10.5 cm), Edition Unique, POA, Courtesy of the Artist and Don Gallery