Seven Highlights from the Edinburgh Art Festival
Your guide to shows to see around Scotland's capital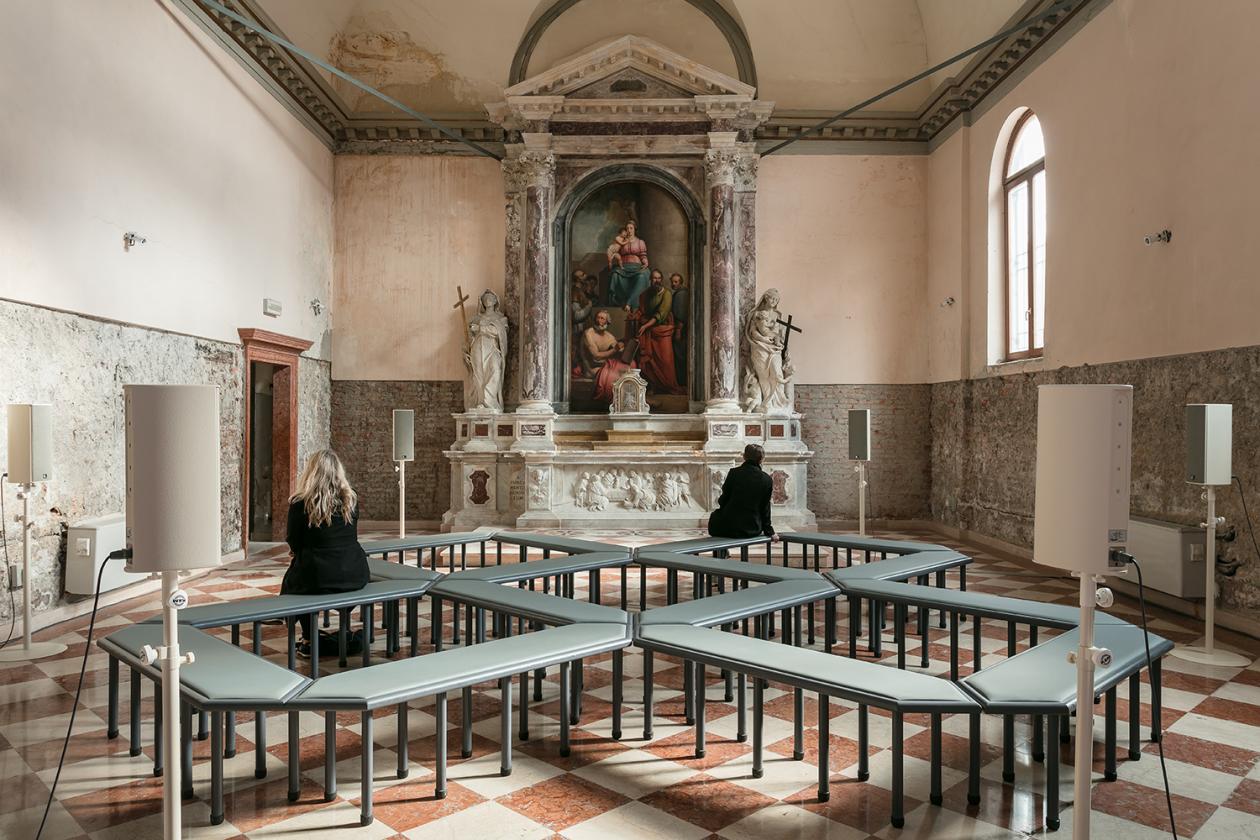 James Richards
Collective
26 July – 13 October
Perched on Edinburgh's Calton Hill between Victorian follies and impressive gothic monuments is Collective, a contemporary art gallery and former 19th-century observatory. Having relaunched in November 2018, following a five-year redevelopment, the gallery is participating for the first time at this year's Edinburgh Art Festival in its new incarnation. Presented in the City Dome, a circular space that housed a large telescope until the 1920s, is James Richards's Migratory Motor Complex (2017) – an acoustic installation first shown at the 2017 Venice Biennale and now repurposed and 'tuned' for Collective's space. Surrounding a geometric arrangement of benches are six speakers playing sounds that range from gloopy electronic noises to environmental recordings and melodious singing in two-part harmony. Navigating this richly interpretive work is an entirely personal experience: just as you catch the sound of something familiar and imagine the hint of a narrative, the score moves on.
'All That the Rain Promises and More'
Arusha Gallery
25 July – 14 September
'All That the Rain Promises and More', a group exhibition of predominantly women artists, takes its name from the title of a field guide to wild mushrooms by cult mycologist David Arora (1991). Fungi crop up throughout the show, which is set across three rooms of a Georgian townhouse: the first book dedicated to documenting British mushrooms is opened, altar like, to the page of a phallic-looking specimen (James Sowerby, Coloured Figures of English Fungi and Mushroom, Volume 3, 1787) while two mid-century paintings by surrealist Ithell Colquhoun depict sprouting fungal growths. Contemporary works are on display too, including process-led watercolours from Emma Talbot (all works 2019) and Helen Chadwick's bronze cucumbers with fur cuffs (I Thee Wed, 1993). The exhibition marks the curatorial debut of artist Aimee Parrott, whose yonic stained-glass window lights up the rear room (Untitled, 2019) and whose small works on cotton, such as Hypogean (2019), are dotted throughout the show. Interpretations of the mushroom here are broad and extend to its mycelium structure – a symbol for interconnectedness and the symbiotic relationship between all things.
Trisha Brown
Jupiter Artland
27 July – 29 September
When asked what dance meant to her, legendary choreographer and artist Trisha Brown replied: 'Time, space and gravity.' As well as a pithy definition of the medium, the quote is the title of Jupiter Artland's summer exhibition, which takes place at three sites across its sprawling, verdant grounds. Forty years of Brown's practice are succinctly exhibited in this first moving-image retrospective, including footage of well-known works such as Set and Reset (1983): a fluid, partially improvised dance made in collaboration with Robert Rauschenberg and Laurie Anderson. Brown's concerns with making visible the mechanics of dance are presented in early and lesser-known works, such as Ballet (1968), while in Walking on the Wall (1971) dancers attempt the tricky technical feat of walking around a vertical wall while strapped in a harness. A highlight is Les Yeux et l'âme (Eyes and Soul, 2011), screened in Jupiter's Jacobean-style ballroom. In a curatorial nod to the historical setting, dancers languidly perform a postmodern update of a mannered baroque dance to the music of Jean-Philippe Rameau's Pigmalion (1748).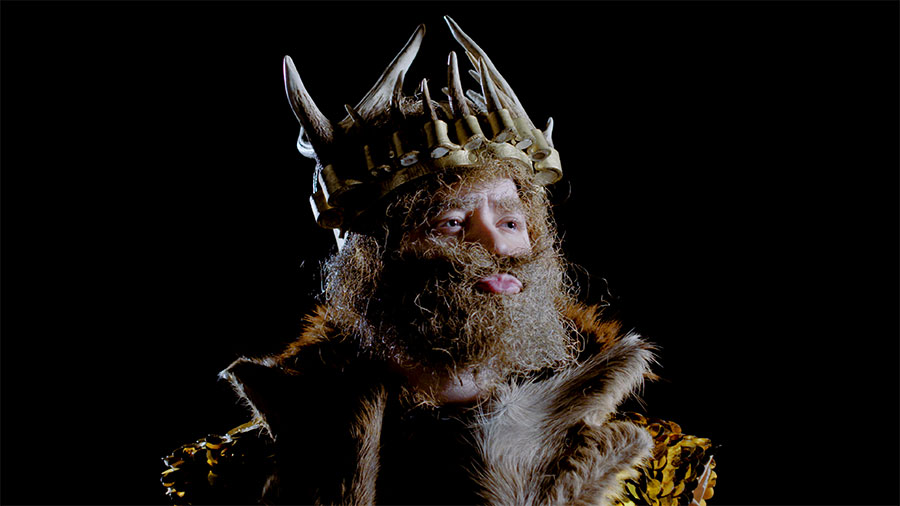 Hanna Tuulikki
Edinburgh Printmakers
28 July – 6 October
Humans have had a relationship with deer since the prehistoric era. At Edinburgh Printmakers, the city's newest gallery, Hanna Tuulikki describes the historic connection and queries what influence it has had on our theorizing of gender and ecology. Tuulikki's work begins with mimesis: five costumes, suspended in the first room, illustrate five archetypal representations of deer – or, perhaps, masculinity (Monarch, Warrior, Young Buck, Fool and Old Sage, all 2019). The show's two-channel video work, Deer Dancer (2019), features Tuulikki in various costumes performing choreography that draws on several years of research into various cultures' traditional 'deer dances'. The resulting film is a thought-provoking study of how ritual can reinforce culture. Accompanying the film are a series of delicate embossed and debossed visual scores created during a residency in the gallery (all 2019), which record the footsteps of Tuulikki's deer.
Corin Sworn
Edinburgh College of Art
25 July – 25 August
Habits of Assembly (2019) is one of five works commissioned for Edinburgh Art Festival under the title 'Stories for an Uncertain World'. Glasgow-based Corin Sworn's contribution takes the form of two video works, each made with a pair of dancers, set in an austere three-chambered cage. In the central section, a speaker plays a looped recording of a text of delightfully confused aphorisms made in collaboration with writer and academic Colin Herd. The films themselves show movement pieces that flip between jerky geometric and smooth, which owe much to predecessors in the genre, such as Trisha Brown and Yvonne Rainer, although the accompanying soundtrack – static, digitally disintegrated – locates the work firmly in the present. How are our bodies inflected by the digital technologies we use every day? In fragments of choreographed dance, Sworn proposes a tentative, gestural response.
'Night Walk for Edinburgh'
The Fruitmarket Gallery
25 July – 25 August, booking required
The Fruitmarket Gallery is closed for major restoration works until 2020. In the interim, however, the curatorial team has resourcefully commissioned Night Walk for Edinburgh (2019) – a captivating video walk by Janet Cardiff and George Bures Miller, which takes place in the streets surrounding the gallery. After picking up a tablet and headphones from a nearby cafe, participants follow in Cardiff's footsteps, as if in real time (while devised by both artists, only Cardiff narrates the walk). She warns you about steps down from the curb and draws your attention to the intimate details of the city: an interesting grate, the unique handwriting of a stonemason's marks, a humble piece of string tied to a pipe by a passer-by. The sounds of past and present merge, disorienting your perception of time and space. Sitting somewhere between a game, a sensory stroll and even a murder mystery, Night Walk for Edinburgh makes you acutely aware of the ghosts of the millions of people who have paced Edinburgh's streets before you. It's impossible to look at the city in the same way again.
Samson Young
Talbot Rice Gallery
24 July – 5 October
'Real Music' is both the title and the crux of Hong Kong artist Samson Young's first UK solo exhibition. What exactly, he considers, is musical authenticity and how has our understanding of that question been influenced by the answers that are usually given? Young issues a three-pronged response, dealing variously with technological, formal and cultural ideas of 'real music'. Two works are being shown here for the first time. The first, Possible Music #2 (2019) – presented in the double height, Georgian gallery – was made in collaboration with the University of Edinburgh's Next Generation Sound Synthesis research group, who developed virtual versions of various 'lost' instruments to enable historians to hear how they would have sounded. Young, however, has adopted this technology to experience 'impossible' sounds: amid large-scale sculptural brass instruments, for instance, the sound of a bugle being played with scorching-hot, 300-degree breath. Elsewhere, in a white cube space, an orchestra performs Tchaikovsky's Fifth Symphony (1888), but the most audible layer of sound has been consciously supressed to leave just the incidental noises of fingers tapping on keys and bows being swept across strings (Muted Situation #22: Muted Tchaikovsky's 5th, 2018). A standout work is The World Falls Apart into Facts (2019), a two-screen video lecture that undoes the absurd myth of cultural musical purity using a horse, a harpsichord and performers dressed as fruit.
Main image: Samson Young, The world falls apart into facts, 2019, film still. Courtesy: © the artist